Photo Credit: Stefanie Keenan/Getty Images for Barneys New York
Jennifer Meyer got by with a little help from her A-list friends on Wednesday night as she celebrated the launch of her Ready-to-Wear collaboration with Barneys New York in LA. 
The "friends" part not only refers to the plethora of famous faces that attended the event, but the evening was hosted by none other than former Friends star Jennifer Aniston, as well as Meyer's husband, Tobey Maguire.   
Additional attendees included another Friend, Courteney Cox, as well as Dakota Johnson, Chelsea Handler, Gwen Stefani, Blake Shelton, Nicole Richie, Katy Perry, January Jones, Molly Sims, Kevin Connolly, Sabina Gadecki, Sara Gilbert, Erin Foster, Sara Foster, Rachel Zoe, Sam Taylor Johnson and Aaron Taylor Johnson , Chuck Pacheco, Kris Kardashian Jenner, Andrea Lieberman, Emily Current, Merritt Elliott, Greg Chait, Princess Fajer Al-Rajaan, Kelly Sawyer Patricof, Nathalie Love, Kelly Rohrbach, Maria Bell, Debby Ryan, Lukas Haas, Eric Buterbaugh, Joey Maalouf, Tessa Tooley, Irena Medavoy, Crystal Lourd, Emily Ward, Cassandra Grey, and Charlotte Blechman, among others.
The event, which was held at  private residence in LA, celebrated the new collaboration for Fall 2015, designed in collaboration with jewelry designer Jennifer Meyer. The collaboration marks a 10-year partnership between Jennifer Meyer and Barneys New York. The line—Barneys New York XO Jennifer Meyer—mirrors the motivation behind Meyer's jewelry line—pieces to live in. You'll find simple shapes made from the best materials that bring out every woman's authenticity and uniqueness. Rooted in versatile wardrobe essentials like a perfectly distressed denim jacket, a toss-over-everything grey cardigan, and a Breton-inspired striped long-sleeve tee, the collection also features an array of feminine sundresses, including a cherry-print wrap dress, a white Swiss-dot vintage inspired flirty dress, and the ideal black dress with ruffled cap-sleeves.
The 12-piece women's ready-to-wear collection will retail between $150.00 and $1,025.00, will be available on Barneys.com and at Barneys New York Madison Avenue, Beverly Hills, Seattle, Chicago, Boston, Las Vegas, and San Francisco.  
Photo Credit: Stefanie Keenan/Getty Images for Barneys New York
Barneys New York XO Jennifer Meyer 1
Tobey Maguire and musician Blake Shelton
Photo Credit: Stefanie Keenan/Getty Images for Barneys New York
Barneys New York XO Jennifer Meyer 2
Filmmaker Sam Taylor-Johnson and actor Aaron Taylor Johnson
Photo Credit: Stefanie Keenan/Getty Images for Barneys New York
Barneys New York XO Jennifer Meyer 3
Sabina Gadecki, Kevin Connolly, designer Jennifer Meyer and actress Sara Gilbert
Photo Credit: Stefanie Keenan/Getty Images for Barneys New York
Barneys New York XO Jennifer Meyer 4
Styilst Rachel Zoe, Meritt Elliott and Emily Current
Photo Credit: Stefanie Keenan/Getty Images for Barneys New York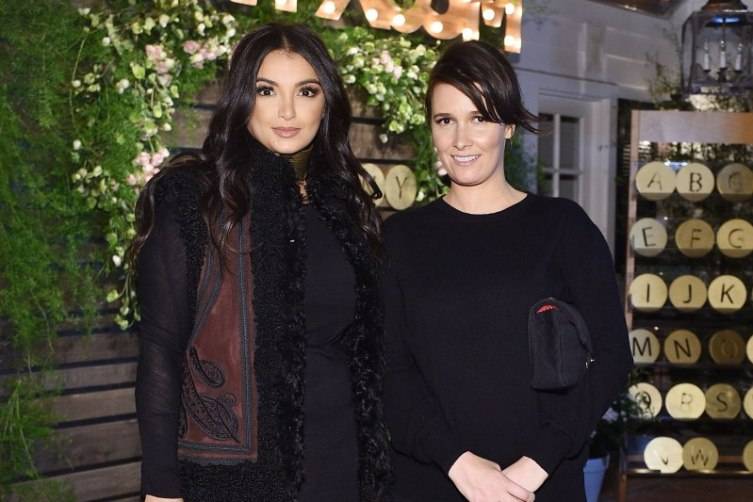 Barneys New York XO Jennifer Meyer 5
Princess Fajer Al-Rajaan and Cassandra Grey
Photo Credit: Stefanie Keenan/Getty Images for Barneys New York
Barneys New York XO Jennifer Meyer 6
Kris Jenner and Corey Gamble
Photo Credit: Stefanie Keenan/Getty Images for Barneys New York
Barneys New York XO Jennifer Meyer 7
Kelly Sawyer Patricof, Nicole Richie, designer Jennifer Meyer, stylist Jamie Schneider and singer Katy Perry
Photo Credit: Stefanie Keenan/Getty Images for Barneys New York
Barneys New York XO Jennifer Meyer 8
Jennifer Meyer, filmmaker Sam Taylor-Johnson and actress Dakota Johnson
Photo Credit: Stefanie Keenan/Getty Images for Barneys New York
Barneys New York XO Jennifer Meyer 9
Jennifer Meyer, comedian Chelsea Handler and actress January Jones
Photo Credit: Stefanie Keenan/Getty Images for Barneys New York
Barneys New York XO Jennifer Meyer 10
Gwen Stefani
Photo Credit: Stefanie Keenan/Getty Images for Barneys New York
Barneys New York XO Jennifer Meyer 11
Eric Buterbaugh and actress Dakota Johnson
Photo Credit: Stefanie Keenan/Getty Images for Barneys New York
Barneys New York XO Jennifer Meyer 12
Erin Foster and Sara Foster
Photo Credit: Stefanie Keenan/Getty Images for Barneys New York
Barneys New York XO Jennifer Meyer 13
Corey Gamble and Kris Jenner
Photo Credit: Stefanie Keenan/Getty Images for Barneys New York
Barneys New York XO Jennifer Meyer 14
Crystal Lourd
Photo Credit: Stefanie Keenan/Getty Images for Barneys New York
Barneys New York XO Jennifer Meyer 15
General view of atmosphere
Photo Credit: Stefanie Keenan/Getty Images for Barneys New York
Subscribe to discover the best kept secrets in your city