This year high-fashion luxury brand Giorgio Armani celebrates its 40th anniversary. For forty weeks, the brand will be commemorating 40 years of excellence through an assortment of events, a digital archives and a social media campaign using the hashtag #ATribute.
On April 30th, the Italian brand commemorated the milestone with an inaugural exhibition at Armani/Silos. The exhibition, which is 4,500-square meters (48,000-square feet) and divided over four floors, features more than 600 looks from Armani's ready-to-wear collections and 200 accessories spanning from the 1980s to 2015. The exhibition is not in chronological order, but is organized by themes that have inspired and continue to inspire Armani.
On the ground floor is the section Stars and the section dedicated to Daywear. It is a collection of garments that were worn by stars. The first floor dubbed Esotismi features an exotic appeal. On the second floor named Cromatismi is dedicated to chromatic garments. On the third and fourth floors, which are named Luce, features apparel.
With the exhibition, Armani is giving consumers the opportunity to explore the brand's 40-year history. Brand buffs have the opportunity to learn more about the designs and collections that were significant and recurring design themes over the course of the years.
The exhibition space, which is located in Milan, was designed and built by Armani. The building was formerly a factory for Nestle, the Swiss multinational food and beverage company. Armani named the building Silo because it was once used to store food.
In addition, as a gift to Armani the city of Milan released a stamp dedicated to the designer, picturing his own sketch of the building.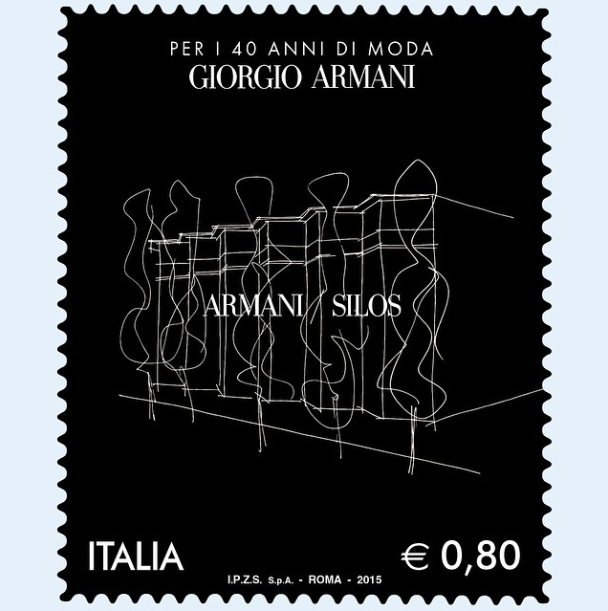 Armani hosted an inaugural with several stars in attendance such as A-listers like Leonardo DiCaprio, Cate Blanchett, Janet Jackson, Tina Turner, Sophia Loren and more.
Admission to the museum is priced at $13. Students will be offered a reduced price. Each ticket allows the visitor to enter the Giorgio Armani permanent collection. Visitors may also access the digital archive for free by registering on the Armani/Silos site. Consumers can schedule a time to visit the museum with touch tables and video projections in the digital archive or a research desk for free. The exhibition will run until October 31st.
If you cannot make it to Milan to visit the exhibition, follow the brand's celebration via social media by keeping up with the hashtah #ATribute. The Italian brand will update the site weekly, unveiling new content to keep fans updated and engaged throughout the year.
(Photos via Armani's Facebook page)