Longines kicked off its Global Champions Tour in Miami Beach this weekend, making it the first in a list of world-class cities like Antwerp, Madrid, Shanghai, Hamberg, Cannes, Monaco, Paris and London to host the 15-stop tour. The Longines event is truly an A-list event in the world of show jumping. It is known to have the biggest purse— $1 million in prize money across 5 classes being fought for by the world's top 30 riders.
The three day competition featured a very important roster of names both on the sand and in the stands. Athina Onasis de Miranda competed under the Greek flag, while Sheikh Ali Bin Khalid Al Thani of Quatar rode Concordia with a posture that was so elegant, it made us weep. Jessica Springsteen competed and her father Bruce Springsteen came in to watch, as did rider Georgina Bloomberg's father, former New York City Mayor, Michael Bloomberg.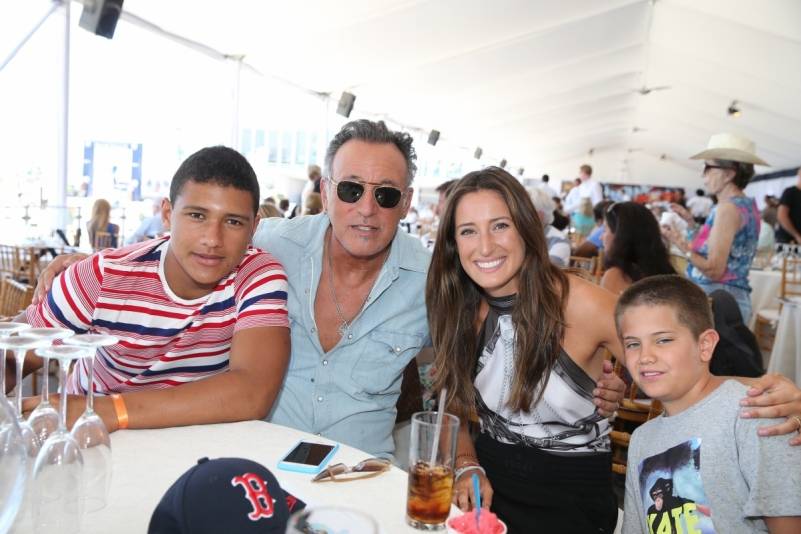 Georgina Bloomberg to took a moment to talk to Haute Living between competitions. "It's beautiful here. I've ridden in Cannes and Monte Carlos, but they aren't right on the beach the way it is here," said Bloomberg. So does it distract the riders? "You'd be amazed at how much we can tune out when we're focusing on the jumps though."
"Even the horses are pretty used to it," she explained.. "My top horse has had an injury and this horse (Lilli), has really stepped up the last few weeks. I'm very happy with her performance this year, she's shown me she belongs here. If she hits a few rails [on my next run], I have to be forgiving." When asked if the competition gets to her, she calmly took a sip of coffee and said, "We do this every day and we are used to competing at the top level. We are also used to handling failures, because in this sport, you're going to have more failures than success no matter who you are." Sounds like a good metaphor for life.
After an exciting 3-day competition, it was British rider Scott Brash on Hello Sanctos who took home the gold medal. Fortunately, there are still 14 more stops on the tour and another $14 million on the table up for Bloomberg, and all the other spectacular horse and riders.
Bruce and Jessica Springsteen
Michael Bloomberg
Margie Goldstein-Engle on Royce
Elle McPherson and Jeffrey Sofer
Jan Tops
Georgina Bloomberg
Georgina Bloomberg
Edwina Tops, Cari Anderson, & Schuyler Riley
Mary Rivas & Emma Dienst
Sarah Arison
James & Catherine Doyle, Georgina Bloomberg, & Monica Algarra
Marcia Martinez, Michael Laas, & Keren Eldad
Georgina Bloomberg, Steve Wilde, Niki Caine, & Catherine Doyle
Elvia Gnecco & Maria Fernanda Martinez
Nick Skelton & Jessica Springsteen
Photos by World Red Eye
Subscribe to discover the best kept secrets in your city