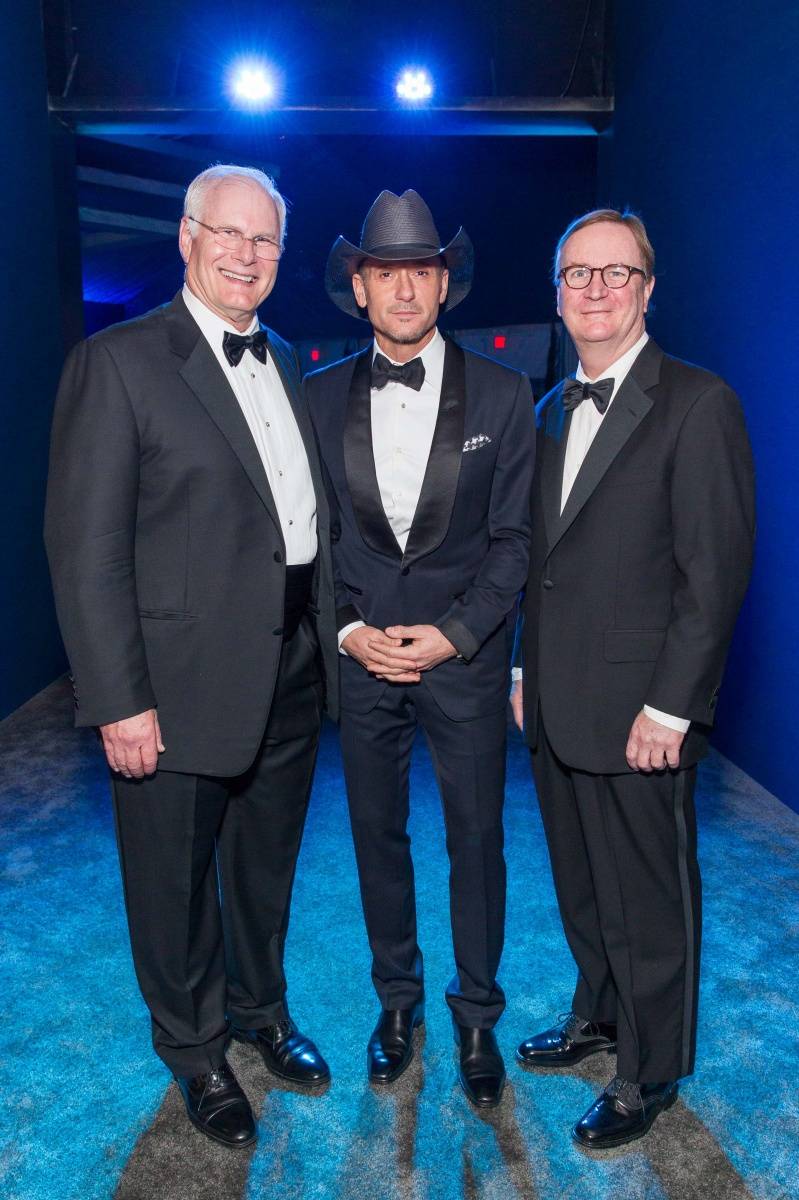 Photo Credit: Drew Altizer Photography
The 72nd annual Golden Globes, as grand and fun as they were last night, had nothing on the Champions Gala, an exclusive and elegant soiree held Jan.10 at the UCSF Medical Center at Mission Bay to thank the "champions" who helped make the $1.5 billion healthcare complex that officially opens Feb. 1 a reality. There was star power in the form of surprise performers Tim MGraw and Kevin Spacey, the breaking philanthropic news of venture capitalist Ron Conway's $40 million donation to the medical center, a swank decor that easily made people forget they were in a tent, heart-tugging words from an adorable kid, Rhett Krawitt, who wasn't even three years old when he learned he had leukemia and an energetic after-party with Band from TV.
It wasn't surprising to find out that Los Angeles-based Sequoia Productions, which handles the Governors Ball immediately following the Academy Awards created an opulent atmosphere inside the 51,000 square foot tent, where lights twinkled like stars from above, couches and chairs in lounge areas gave guests a place to relax and even the tablecloths were gorgeous.
"UCSF is a big deal nationally and globally," says Mark Laret, CEO, UCSF Medical Center and UCSF Benioff Children's Hospitals, who along with Chancellor Sam Hawgood and the UCSF Foundation Board of Directors, hosted the affair. "The research enterprise here is second to none. The medical center is one of the top 10 in the country; so it's appropriate to have an event like this to acknowledge the magnitude of what's happening here."
Laret and Hawgood stood at the entrance of the cocktail reception and greeted the 1,000 attendees, who included San Francisco Mayor Ed Lee, Dede Wilsey, Paul and Nancy Pelosi, Janet Napolitano, Ron and Gayle Conway, Sandy and Joan Weill, Michael Covarrubias and Kathleen Mcintosh, Joe and Jennifer Montana, Ronnie and Karen Lott, Carmen and Gail Policy, Doug and Lydia Shorenstein, Trevor and Alexis Traina, Mark Leno, Scott Wiener, Jackie Spier, San Francisco Police Chief Greg Suhr, San Francisco Fire Department Chief Joanne Hayes-White, Olivia Hsu Decker, Denise Hale and Stanlee Gatti. 
"This new hospital is the culmination of a long journey—a journey of 10, 15 years when we've been planning (and) thinking about what we were going to build here and how we were going to do it," Laret said. "Over the course of that time period, there have been thousands of people who have been involved in making this possible, including our donors. This night tonight is a way to thank all of them for their amazing vision, stewardship, generosity and support of this new hospital complex."
The complex is comprised of the UCSF Benioff Children's Hospital, the UCSF Bakar Cancer Hospital and the UCSF Betty Irene Moore Women's Hospital. Missing from the gala was Salesforce.com CEO Marc Benioff and wife Lynne Benioff, who gave a $200 million gift to UCSF for UCSF Benioff Children's Hospital San Francisco and UCSF Benioff Children's Hospital Oakland. The couple had popped down to L.A. for the 4th annual Sean Penn & Friends HELP HAITI HOME gala benefiting Penn's J/P Haitian Relief Organization.
Thanks to the Benioffs, one of the fantastic offerings of the Children's Hospital is BEAR Force One, a medical helicopter whose acronym is short for Benioff Emergency Air Rescue. The hospital features the only operating hospital helipad in San Francisco to transport critically ill babies, children and pregnant women to the medical center from outlying hospitals.
"The neighbors were generous in letting us have a helipad, but they were very specific about what the uses of it are—and it doesn't include Marc flying in on his helicopter," Laret said with a smile. "That's not allowed."
Although the medical center is in Lee's area, he recognizes it is much bigger than San Francisco.
"UC San Francisco is directly connected to our General Hospital and so for them to also expand their ability to have a children's hospital—and then to connect that up with Oakland; it's not just San Francisco," the San Francisco mayor said. "It's the entire Bay Area that this contributes to. It's modern medicine. It's the top of the line and a world-class city needs these kinds of hospitals. We're all excited about the well-endowed hospital that it is but the research arm of it as well as the high level of care, I think it's a fantastic contribution to our needs."
[As a side note, we asked Lee about the U.S. Olympic Committee selecting Boston over San Francisco as America's nominee to host the 2024 Summer Games. "Didn't they want to win?" he answered wryly.]
Wilsey, who helped raise $400 million for the medical center, said, "When you build something like this, you attract the best and the brightest and that's what we're doing here. We have the best doctors, the best scientists, the best researchers and provide the best healthcare in the city. That's what it's all about."
Ron Conway's $40 million donation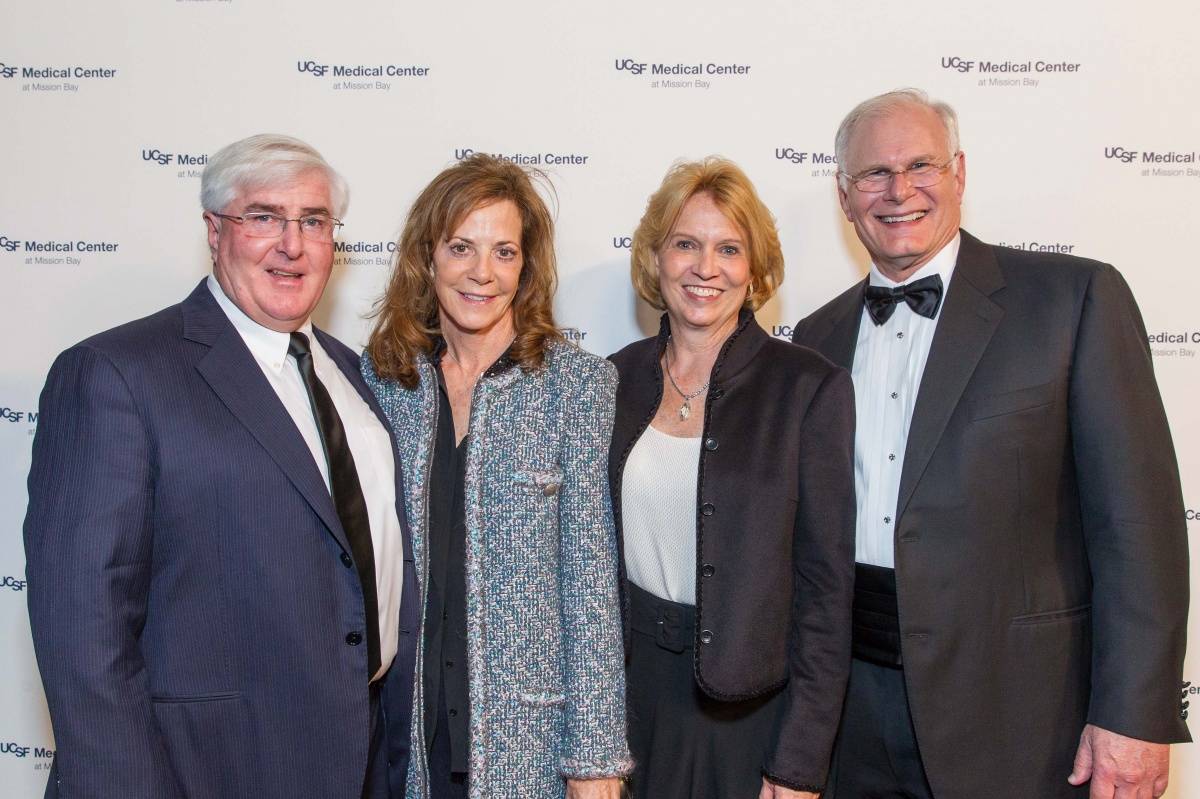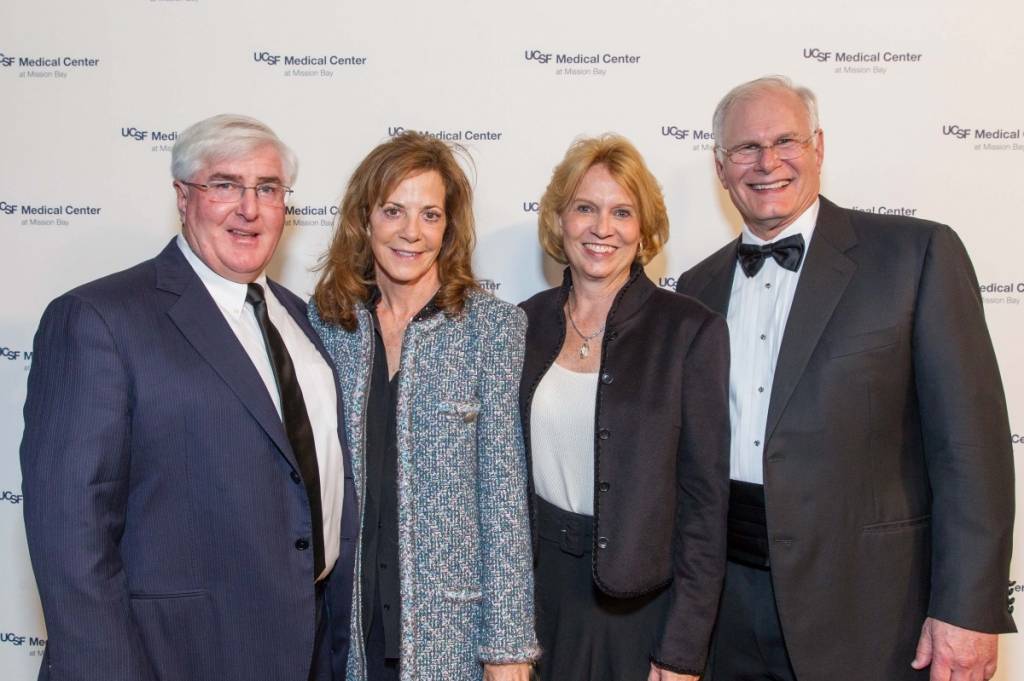 Photo Credit: Drew Altizer Photography
Highlights of the evening included:
The announcement that Conway stepped to the plate with a $40 million donation to help pay for the new outpatient medical building at the UCSF Medical Center at Mission Bay. The building, scheduled to open Jan. 26, will be named the UCSF Ron Conway Family Gateway Medical Building. Thanks to Conway's donation, UCSF has now raised $550 million of its $600 million goal.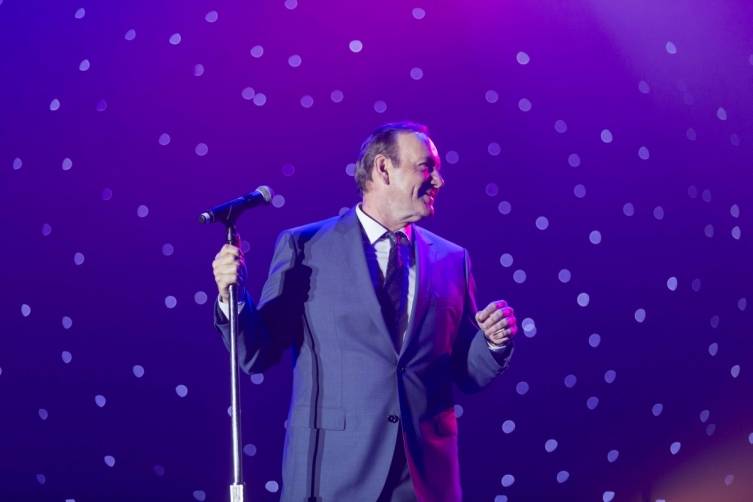 Photo Credit: Drew Altizer Photography
Spacey proved he's more than a great actor—the two-time Oscar winner was back in L.A. to pick up a Golden Globe for his starring role on Netflix's House of Cards—but that he can sing as well. After his rousing rendition of "That's Life," he removed his jacket and told the crowd, "I don't do this for a &*$@! living, but I am tonight—apologies to the kids." Then, he dazzled with "Bridge Over Troubled Water."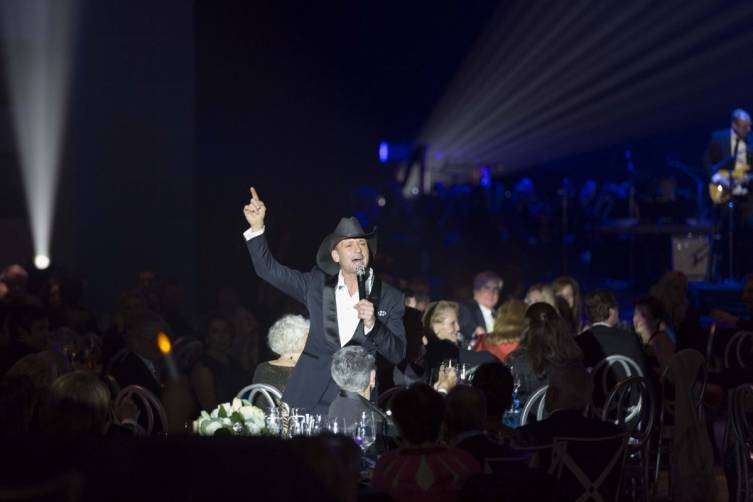 Photo Credit: Drew Altizer Photography
Before showing why he's won three Grammy awards and 14 Academy of Country Music Awards, McGraw, who took the stage after Spacey, said, "I didn't know I was going to follow the president of the United States. He sang his a$$ off, didn't he?" McGraw talked about his Bay Area roots—his father, former Major League Baseball player Tug McGraw was born in Martinez in Contra Costa County and he has an uncle whom he described as "an old hippie who lives outside Yountville." McGraw said his uncle was waiting for him at the hotel. He didn't bring him to the gala because "I was afraid of what he might light up," the singer said.
Band From TV, a group of actors who play for charitable causes, singing "Man in the Mirror" with Oakland School for the Arts: Vocal Rush. Band from TV is comprised of televison stars Greg Grunberg, James Denton, Bob Guiney, Eddie Matos, Jesse Spencer, Adrian Pasdar, Scott Grimes, Chris Kelley, Barry Sarna, Chris Mostert and Brad Savage,
Performances by the Oakland East Bay Symphony conducted by Michael Morgan, Oakland School for the Arts: Vocal Rush, Alizma Violon Trio and Tyia Wilson.
Dede Wilsey and Scott Wiener
Mark Laret, Jane Laret, Joan Weill and Sandy Weill
Nancy Pelosi, Paul Pelosi and Olivia Hsu Decker
Kathleen Mcintosh and Michael Covarrubias
Tom Klein, Pamela Deikel, Ted Deikel, Barbara Klein and Paul Pelosi
Band From TV
Atmosphere
Alizma Violon Trio
Atmosphere
Atmosphere
Alex Brenner and Lorre Erlick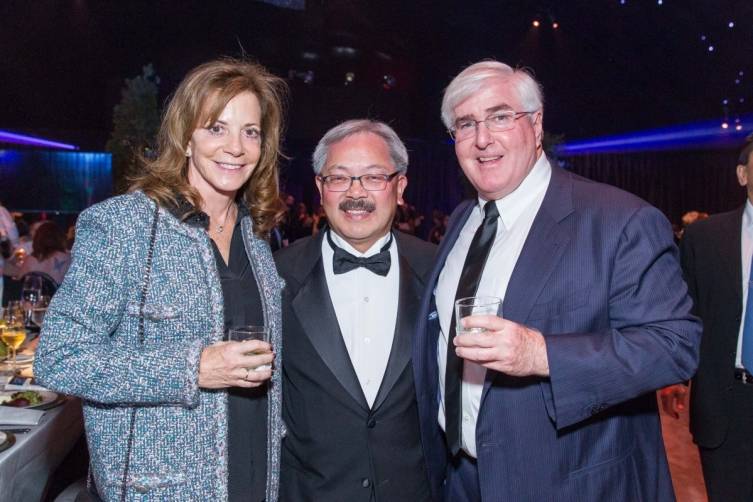 Gayle Conway, Mayor Ed Lee and Ron Conway
Janet Napolitano
Karen Lott, Kevin Spacey and Ronnie Lott
Mark Laret and Chuck Feeney
Pam Glogau, Richard Glogau and Beth Townsend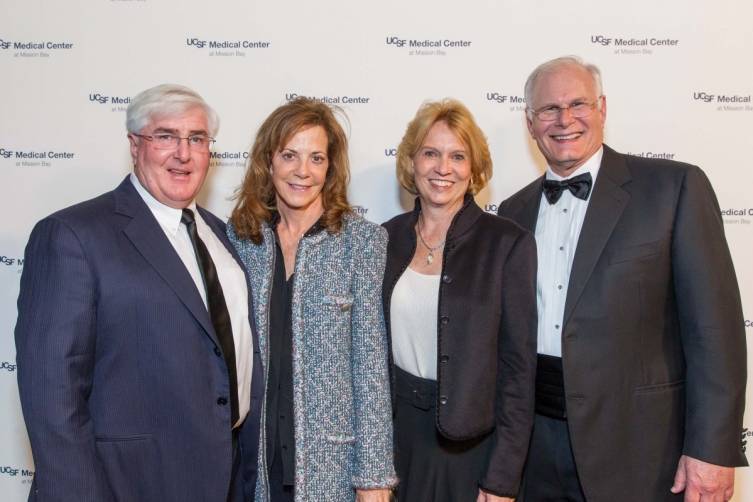 Ron Conway, Gayle Conway, Jane Laret and Mark Laret
Ronny Conway, Michelle Conway, Tim McGraw, Tofer Conway and Danny Conway
Trevor Traina, Dede Wilsey and Alexis Traina
Stanlee Gatti and Denise Hale
Ronnie Lott, Tim McGraw, Rhett Krawitt and Joe Montana
Tim McGraw performs
Kevin Spacey performs
Performance
Performance
Gallery photos: Olivia Hsu Decker and Drew Altizer Photography
In other news, Golden State Warriors point guard Stephen Curry finally has his own shoe—Curry One. He debuted the sneakers, made by Under Armour, in the Warriors' win on Friday. Watch the video.
Subscribe to discover the best kept secrets in your city