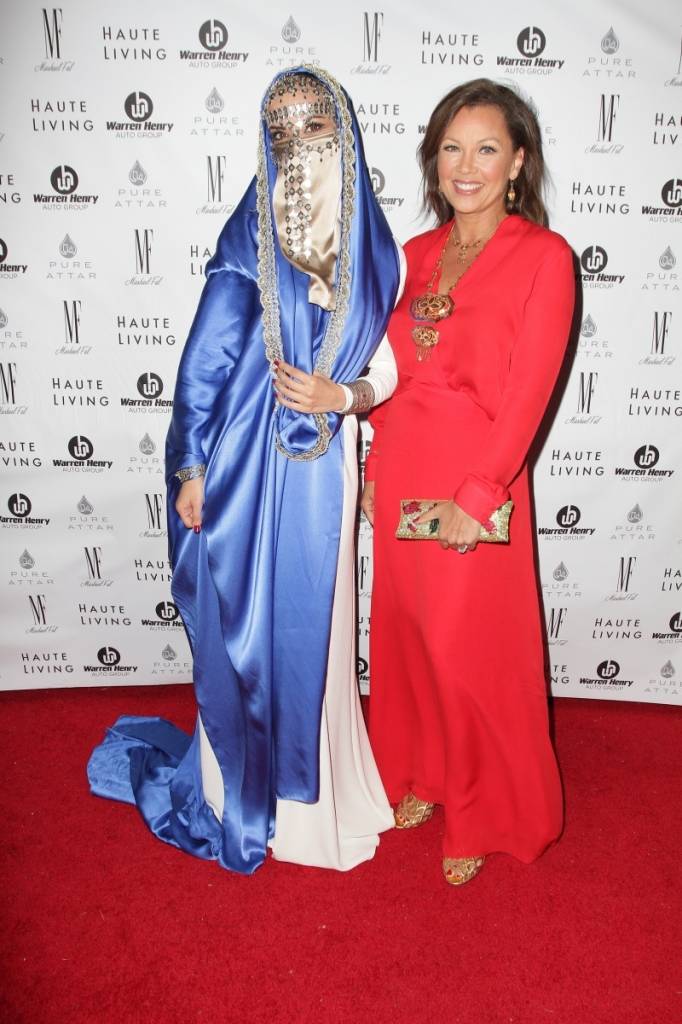 On Monday, December 1st, art aficionados, culture enthusiasts and Miami's elite gathered at the SLS Hotel South Beach to get an exclusive look at the collection of Saudi female painter, Mashael Fahad Al-Athel. Hosted by Haute Living Magazine, and Warren Henry Auto Group, this VIP-only event kicked off Art Basel week 2014 with delicious pomegranate margarita mocktails, delectable hors d'oeuvres, and an artist introduction by the beautiful and talented actress and singer, Vanessa Williams – a fan of Mashael's work, and a strong supporter of her dedication to women's empowerment.
Born in the small town of Riyadh in 1979, Mashael has always had a passion for painting and creativity. Believing her mind is most inspired in the quiet of the night, which she views as the most romantic time of the day, this young artist often stays up late into the evening to produce her one-of-a-kind designs. Having graduated with a Bachelor's degree in Economics from King Saud University, Mashael pursued her passion further by taking art courses in Saudi Arabia, Britain, France and Italy. Practicing with different mediums, Mashael found herself drawn to oils; and today, has developed a collection that's shaping perceptions of art and perspective, one oil painting at a time.
For Mashael, art is more than a hobby; it's a way to meditate, and even more importantly, a method of communication. Using art to share a message, Mashael is known for creating oil paintings with bold colors on large canvases. The objects of her design are usually beautiful images of masked women: a statement about the educated, powerful, cultural and beautiful nature of Saudi women that is often hidden by today's assumptions of their weak and powerless demeanor. Through her works, Mashael aims to promote the progressive and ambitious nature of today's Arabic women; she portrays life through their eyes to honor their history, and simultaneously, show how women are changing it.
Monday night's event celebrated both an Art Basel and Miami debut for the young and talented Mashael Fahad Al-Athel, who will show her collection at SELECT Fair 2014, which will be back for the third installation in the Magic City this week. Additionally, this event marked the official launch of the exclusive Pure Attar Perfume. For more information about Mashael's collection, visit www.mashaelfal.com.
Subscribe to discover the best kept secrets in your city