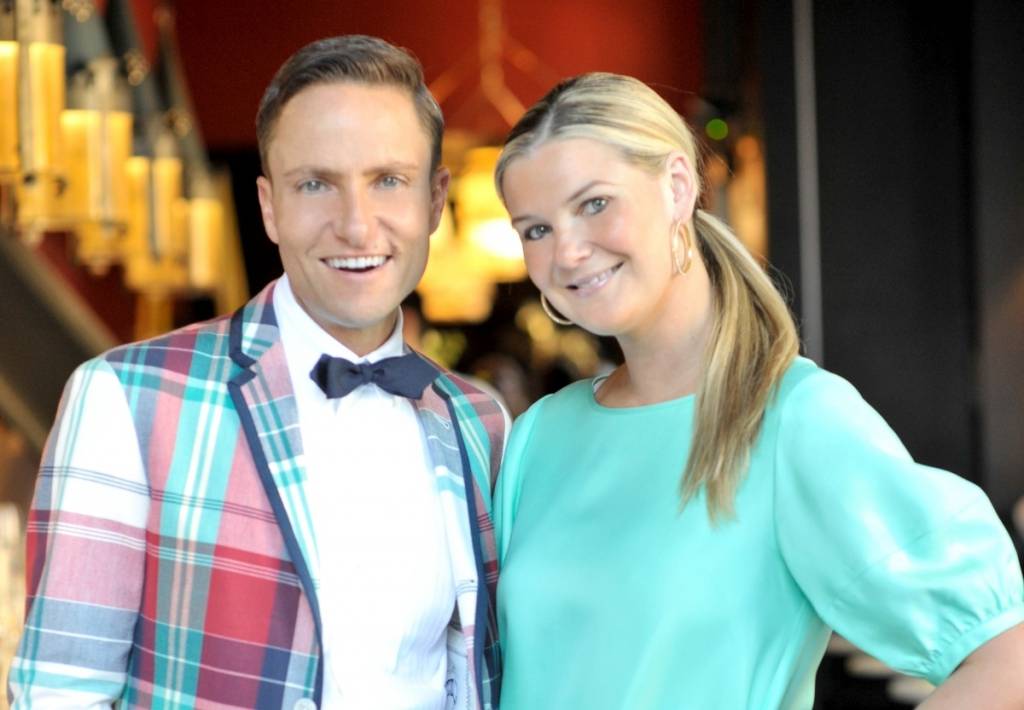 Photo Credit: Laurie Levenfeld 
No one in San Francisco can throw a party like Ken Fulk, the über-event planner and iconic interior designer. Restaurateur Anna Weinberg has proven with the successful of her four haute spots—Marlowe in SoMa, Park Tavern in Washington Square, The Cavalier in the Hotel Zetta and its secret hideaway Marianne's—that she knows more than a little something about hospitality. With New Year's Eve just around the corner, this dynamic duo teamed up to share tips on how to throw a NYE in style. Plus, celebrated chef Jennifer Puccio provides her recipe for the scrumptious English pea pancakes that we can't get enough of when we dine at Marlowe. Follow their tips to bid adieu to 2014 and ring in 2015 in style!
Timing:
Start your party later so guests stay. People leave early parties early. Starting at 9:30, or even 10 p.m., means your soirée will be the place to be for the strike of midnight.
Flowers:
Stick with one color or one type. Whatever is fresh and in season, buy as much and as many as you can muster.
Keep drinks simple & elegant:
One specialty cocktail, one non-alcoholic spritzer and one champagne.
Photos:
Set up a group selfie photo booth/vignette area with photo accessories like masks, wigs, hats, glasses and boas. Establish a hashtag for guests to share social pics. Pick up an extendable camera phone holder (selfie-stick) from Amazon for under $10 to help get everyone in the frame.
Placed Snacks:
Set snacks and nibbles, such as chips and dip, cut veggies, nuts, truffles, cheeses and crostini, out in beautiful, cut crystal and vintage silver bowls with pretty linen cocktail napkins and plates. Tuck them everywhere—onto cocktail tables, in corners near seating groups and near your bar set up. That way, as guests mix and mingle, they can help themselves and aren't clumping around the food tables.
After Midnight:
Right after midnight set out an egg themed 'breakfast' buffet: deviled quail eggs, caviar, baked fingerling potatoes, crème fraîche, blinis and rösti, smoked sturgeon and salmon, prosciutto, asparagus, brioche toast points, soft scrambled eggs, chives and Meyer lemon pots de crème.
Party favors:
Custom made hangover kits for guests, with aspirin, Alka-Seltzer, bottled water, Emergen-C, black-eye peas and personal stationary notes with log-in information for a morning-after Spotify playlist.
Candles:
Freeze candles overnight before you set them out. They last longer and burn slower than room temperature wax.
Follow Fulk's and Weinberg's tips to be the host or hostess with the mostess. For an added bonus, serve Puccio's English pea pancakes. Don't blame us if your guests never leave.
English pea pancakes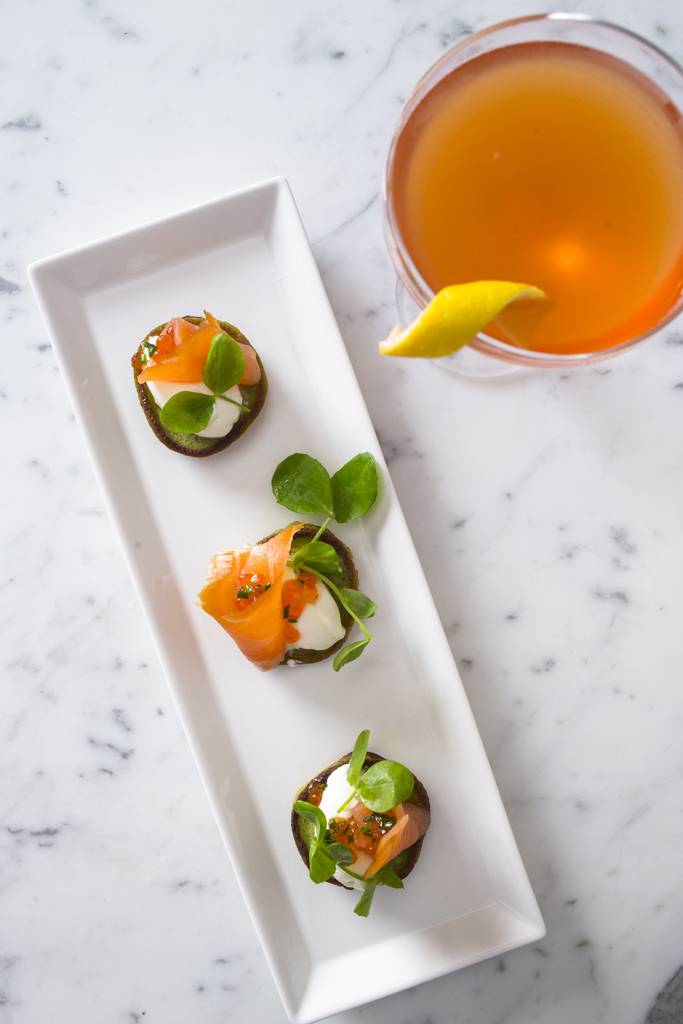 Photo Credit: Eric Wolfinger
ENGLISH PEA PANCAKES
3 C ENGLISH PEAS
1/2 C WHOLE MILK
1/4 C CREAM
4 ea EGGS, BEATEN
1 C FLOUR
1 t SUGAR
2 t BAKING POWDER
TT SALT
COMBINE THE ENGLISH PEAS, MILK AND CREAM IN THE BLENDER UNTIL SMOOTH. POUR INTO A BOWL AND WHISK IN THE BEATEN EGGS. COMBINE THE DRY INGREDIENTS. COMBINE THE WET AND THE DRY. SEASON TO TASTE WITH SALT. IN A MEDIUM HOT SAUTE PAN MELT BUTTER AND FRY TABLESPOONS OF THE BATTER AS YOU WOULD A PANCAKE.
TOP WITH SLICED SMOKED SALMON
1/4 C CREAM
1/4 C CREME FRAICHE
1 T MINCED CHIVES
PINCH OF SALT
WHIP together WHIP CREAM AND CREME FRAICHE TO MEDIUM PEAKS FOLD IN THE CHIVES AND SALT
TOP THE SALMON WITH A DOLLOP OF THE WHIPPED CREME FRAICHE
GARNISH WITH SMOKED SALMON ROE, MICRO PEA TENDRILS, LEMON ZEST, SEA SALT AND LEMON JUICE
Subscribe to discover the best kept secrets in your city