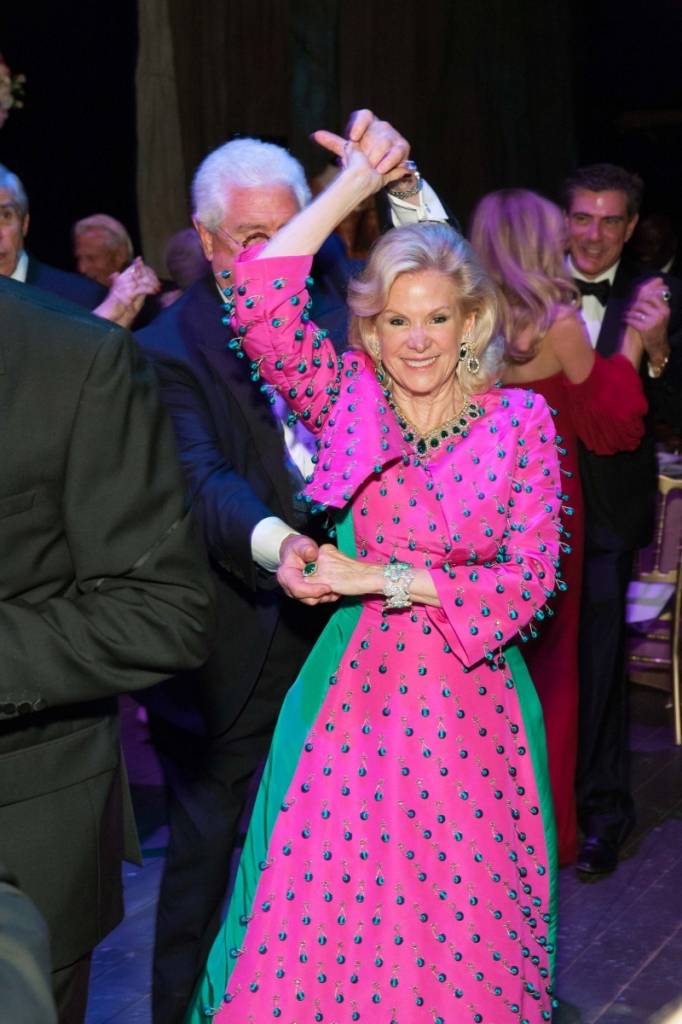 When it comes to Dede Wilsey, San Francisco Opera General Director David Gockley said it best when he told an intimate group gathered to toast the philanthropic force of nature, "It's often said that fundraising is an extreme sport, which would qualify our Dede as an Olympic athlete." The occasion was "A Paris Holiday, Dinner on the Opera Stage," to honor Wilsey in the lavish manner to which she is accustomed, on Dec. 1 at the War Memorial Opera House in San Francisco.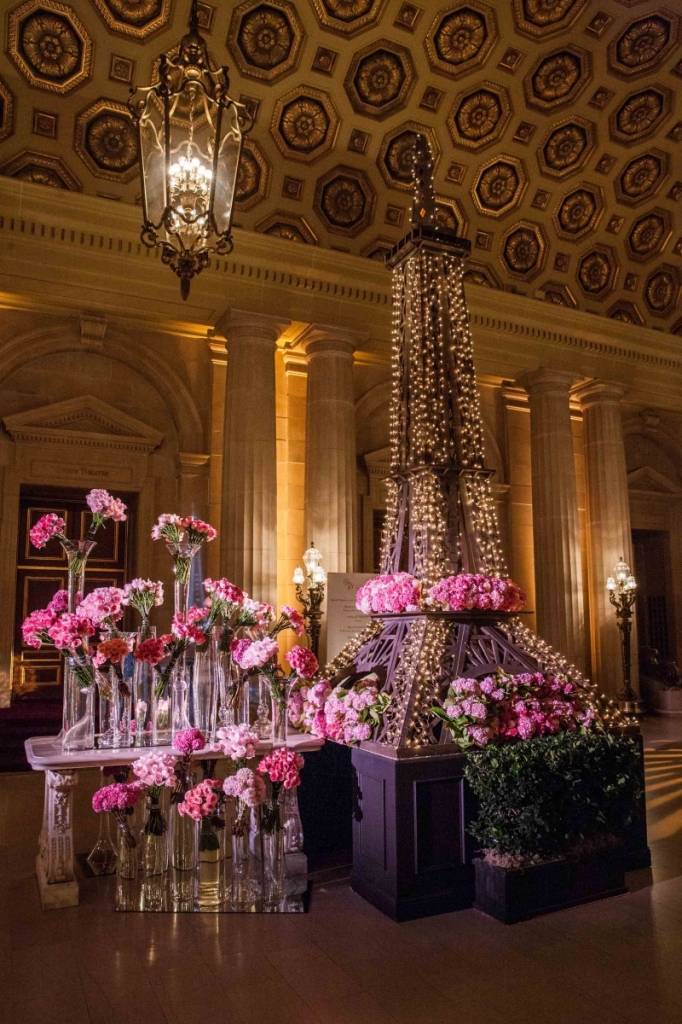 The Opera House was awash in pink, thanks to event stylist J. Riccardo Benavides of Ideas using Wilsey's favorite color to decorate the historic building. For the champagne reception held in the lobby, pink carnations and roses surrounded an Eiffel Tower made of wood and adorned in white lights.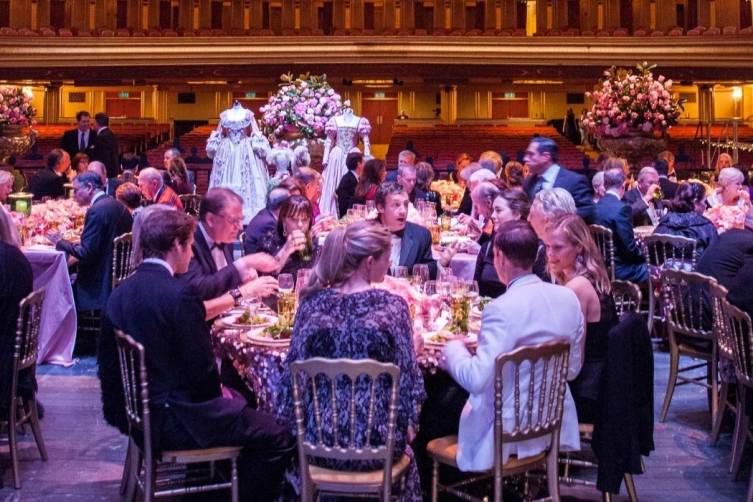 Following the reception, guests were transported to 19th century Paris on the set of the Company's current production of Giacomo Puccini's "La Bohème" for the rare opportunity to enjoy dinner and dancing onstage. The French would have approved of the menu, created by McCalls Catering & Events and highlighted by a caviar and egg mousseline amuse bouche, hazelnut crusted duck breast and duck leg confit for the main course and a dessert with raspberry meringue, the perfect color for the evening.
"I wore a pink dress by (coincidence)," Wilsey said, though the hue came as no surprise to those who know her or who designed the frock. It was Oscar de la Renta, her dearly departed friend whom she spoke fondly of when she addressed her supporters. Among those at the sold-out, black-tie affair, which also celebrated the closing of the fall opera season and concluded the Opera Guild's 75th anniversary year, were Trevor, Todd, Alexis and Katie Traina, George and Charlotte Shultz, Vanessa Getty, newly-elected San Francisco Opera Guild president Charlot D. Malin and Gregory Malin, Karen Kubin, Olivia Hsu Decker, Jack Calhoun, Ken Fulk, Paul Pelosi, Dr. Elisa Stephens, Joy Venturini Bianchi, Barbara Brown, Robert-Arnold Kraft, Sheree Chambers, Bob and Connie Lurie and honorary dinner co-chairs Susan Tamagni and Jane Hartley.
We all know that Wilsey's generous support of the arts has shaped the cultural landscape of the Bay Area and beyond but hearing Gockley rattle off the dollars in succession that Wilsey has raised for the arts and other disciplines was mind-boggling: $190 million for the Fine Arts Museums of San Francisco, specifically, the de Young, $3.2 million for Immaculate Conception Academy, $16.6 million for Grace Cathedral and $400 million for the UCSF Medical Center in Mission Bay.
She's also the lead donor of the Company's Diane B. Wilsey Center for Opera, featuring a new 299-seat flexible theater, rehearsal hall, education center, public archive and exhibition galleries, administrative offices and Costume Shop, opening in early 2016 in the adjacent Veterans Building on the War Memorial campus.
Wilsey shared her secrets to success, which included being able to identify your backstabbers early on.
After dinner, soprano Leah Crocetto belted out "Cry Me a River" and "With Every Breath I Take," relishing being able to flaunt her pipes in a different style, before guests kicked up their heels to tunes by the Dick Bright Orchestra.
Alexis Traina, Dede Wilsey and Trevor Traina
George Shultz and Charlotte Shultz
Olivia Hsu Decker, Charlot D. Malin, Gregory Malin and Susan Malott
Todd Traina, Bill Lamkin, Dede Wilsey and David Gockley
Paul Pelosi, Dede Wilsey and George Shultz
Roselyne Swig, David Gockley and Karen Kubin
Alan Morrell, Joy Venturini Bianchi and Mike Genoshe
J. Riccardo Benavides and Dede Wilsey
Susan Tamagni and Dr. Elisa Stephens
Ken Fulk, Dede Wilsey and Jack Calhoun
George Lucas and Gregory Malin
Paula Carano, Linda Zider and Jeanne Lawrence
Frank Stein, Tom Foutch, Larry Ludgus and Nancy Ludgus
Sobia Shaikh, Ginny Ziegler and Linle Froeb
Bob Hill and Gary Garabedian
Leah Crocetto
Carol Doll and Barbara Brown
Karen Kubin
Eleni Kounalakis and Jack Calhoun
Gary Garabedian, Lee Gregory and Alan Morrell
Maria Pitcairn and Robert Beadle
Charlot D. Malin, Melissa Boxer Zill, Ginny Ziegler, Linda Zider and Maryam Muduroglu
Photos by Drew Altizer Photography
Like Haute Living San Francisco? Join our Facebook page or follow us on Twitter @HauteLivingMag. Want Haute Living San Francisco delivered to your inbox once a week? Sign up for our newsletter.
Subscribe to discover the best kept secrets in your city