"The imagination is everything. Promoting art for young people is one of the most important things we can do to protect the next generation of humanity."
– Russell Simmons, media mogul and Co-Founder of Rush Philanthropic Arts Foundation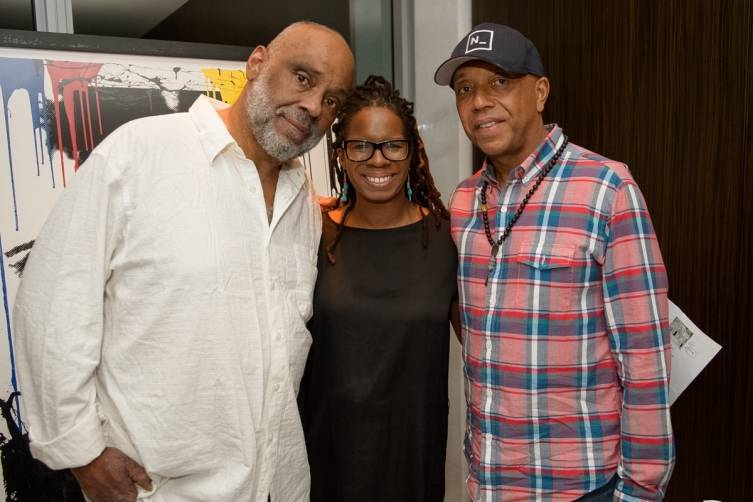 Held in the South Beach penthouse of Marc J. Leder, co-CEO of Sun Capital Partners and member of the Board of Directors for Rush Philanthropic Arts Foundation, the inaugural Art for Life Auction during Art Basel 2014 brought together Miami's dress-to-impress A-listers for a soirée with a cause that gave guests a chance to "see and be seen."
Hosted by Marc, Danny Simmons, Sara Friedlander and co-founder and largest supporter of Rush Philanthropic, hip hop legend Russell Simmons, this art auction raised in excess of $250K on Wednesday, December 3rd, alone – with all proceeds benefiting arts education programs for inner-city youth and gallery programs for emerging artists and curators.
Kicking off the night in style, guests of the event – which included media moguls, artists, Miami's elite and musicians like rapper Wiz Khalifa – headed to the venue's glowing rooftop pool for champagne, cocktails, appetizers and a vast view of the Atlantic above South Beach's star-studded Ocean Drive. Moving the party inside to Marc's home, brothers Russell and Danny Simmons welcomed guests and introduced the main event: a live auction led by auctioneers Sara Friedlander and Simon de Pury – of Christie's and de Pury de Pury, respectively.
During the evening, guests out-bid each other for art by Carrie Mae Weems, Derrick Adams, Renee Cox, Sante D'Orazio, Shepard Fairey, His Royal Highness The Prince of Wales, Rashid Johnson, Mr. Brainwash, Rashaad Newsome, Shinique Smith, Kehinde Wiley and Dustin Yellin – many of whom were in attendance. When the auction was over, guests also had the opportunity to donate $1K apiece to support one New York City youth's art education for an entire year.
Boasting a Wednesday like no other, this first-ever South Beach art event was one for the Basel books. But with an A-list crowd like this, who would expect any less?
For more information about Rush Philanthropic Arts Foundation, or to find out more about its other initiatives throughout the year, visit www.rushphilanthropic.org.