Baseball superstar Alex Rodriguez hanging at Michael Mina's Tailgate at Levi's Stadium and A Coppola Family Affair, a benefit for The Roxie theater in San Francisco's Mission District with the Bay Area's filmmaking royal family, were the hautest news-making events to take place over the weekend. Read on for more details: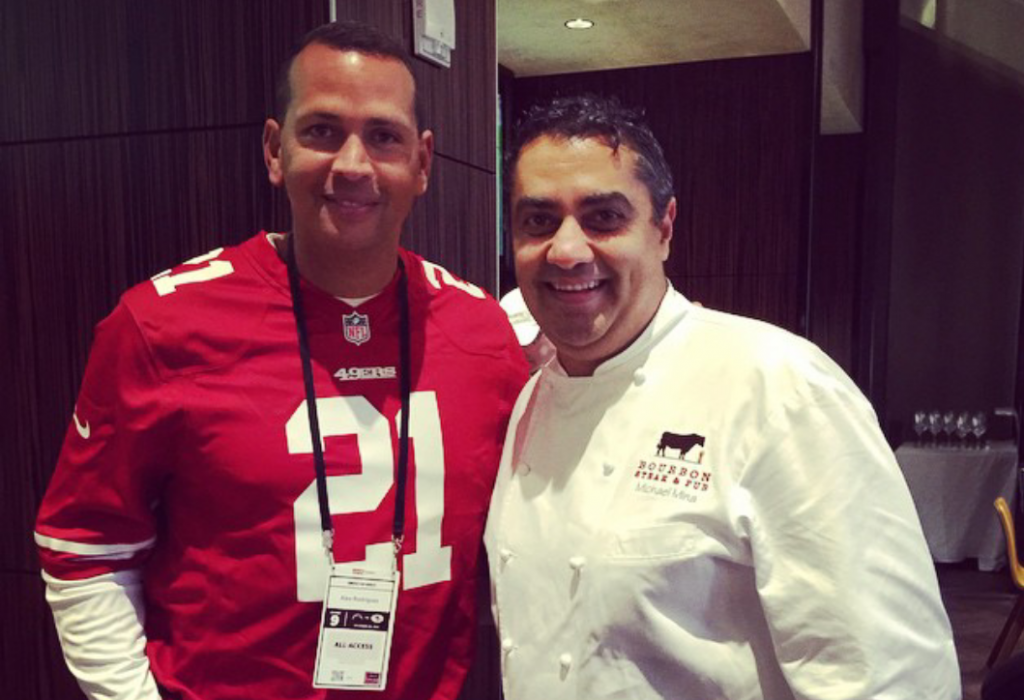 Photo Credit: Instagram
The San Francisco 49ers' lackluster season hasn't put a damper on the haute Michael Mina's Tailgate experience that takes place before and during every 49ers home game at the celebrity chef's Bourbon Steak & Bourbon Pub at Levi's Stadium. [We first shared the details with you after our visit in the fall.] Even New York Yankee star A-Rod—wearing a 49ers' No. 21 jersey—was on hand for the $500-a-person event on Dec. 20.
During the festivities, Haute Living caught up with Mina, a 22-year 49ers season ticket holder who used to tailgate in the parking lot at Candlestick Park, and asked him that now, as the season winds down, if the tailgate was everything he dreamed it would be.
"And then some," he enthused. "Obviously, I would have liked to have seen the team go a little farther but besides that—this was about not losing the spirit of what we were doing at Candlestick out in the parking lot. That was the only thing I was fearful of. Even though we have this unbelievable equipment and everything else, there was the spirit of the guest chefs and playing off the opposing team, keeping it within the spirit of tailing gating and I think we found a way to do that. I walk around here and I always have a smile on my face.
Sure, go ahead and say that reason Mina, who opened seven restaurants in 2014 to bring his number to 26, is smiling is because his customers pay top dollar for the thrill of being at this feast for foodies, which just happens to take place at the ultimate sports bar. However, it is truly fun, especially with the big-name guests chefs who take part. One of Saturday's was David Kinch, the chef/proprietor of two-Michelin-starred Manresa in nearby Los Gatos. Not only did his station offer a rotisserie heritage pork sandwich but tailgate goers were able to see the whole pig in all its glory.
Photo Credit: Kelly E. Carter
"I feed 300 people a week (at Manresa)," Kinch said. "He's going to feel more than three times that in a six-hour period—and this is just one of his many properties. This is astonishing. People pay a little bit of money to come to do but the value is certainly there. The place is packed and everybody is having a good time."
Manresa, whose kitchen and back of the house suffered severe damage in a two-alarm fire in July, re-opens for New Year's Eve and then for regular business on Jan. 2.
Kinch and Mina's connection is what trivia games are made of. In 1989, Mina's first date with his wife Diane was at Ernie's Restaurant, where Kinch was the chef. "David is a huge part of why things went well between us," Mina said.
Kinch adds, "I cooked the day he proposed to Diane, (in) either 1993 or '94."
Now, Diane has made a name for herself with her legendary Bloody Mary's. She whips up between 250 and 350 of the tasty creations during each of her hubby's tailgate experiences. Look for her to turn this into an enterprise in 2015.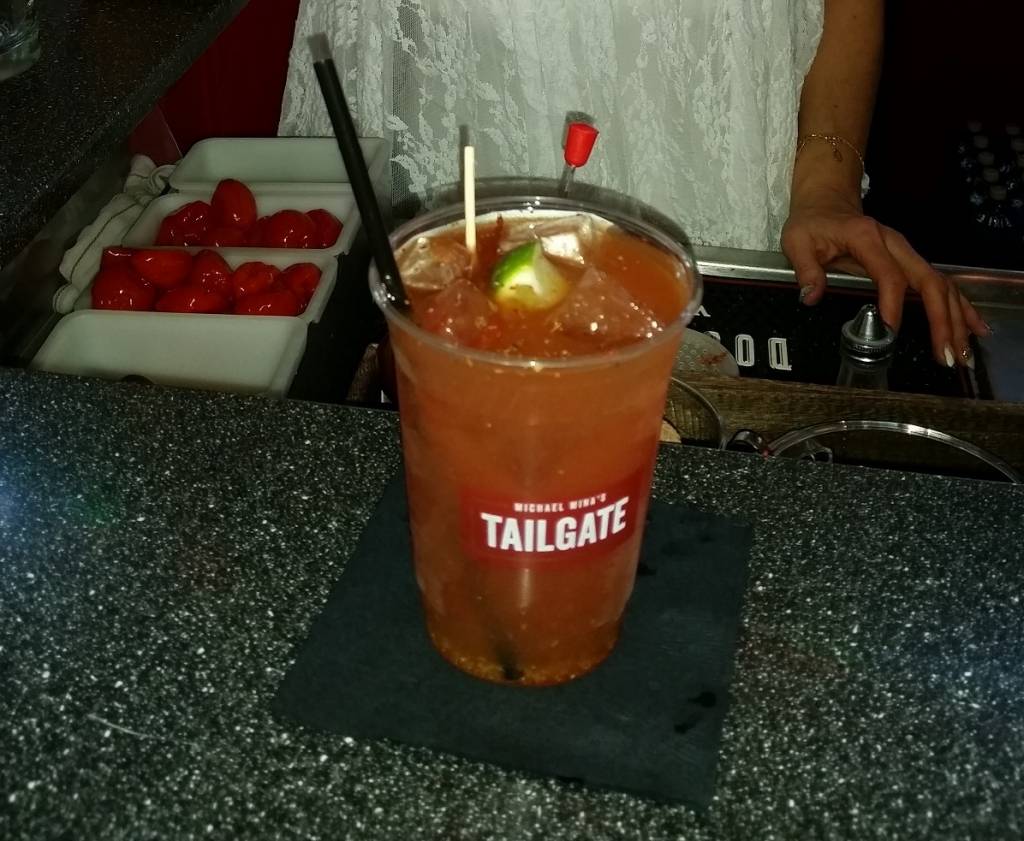 Photo Credit: Kelly E. Carter
A Coppola Family Affair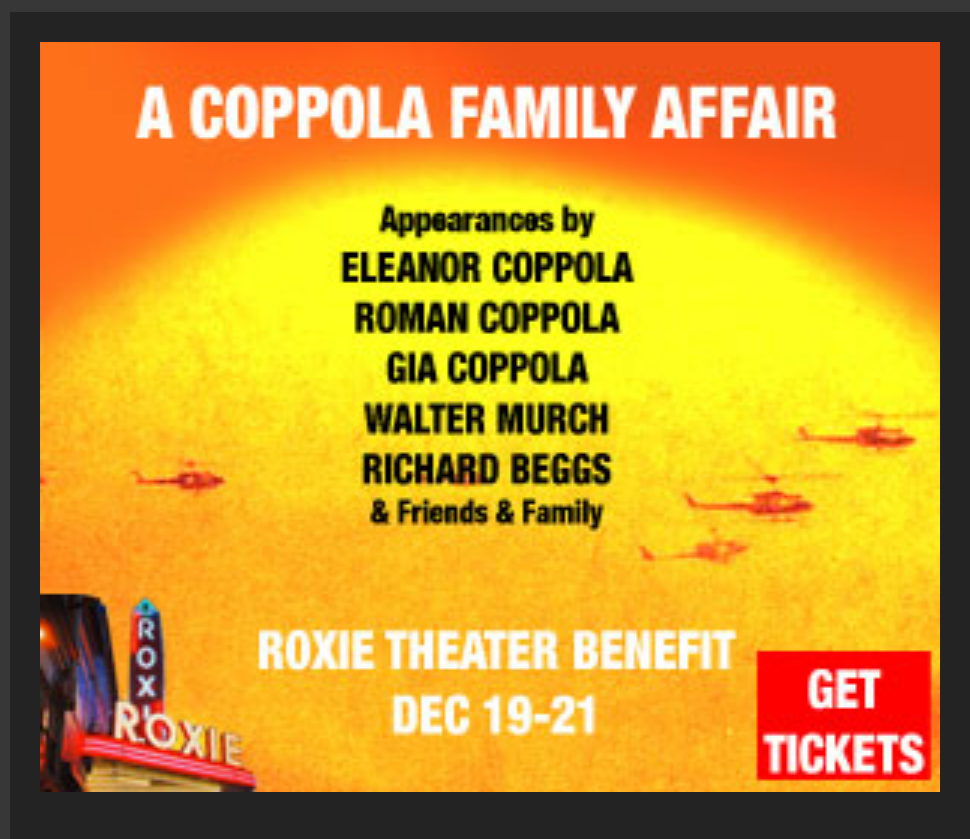 Kudos to Francis Ford Coppola's wife Eleanor for creating A Coppola Family Affair, a benefit for The Roxie theater in the Mission District that took place Dec. 19-21. The Coppolas, considered the Bay Area's filmmaking royal family, donated several of their films for the Affair, which included post-film conversations with cast and crew members and a private party.
Neither the patriarch nor Sofia were on hand but their movies were, along with Eleanor, her son Roman and granddaughter Gia. Not surprisingly, Palo Alto native James Franco, who dates Gia and teamed up with her on their film "Palo Alto," cancelled his appearance. He stars in Sony's controversial film "The Interview," which the studio pulled from theaters following threats.
Nonetheless, it was a memorable weekend, highlighted by talks with Academy Award winning sound designers Richard Beggs and Walter Murch of "Apocalypse Now" and the showing of Sofia's "The Virgin Suicides," which was preceded by "The Making of The Virgin Suicides."
"This weekend has been amazing," Roxie board member Jane Reed told Haute Living just before "Palo Alto" began. "Eleanor Coppola helped put it together with all of her children, which as you know, is a hard task to do. The films have been so well-received and are so timeless and important. To revisit all of it has been really riveting. To watch "Apocalypse" and then be followed the night after with Eleanor talking about "Hearts of Darkness" and how it all came to be put it all back in perspective again."
"… It's a weekend that I wish that everyone in San Francisco could have had the the opportunity to see. The Roxie needs everybody's support. This is one of the oldest, running independent theaters in the country. We can't lose the Roxie. With people like the Coppolas giving us support and doing wonderful weekends like this, we will keep thriving."
The theater operates as a nonprofit and now has a matching grant where every dollar donated will be matched.