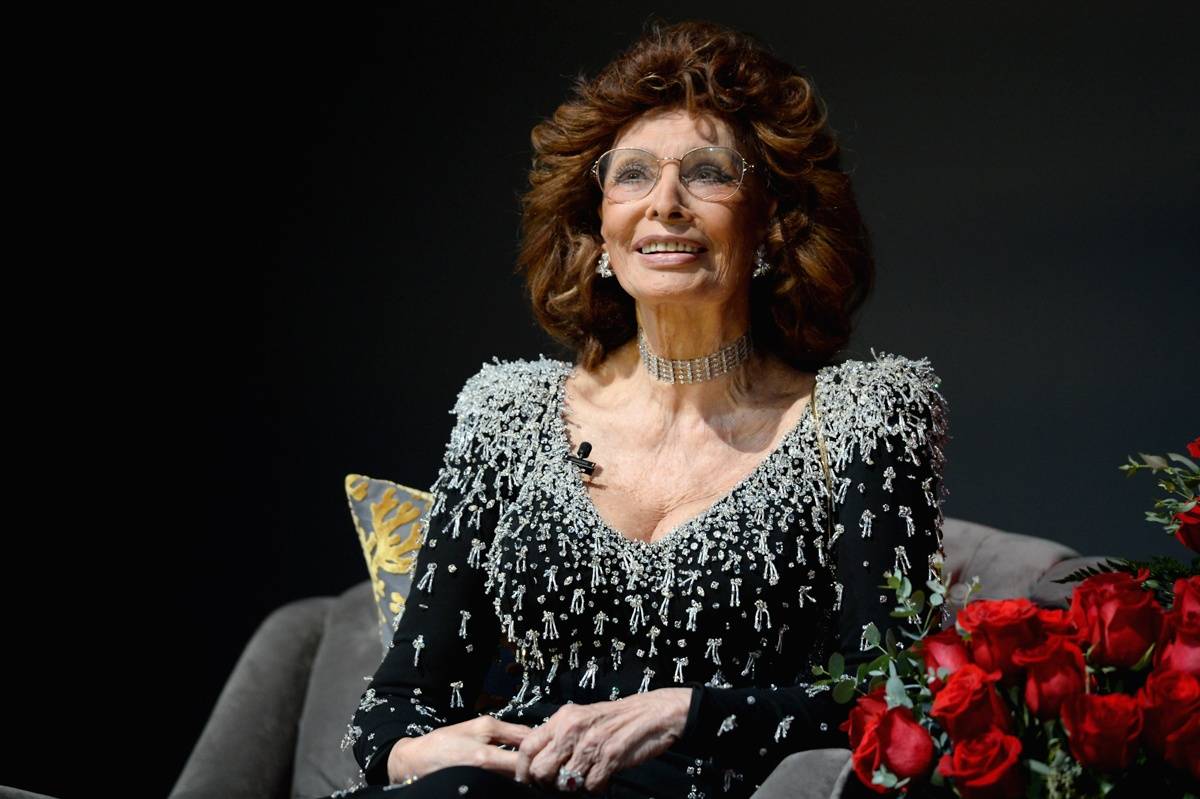 Photo Credit: AFI Fest/Michael Kovac On the eve of her 80th birthday, Sophia Loren decided to set the record straight. Italian cinema's greatest icon did not date Cary Grant; she has never regretted turning down Barbarella (or playing Alexis Carrington in Dynasty, for that matter); and her infamous line, "Everything you see, I owe to spaghetti?" Oops: she never actually said it—it was given to her.
The celebrated beauty isn't holding anything back in her forthcoming memoir, "Yesterday, Today, Tomorrow: My Life." The autobiography, which was released from Atria Books on November 4, doesn't skimp on the good, the bad, or the ugly, following Loren from her days as a poor and hungry girl in wartime Italy through the golden era of her career, to her present life as a mother and grandmother.
As recently as 2012, Loren had said, "My life is not a fairytale, and it's painful to speak about it." She has clearly since changed her tune, and has bravely laid herself bare.
"It is a long walk through what I've experienced," she says now. "The truth is there; I have nothing to hide. It comes from the heart, and has been done with much love and warmth. It's my life story."
By the same token, Loren, née Lazzaro, adamantly refuses to rue what might have been. "I have no regrets on how my life turned out," she declares. "I have had bad moments, such as when I was trying to have children and I couldn't — that was a big problem for me, really a tragedy — but I solved that problem. There are always moments that you don't like, but you have to focus on the positive things instead of the negative. Otherwise," she notes, "you go behind, not ahead."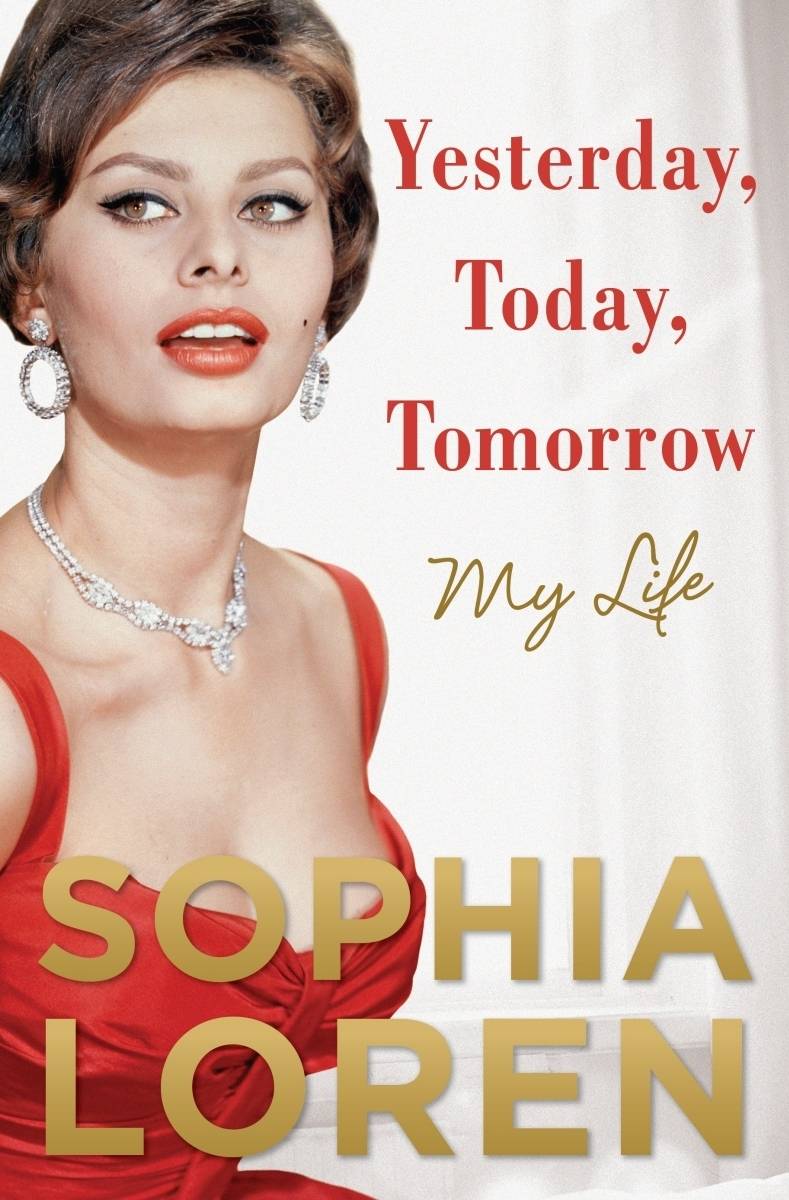 Photo Credit: Atria Books
She does not regret, for example, that she was lounging around at home in Italy at the very moment she won her first and only Best Actress Academy Award, for her 1962 film Two Sisters.
"I didn't expect to be nominated, because generally [the Academy] doesn't nominate anything that wasn't done in the English language.  Reading the papers, I saw that people were saying, 'Maybe Sophia Loren is going to win.' I said, 'Listen, if I don't win, of course I'm going to be a little bit upset, but I'm happy to be among the five nominees. I thought, 'If I win, I think I'm going to faint, and I think I better faint at home than onstage' — so I didn't go."
But again, Loren had no regrets about missing out on her only Oscar moment—or about going to sleep when the ceremony was still going on. "I really didn't think I was going to win," she admits. "I was in Italy at home. Of course, with the change of time in Italy and America, we made a mistake and at 6 a.m. said, 'Well, the ceremony is over' and went to bed. The next thing you know, Cary [Grant] is calling and saying, 'Sophia — you won, you won!' After I found out, I smoked a cigarette."
She also does not regret having turned down roles like Barbarella, which made Jane Fonda into a sexual icon. "At that moment in my life, I was going on with my career, and didn't want to stop to play a bad girl. It was not the role for me. It was not like I turned down a Shakespeare play, and my career was moving forward artistically."
Though the icon has had an acting career than has spanned six decades, over 100 roles, a Grammy, five Golden Globes, three top-selling cookbooks and two top 20 hits in the U.K., and has been honored as a Goodwill Ambassador by the UNHCR, her Academy Award was a truly visceral experience. "To win an Oscar is like falling in love," she says. "There is anxiety and confusion, but it feels really, really great."
As an Italian woman, the topic of "love" is inevitable, and Sophia Loren's love story is one for the ages. She met director Carlo Ponti in 1950 while competing in the "Miss Eleganza" beauty contest, which he was judging. At the time, she was 15; he was 37. He subsequently cast her in several films, including the 1951 drama, Anna. Despite their obvious age gap — and the fact that Ponti was already married — the two fell in love. He then obtained a quick divorce in Mexico and married Loren by proxy on September 17, 1957.
Their story became even more controversial when Ponti was charged with bigamy, as it emerged that the Catholic Church wouldn't recognize their marriage. He was eventually cleared, but the two were left with no choice but to annul their marriage in 1962. In 1966, they moved to France and obtained French citizenship and made their commitment to each other legal on April 9 of the same year. They gave birth to two sons shortly after — Carlo Ponti Jr. in 1968, and Eduardo Ponti in 1973. They stayed together until Ponti's death at the age of 94 on January 10, 2007.
For her part, Loren is adamant that she will never love anyone else again. "Never!" she declares passionately. "When you get it, you hold on to it, because it doesn't come again. In my life, family has always been very important. It gave me a structure, a positive foundation. Maybe because my mother never married my father, the dream of my life was to have a family. A family is forever. If your spouse goes away and dies, that foundation doesn't change. It's me and my children and grandchildren — yesterday, today, and tomorrow."
Today, Loren lives a quiet existence in Geneva, Switzerland. She revels in finally having a "normal" existence, and in finally figuring out the secret to true happiness. "You have to enjoy life," she declares, adding, "You have to enjoy everything that you do. You have to play with everything that you do, and at the same time, also take yourself quite seriously. Life is not easy sometimes, but you have to get over it and make it beautiful."
LIFE ACCORDING TO SOPHIA LOREN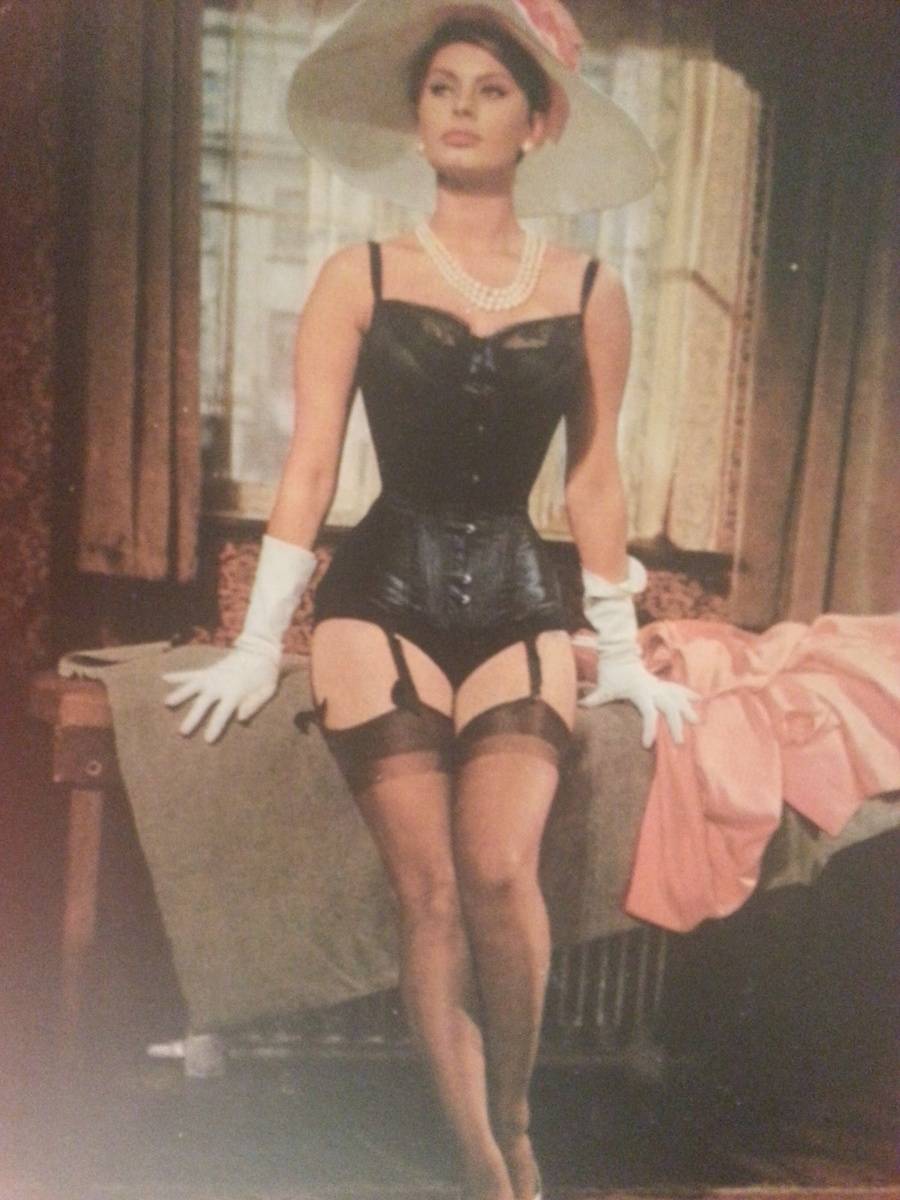 Photo Credit: Museo Soumaya
↔SOPHIA DESCRIBES HERSELF: "I am a nice friend in life — my friends appreciate my sincerity — and I like the Pope very much. Every Sunday, I look at him and I pray. I am very religious, and I don't know if people think of me that way." 
↔SOPHIA ON HER FAVORITE CO-STAR: "Marcello Mastroianni and I had a wonderful time together. We worked together for at least 20 years, and we got to know each other very well. We were great friends. We had the same sense of humor; he was really the ideal partner for me. He was really a member of my family."
↔SOPHIA ON HER ICONIC LINE 'EVERYTHING YOU SEE, I OWE TO SPAGHETTI': "That's a line I never said — it was given to me! I liked it so much though that I never said anything."
↔SOPHIA ON STAYING IN SHAPE: "In life, if you want to look good, you have to be a little careful in everything that you do. I like to walk outside in parks in the morning, and I'm careful about what I eat. You can't have pasta every day thinking you're going to stay beautiful."
↔SOPHIA ON REPORTEDLY DATING CARY GRANT: "We were together every day, dating on set. But we absolutely did not [date in real life]."
Subscribe to discover the best kept secrets in your city