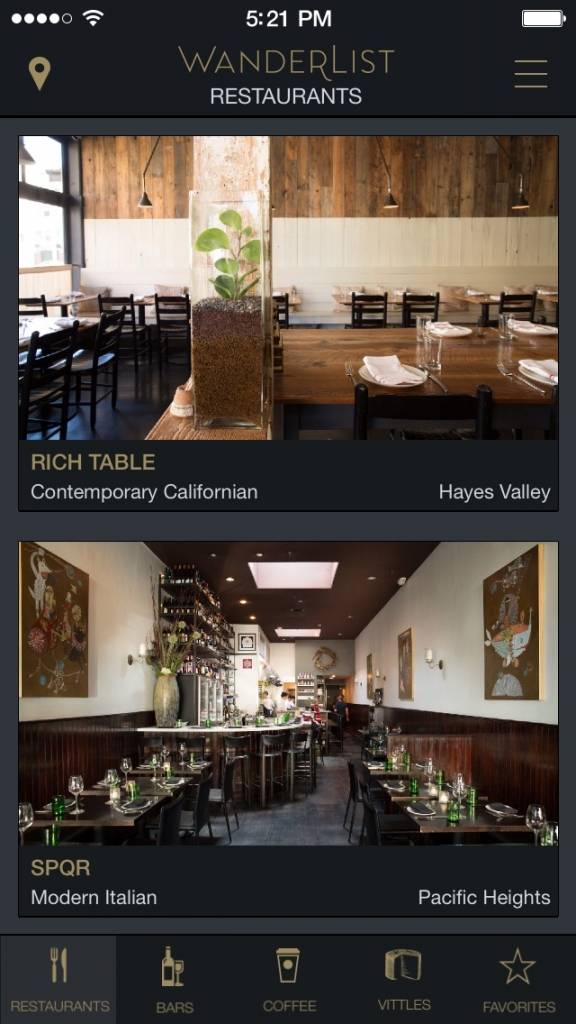 It's a widely known fact that every San Franciscan has an idea for an app — but how many city dwellers actually had their idea developed? Judging by the emails we've received over the past few months, quite a few! Here, we narrow the list down to four food apps that are worth downloading and using on a regular basis.
A sleek app that launched in late September, WanderList is a resource for travelers and natives. It's an essential city guide with a curated selection of fashionable locales. The app's lists are frequently updated and each feature only five recommendations. Each list is geared toward a different topic, from hotels to coffee to bars, and features catchy and concise descriptions, so you know exactly what you are getting. The app has original photography, mapping and sharing capabilities and something called 'City Essentials.' Their essentials are insider information that only a true local would know like weather patterns and the cost of fresh pressed juice.
Chefs Feed is an app that's geared toward food lovers and is also list-based. This time the people making the lists are famous and award-winning chefs. Chefs Feed's database has over 1000 chefs all sharing their favorite dishes in their most beloved cities. Wondering what Quince's chef Michael Tusk orders at Frances or what dessert Michael Mina prefers? Consult the app and you'll know the answers: fried squash blossoms and Bi-Rite Creamery's brownie sundae with salted caramel ice cream. There's also collections of dishes that the app recommends for various topics (the best items to eat when hung over, are late for work, wanting to impress a date, etc.), original videos, and stories.
Wine lovers should download Gruv, an app that lets you order and reserve certain bottles of wine at restaurants all over the city. These bottles are discounted and sometimes limited in production, so Gruv gives its user an unparalleled wine experience. The app has stats on each bottle of wine, from winery details to wine maker notes to tasting pairings from the restaurant's chef. We love Gruv for gifting bottles of wine. Know a friend, colleague, or family member is going to a certain restaurant to celebrate? Send them a bottle of bubbly by using Gruv.
Looking for a personal chef experience? Sprig is your new dining on demand app. Each day the trio of chefs at Sprig (formerly of Google, Jean-Georges, and the Fat Duck) create one lunch menu and one dinner menu. There's three healthy, organic, local dishes to choose from and one is always vegetarian and another is always gluten-free. Within 20 minutes, the food will be delivered to your door. It doesn't matter what you order, lunch is $9 and dinner is $10. For a little extra, you can purchase a dessert. Sprig is gourmet delivery at its finest.