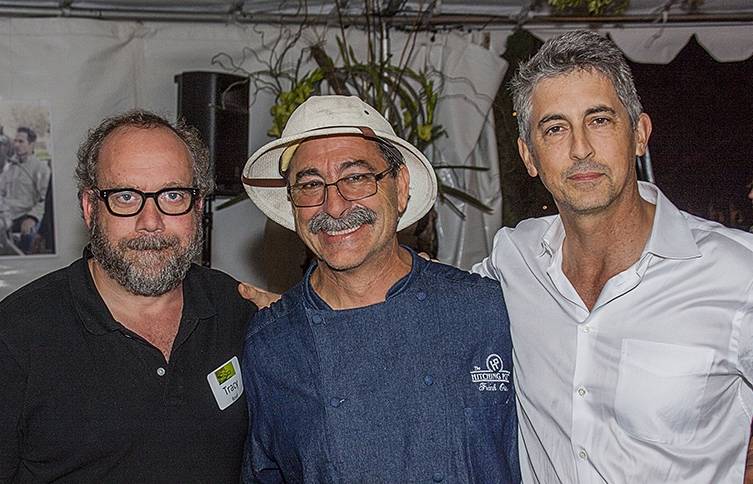 Ten years ago, Santa Barbara wine country received its Hollywood moment in a big way when Alexander Payne used the stunning seaside city as a shooting location for his bachelor wine tasting movie, Sideways. Who can forget Paul Giamatti's most famous line? "If anyone orders merlot, I am leaving!" he declared. "I am not drinking f***ing merlot!" In addition to the film's famous faces, each of the locales featured became characters themselves. One predominant "character" was The Hitching Post II—a frequent hangout for main characters Miles [Giamatti] and Jack [Thomas Haden Church] because the waitress Miles coveted, Maya [Virginia Madsen] happened to work there. We sat down with Frank Ostini, the chef and winemaker at Hitching Post II, to talk Sideways, its 10th anniversary, behind-the-scenes moments and, of course, merlot.
How do you feel about merlot? Do you hate it as adamantly as Miles seemed to? If you love it, what are some of your favorites?
I've always had a fondness for Merlot, like a first love that I've since moved on from.  It was the first wine we made back in 1979.  In 1981 we found Pinot Noir, and for years that's all we made.  Then in 1998 we made our house red called Gen Red by blending Merlot with Cabernet Franc. To this day Merlot is an important component of this bargain red blend.  As quality improved, I remember my wine partner Gray Hartley saying "We should bottle this Merlot!"  I would say "The world doesn't need another Merlot."  Then Sideways actually inspired us to bottle Merlot, so we have one since 2004.  Merlot here in Santa Barbara makes interesting, well structured, age worthy, food friendly, and unique Merlot that is of a high quality that has yet to be recognized, offering consumers a great value.  Happy Canyon of Santa Barbara is a great region to grow Merlot.
In honor of Sideways' 10th anniversary, can you share any favorite behind-the-scenes moment from filming?
As filming was beginning in October 2003, we gave a vineyard and winery tour to Virginia Madsen and Sandra Oh.  We had a wonderful lunch from Jim Clendenen at his Au Bon Climat Winery, and then they visited our winery and those ladies did a fermentation "punch down" on our Highliner Pinot Noir.  We have pictures and the wine too!
How much wine DID the cast drink on a nightly basis? Was merlot involved?
When they filmed at the Hitching Post II, they were on our set for three days. At that point the cast had convinced Alexander that they could drink the "fake" wine anymore, so they were drinking real wine on set.  A few curious crew members asked if they could taste our wines after the shoot.  The first night there was 6 tasters, the second night there was 20.  On the closing night we threw a party for the whole crew with lots of Hitching Post wines flowing, and lots of Hitching Post foods grilled over our oak wood fire.  Never counted the empty bottles, but the Sideways crew was seriously, actively, enjoying their discovery of Santa Barbara wines, no Merlot allowed.
What separates Santa Barbara wine country from the rest of the world?
We have a fantastic long growing season because our region is farther south than other fine winegrowing areas of the northern hemisphere.  But because of our "sideways" (east-west vs. the normal north-south) mountain orientation, our valleys are open to the Pacific ocean breezes.  Santa Barbara has a diversity of climate where many vineyards are ocean cooled (good for Chardonnay, Pinot Noir), and other vineyards are warmer with less ocean influence and great for grapes like Sauvignon Blanc, Syrah, Merlot, Cabernets, and Italian varietals.  We are less than 40 years into the modern era of winemaking here, and our continued improvement in quality continues with every new vintage.
What dishes set The Hitching Post II apart?
My family is known for oak grilled beef steak entrees since 1952, but it is the indoor oak wood barbecue open grill that sets us apart.  Almost everything we serve gets some influence from the smoke flavors offered by this wood fire. Like the Grilled Artichoke – simply grilled with butter and Magic Stuff (our seasoning spice mix) after it was steamed, chilled, and cleaned.  And the dipping sauce – the Smoked Tomato Mayonnaise has smoke dried tomatoes, oak grilled onions (think caramelized onions) and garlic (think roasted garlic).  Lots of our flavors packed into that sauce.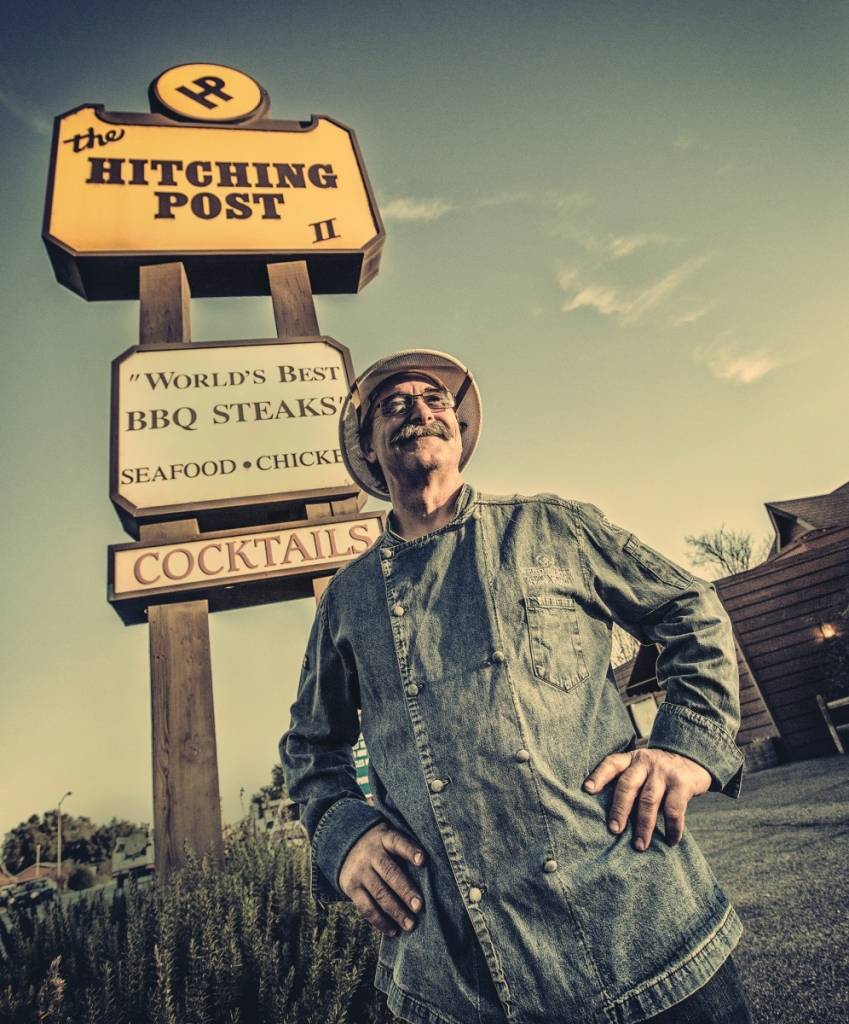 A FOOD AND WINE PAIRING MENU FROM FRANK OSTINI 
Dinner at the Hitching Post II often includes a big collection of wines to taste. We start with sparkling wine, usually French Champagne, then a fresh white like Fiddlehead Sauvignon Blanc, moving to a more complex white like Au Bon Climat Chardonnay, then a selection of Pinot Noirs made in the traditional style by my Santa Barbara pioneering winemaking friends – Au Bon Climat, Longoria, Alma Rosa, and of course Hitching Post. We start with newer or lighter bottlings, and move to older wines.  We love Pinot Noir with age.  We aren't so concerned about matching specific wines to specific foods. It is so much fun to try all with wines with all the foods. For the menu:
An assortment of grilled appetizers including mushrooms, artichokes, pasilla peppers and grilled corn salsa.
A salad of Jacob Grant's baby greens, grilled shrimp, and our house made goat cheese
Grilled quail with wild turkey sweet potatoes
Oak Grilled Natural Rib Eye Steak with french fries
Assorted Cheeses