Los Angeles is indisputably a health-minded city. People are into yoga, hiking, and organic foods. Some people leave their exhausting debauched lifestyles behind in New York to embrace a healthier and zen way of living in L.A.. But, as always, traffic. Traffic slows down everything in Los Angeles, including but not limited to those drives to the gym and treks to the juice bar. 
According to a recent story by the Los Angeles Times, this monotonous tedium of everyday Los Angeles life has already been spotted, examined, and exploited by L.A. real estate developers. Upcoming and some recently-opened luxury condos in the city will come fully equipped with full-size cardio decks, weight rooms, and even fitness classes. Now you really cannot make an excuse that there just isn't enough time for the gym, after all, it's right downstairs, lazy.
The idea of the real estate developers is that if they offer enough appealing fitness activities within the condos, then members would abandon their gym memberships all-together. That extra doh would then allow developers to raise the prices on the condos and in the end residents will still be happy because they are coming out ahead. 
"There have been changing demands in what consumers want in their living spaces, and that is increasingly being reflected in the fitness amenities," said Josh Lloyd, vice president for the West region of the national residential developer Wood Partners, in the article with the L.A. Times.
The following developments will offer all the amenities of your local Equinox, or almost as many anyways.

This gym is the largest residents-only recreation center in Los Angeles. The 10,000 sq.ft. gym is part of a 10,000 sq.ft. center called the Resort offers tons of cardio equipment, a full track, yoga, water classes, boot camp, and plenty of things you need to stay ripped without leaving the comfort of your own home. The Resort will be open to all residents of Playa Vista as means of breeding interconnectivity amongst the community.
One Santa Fe
255 South Santa Fe Avenue 
Los Angeles, CA 90012

Opening at the end of the year, this building was designed by architect Michael Maltzan. At one third of a mile, it's the longest building in the city. The gym, with classes and cardio equipment, will have beautiful views of the San Gabriel Mountains.
The Vermont
350 Wilshire Blvd.
Los Angeles, CA, 90010


The Vermont opened up in May treating its residents to high-tech cardio and strength training equipment along with a spinning studio and yoga room. And you see that pool right? The only trouble with this place is that it is so obscenely beautiful and luxurious becoming a homebody just became infinitely easier.
8th and Hope
801 S. Hope Street
Los Angeles, CA, 90017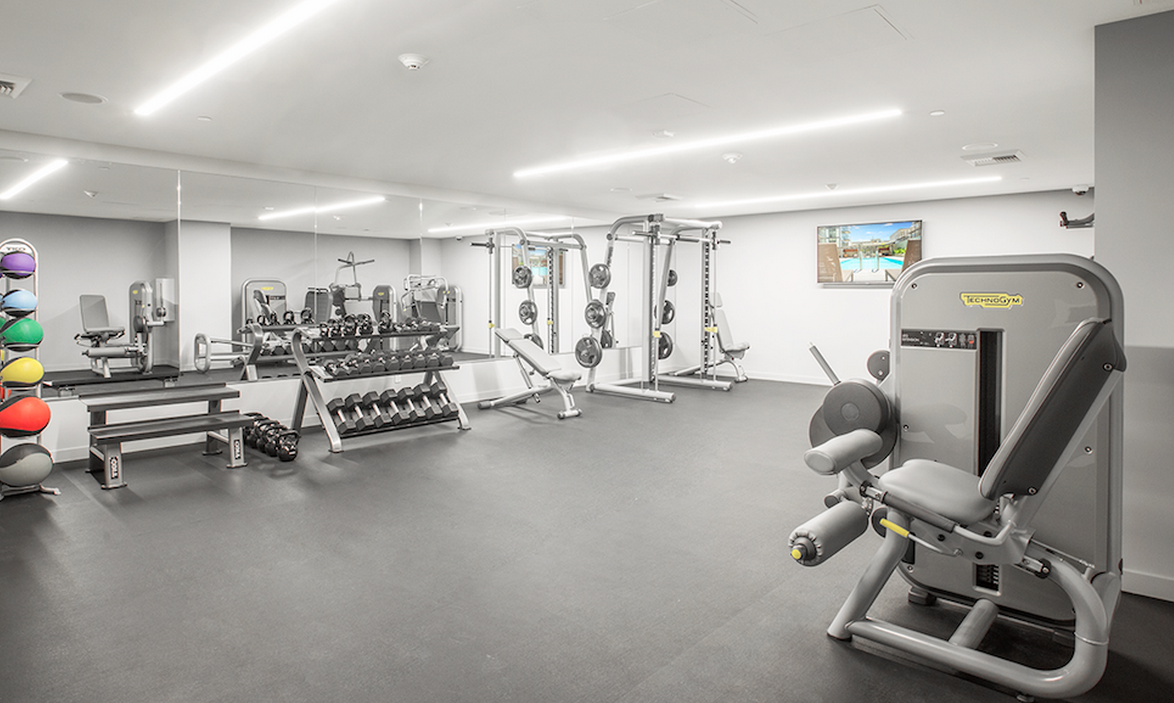 As if the uniquely designed individual apartments weren't enough to move into this place, the amenities should seal the deal. Outdoor fitness areas and yoga lounges are met by an equally impressive indoor strength training center. And do you need a post-workout delicious protein shake? Well you still won't need to leave the premises, as a juice bar is built into the complex. The complex was opening in August and has already become a premiere home destination for well-off fitness nuts.
Subscribe to discover the best kept secrets in your city