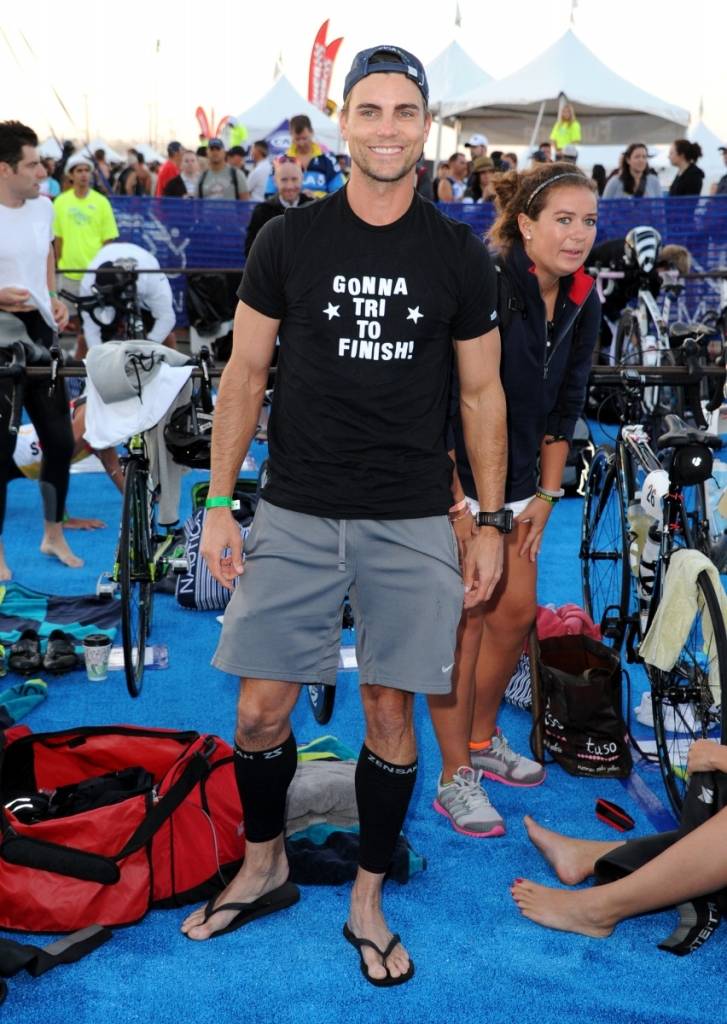 Just one month from today, Colin Egglesfield, the hunky star of films like Something Borrowed and A Stranger in Paradise will be participating in the Equinox-presented Nautica Malibu Triathlon, which takes place on September 14th on Zuma Beach. The race includes a half-mile ocean swim, 18-mile bike course and a 4-mile run which benefits Children's Hospital Los Angeles' Pediatric Cancer Research Program. The 41-year-old star sat down with Haute Living to dish on his training tips, how to wear Spandex and whether or not indulging in a pre-triathlon Bloody Mary is appropriate or not (hint, the answer isn't no).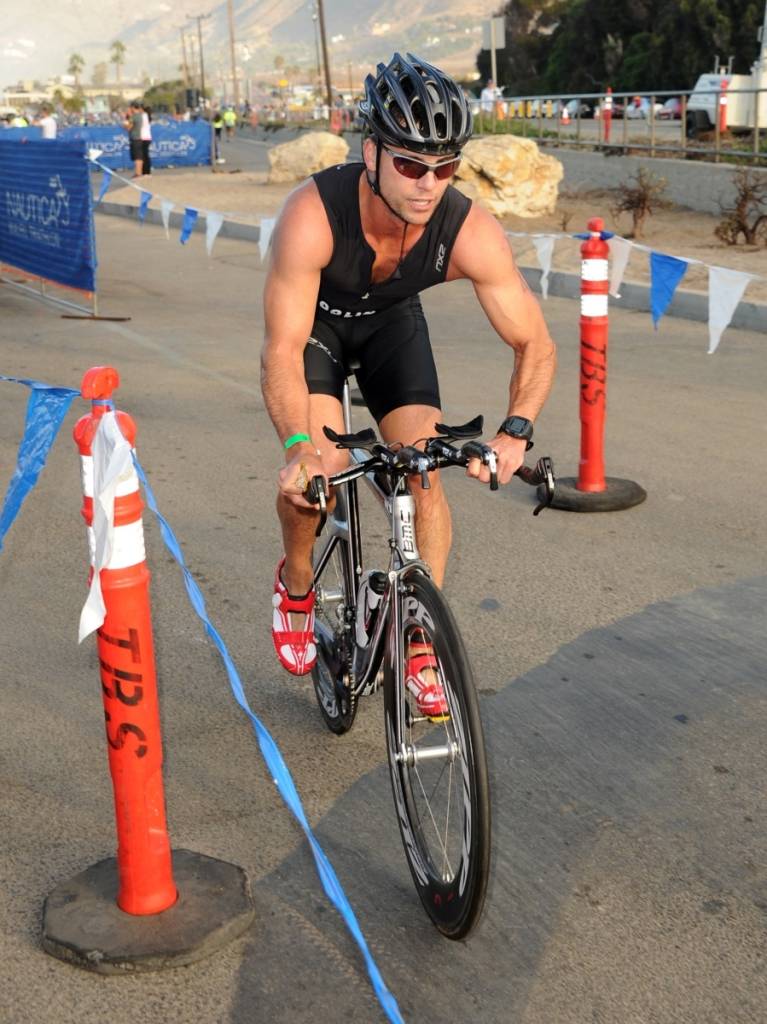 7  Training Tips to Prepare for the Nautica Malibu Triathlon by sometimes triathlete Colin Egglesfield (who is still debating the manliness of shaved legs)
If you're contemplating doing something as ridiculous as spending an otherwise normal and peaceful Sunday morning in Malibu waking up at 4:00 am to don aero and hydro-dynamic skin tight Spandex, wetsuits that make you look like a baby seal, goggles, running gear, GPS tracking accessories so you know down to the second how slow you're going, 'Alien'-like bike helmets (which make the perfect accessory for Comic-Con), sunscreen and Body Glide (more on that later) to brave choppy, frigid (yes, I'm a wuss) water, sweating through a live reenactment of a Soul Cycle class (minus the over-caffeinated hyper happy instructor and techno) along the roller coaster undulations of Zuma Beach and topping it off with running-induced cramps as you ponder life's quandaries like the creation of the universe and the composition of Spandex (Is it rubber? Is it cloth?) all while questioning whether you really do have a screw loose, then this article is definitely up your alley. If not, by all means, grab a Bloody Mary and glance right on to the next page and enjoy the fact that you weren't born with that pesky competitive gene that causes some of us to push ourselves to the brink of exhaustion while sucking down sugary goo-like substances that resemble flavored toothpaste all for the glory of getting a medal wrapped around our neck and to say "I did it." If you're the former, then below are seven hopefully helpful training tips that I've picked up from fellow more experienced loose screws.
1. Give yourself plenty of time to train
I'd say a good 3 months of training while taking it slow at first and building upwards. Oprah Winfrey and even my sister (love you Kerry) ran a marathon which requires similar dedication to a triathlon so I'm confident anyone with the proper training program can finish. "But I hate running." Ever hear of 'Runner's High'? It's real. Maybe not as intense as Meg Ryan in a diner, but trust me, it's real.
2. Pick a good training program
It takes 3 weeks to create a habit. If you get a training plan and stick to it, take it from me, you'll start wanting to grab for your running shoes instead of wanting to play your 1,000th game of Candy Crush. Trainingpeaks.com and Active.com are great resources for finding the right training program and training groups and races in your area.
3. Invest in good Spandex and shave your legs? 
Gear is essential from the right bike to the proper fitting shoes and wetsuit. Visit several bike stores and talk to as many people in the sport as you can. And most importantly, bring your significant other when trying on the Spandex. Based on their laughter and "OMG's", you should be able to gauge which one you look the least ridiculous in.
Also, I recently saw a video on YouTube where they showed that by shaving your leg hair, you can knock off 80 seconds from a 40KM bike ride. May not sound like a lot, but to a triathlete, every second counts especially when you're racing your younger brother, Sean, and have a $25 bet on the line. I haven't decided yet. Roll on the "Body Glide" though which is used to prevent chafing under your arms and around your neck and to help make your wetsuit slide right off so you're not a rubbery pretzel in the transition area.
4. Find some good training partners 
Having training partners helps get your butt out of bed on a Saturday morning at 6:00 am to go on a training ride or swim. Plus, it provides the added benefit of having someone to swear at when you start to get tired. If you're looking for some great coaching on the ABC's of how to do a triathlon, there's plenty of great coaches to get you started and show you everything you need to do to beat your younger brother like my training coach, Ian Murray, at Triathlon Training Series (triathlontrainingseries.com) did!
5. Eat right 
I try to watch WHAT I eat, HOW MUCH and WHEN. I try to stay away from as much processed, greasy, sugary and fried foods as possible as well as bread (arghhh). I'm not super militant about it and I think life is all about balance and treating yourself to some Ben & Jerry's Half Baked Ice Cream especially after a hard training day, it's just important not to eat the whole container in one sitting at 11pm right before you go to bed. And eat frequently. I try to eat something at least every 3 hours whether its nuts, a banana or a natural energy bar like 'KIND' and drink LOTS of water. Drinking lots of water helps you stay hydrated and full and will make you feel less hungry throughout the day.
6. Rest. And not just zzzzzzzzzz's
Getting to bed early and waking up early is better than getting to bed late and sleeping late (except when you're trying to catch up on episodes of "Breaking Bad" of course). Getting a good massage every couple weeks and doing yoga once a week or so also helps me stay flexible and loose and I've found helps speed recovery times. Sleeping in a pair of compression tights may feel weird and you may slide out of bed, but you'll wake up in the morning and your legs will feel good as new.
7. Get involved with a charity! 
Find a great cause to race for! All the proceeds from the Nautica Malibu Triathlon go towards Children's Hospital Los Angeles' Pediatric Cancer Research Program which gives me the extra motivation to stick with my plan and make it to the starting line. Since doing the Nautica Malibu Triathlon last year for the first time, I've met so many amazing, inspiring people who have affected my life in many positive ways. I've since been reading to kids at the hospital through their bedside reading program called "Literally Healing" and its been incredibly rewarding. And don't forget, doing things for charity helps make up for that time you stole that guy's parking spot at the grocery store.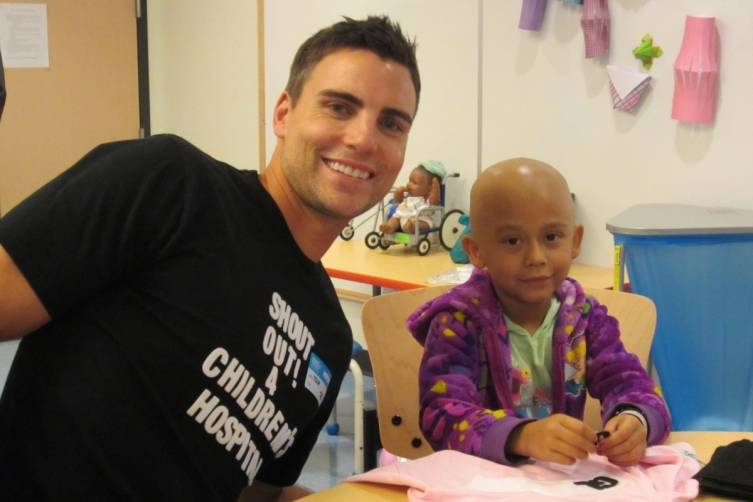 Like Haute Living Los Angeles? Join our Facebook page or follow us on Twitter @HauteLivingMag.