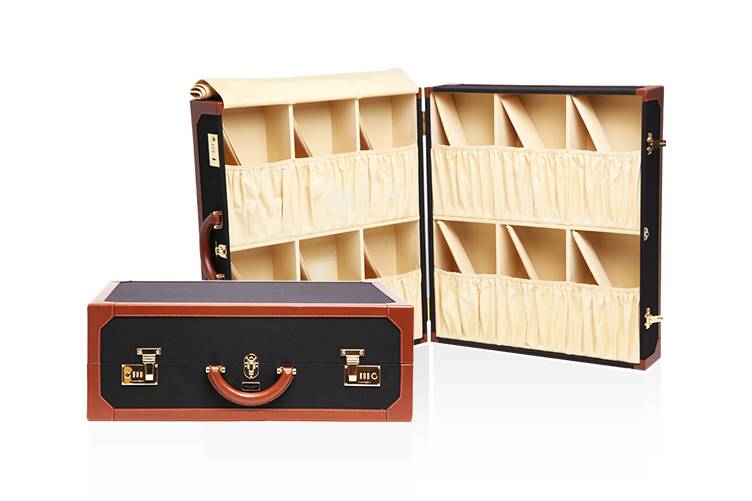 There's traveling in style. Then there's traveling in style.
But if there's one thing that even the most seasoned—and fashionable—jetsetters get stumped on, it's shoes. Or rather, how to pack them without risking deformity, scuffs, and scratches. Because as we all know, a Rimowa Classic Flight trolley is great—but it's certainly not getting the job done. (There's just not enough room for Manolos and Louboutins in there.)
That's where the T. Anthony travel shoe case comes in. One of the best designer travel bags around, the case essentially solves the multi-outfit and multi-shoe travel itinerary. So when the European Collections or this year's fall getaway rolls around, you can be sure that this beautiful piece of luggage will keep your precious chaussures safe. The leather-covered hard wood bag can hold 12 pairs, securing each one with canvas partitions. And if you've got other packing "dilemmas," the luxury travel outfitter also has a travel jewelry wardrobe and a makeup kit on offer. Now all you need a porter.
T. Anthony travel shoe case in black; available at www.tanthony.com and T. Anthony New York (212.750.9797)
T. Anthony travel shoe case in red, $3,200; available at www.tanthony.com and T. Anthony New York (212.750.9797)
The interior of T. Anthony's travel shoe case is lined with canvas and holds 12 pairs of shoes
Subscribe to discover the best kept secrets in your city