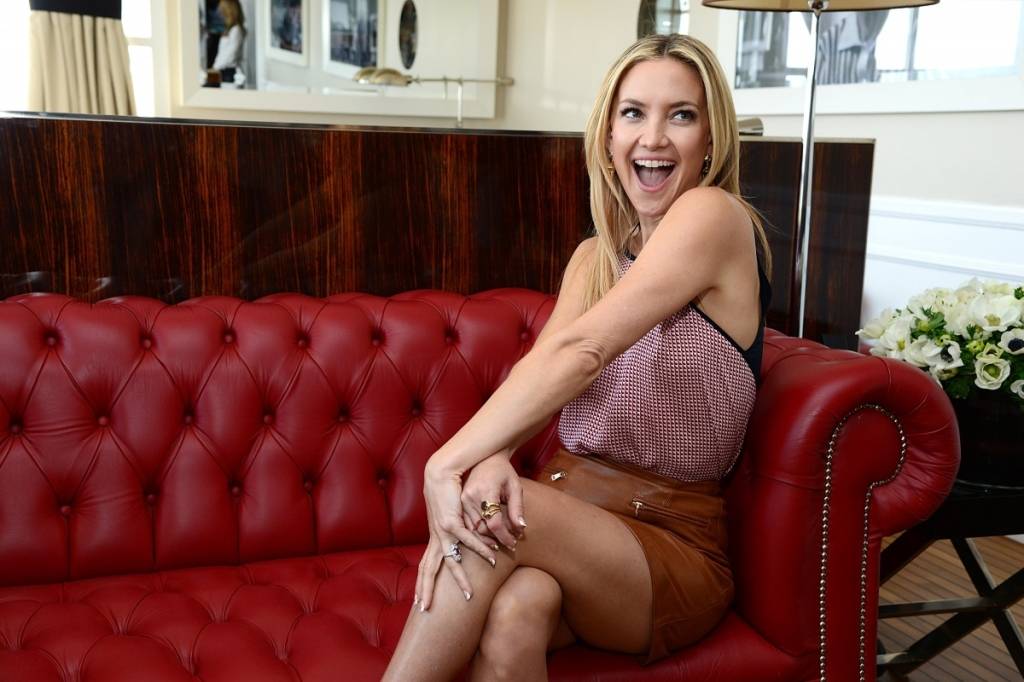 Just in time for Mother's Day, the stunning Kate Hudson sat down with Haute Living to chat about what she's learned from mom Goldie Hawn, what she'll be doing with sons Ryder, 10, and Bingham, 3, Taylor, and her favorite pieces from retailer Ann Taylor (she's the brand's spokesperson), which are looks inspired by her favorite Mother's Day activities to her favorite summer destinations:  LA, NY, Aspen, Co, Muskoka, Canada, London and Greece.
The 35-year-old actress is full of energy from her suite at Mr. C Beverly Hills, and she's starving. She looks gorgeous in a sleek Ann Taylor tank and skirt with coral heels as she noshes on a salad, looking appropriately summery considering she's discussing her summer travel essentials, and bubbles over with energy, enthusiastically chatting about everything from the earthquake that's occurred just moments earlier to her favorite drink (she loves a good Bloody Mary) to what seriously important life lesson she never learned until she had kids.
Tell us about your favorite pieces in this collection (you're showing). 
We did our collection of little black dresses, but these are things that I would take with me on vacation traveling. For summer, there's the Sting outfit. You know, the white on white that people always want — and I love it. We always end up wearing a lot of white in the summer. A white pant, more lightweight jumpers – sweaters. Shorts, and a sweet little cotton dress that I like a lot.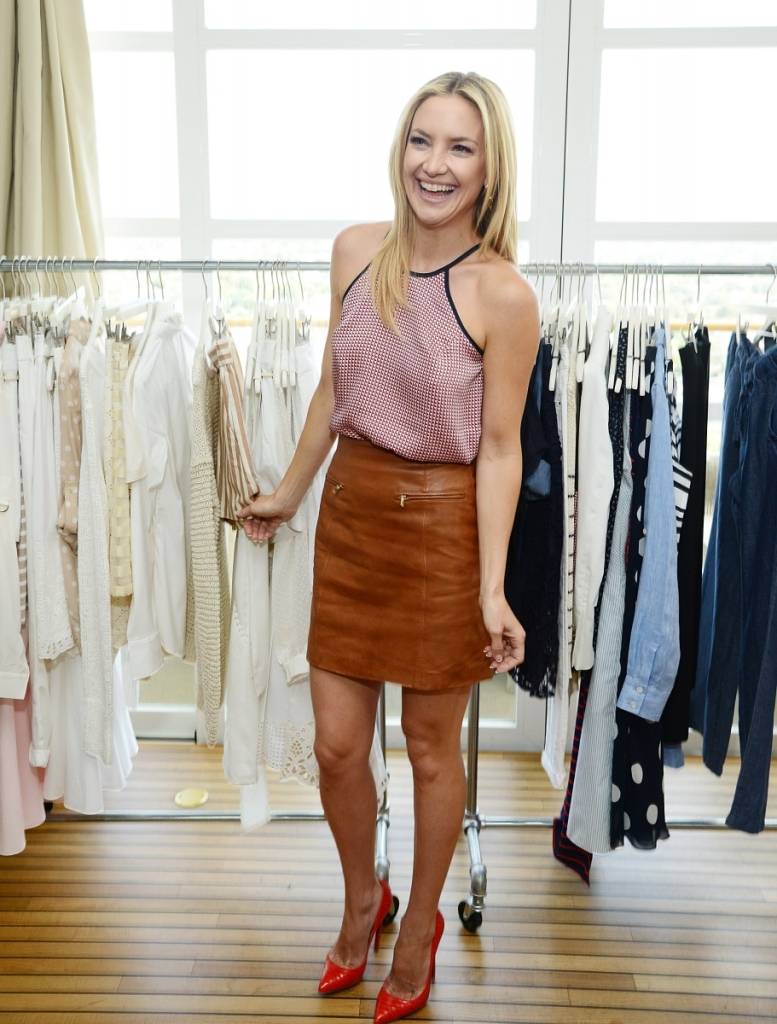 Do you have a favorite LBD from the line you helped design? 
You can't just have one little black dress! I mean, you can, but it feels like there are different moods for different occasions. For me, it would definitely be what they called "Best Actress," and then the "London Love" one is really cute too. On the hanger, it doesn't do as much. It feels a little boxy, but it's one of those dresses that's not too form-fitting; it's really slimming and creates a nice silhouette. It's a little more covering without feeling like you're covering everything. We wanted to create a sexy silhouette with the leg and it just turned out really nice and really elegant. [I also like] "Late Nighter", a lace dress that's really cute.
What's the number one fashion role you live and die by?
Wear clothes like you can throw them on the floor.  You have to wear clothes like you can throw them all over the room and throw them all over your body, like you own it. You can't wear clothes too precious. That's the greatest thing someone ever said to me. You've got to wear them like you're taking them off and throwing them all over the floor.
Do you have a go-to outfit? 
I do. My go-to outfit is jeans, heels and a T-shirt. I'll probably be wearing a dress [on Mother's Day though] with the way it's been lately.
What are your Mother's Day plans? 
Home at the house with my kids and my mom and my dad and my brother and his family and my other brother and my other brother, all the brothers…and Bloody Marys! Bloody Marys are my favorite things on the planet – my favorite cocktail on the planet. Any excuse for a Bloody! My mom likes her Bellinis, but I like my Bloody Marys.
What is the most important lesson your mother ever taught you?
There is not just one. Every time someone asks me one of these questions, I have a very serious answer, though one [of those lessons] would probably be don't take yourself too seriously! There's something about my mom. She's really forgiving by nature. She's a tough mom; she's not in any way what people would think she'd be as a mother. She's very strong-minded, very tough and can be strict, but she's also so forgiving and non-judgmental. The word is accepting; there's nothing self-righteous about my mother. There was nothing growing up with my mom that was like, 'This is the way it's supposed to be' or 'You need to look like that' or 'I want to see you create this.' There was nothing like that. My mom was always just about 'Do you feel good? Are you happy? Is what you're doing bringing you a sense of feeling grounded? Are you feeling all over the place?' For my mom, it was really just about wanting to see the life and life around the connections of what she created to look and feel good, that it wasn't filled with stress or complications, that you're taking care of your heart. Her whole foundation is about being on this journey for what makes people feel real happiness, authentic, truthful and good about what they're doing and who they are. She's optimistic; it's her way. If anything, [what I've learned from my mom] is   a philosophy more than it is advice. It's become enabling where your focus is to what is really important in your life. That's mom. Anything else is kind of an auxiliary part of our lives and is not as important to her.
What have your kids taught you?
They're the biggest teachers! My mother would tell me that [when I was younger] and I'd roll my eyes going, 'Yeah, OK' and then you become a parent and you're like 'Oh, I get what you're talking about because I put you through the ringer!' You have to exhibit so much patience with your kids and accept them for who they are. Your kids come out who they are. Anything you're expecting them to be is just not what it's going to be. They say relationships are the mirror, but it's really your kids, because you see so much of you in them, but they also have so much of their own need and desire to create who they are individually. [They have to figure out] how to identify with themselves; they want to identify with their parents, but also want to be their own person – especially now at Ryder's age.
[Motherhood] forces me to have to slow my processing down, because I'm the parent. Everything I'm doing is going to inform who he is and how he relates to people for the rest of his life. That's a very big responsibility. We want our children – I would hope most people would – to be a generation that is really connected, a generation of children with real empathetic values. You want them to be strong-minded and as you're raising them, you realize that this is actually quite a responsibility. I have a choice to either say 'I can't deal with you right now, I'm busy' or slow everything down and take that time to look at [my] children and see how I've normally reacted to this scenario. When you start slowing it all down, you realize every decision you make is going to be encrypted in their little brains and will affect them as they get older. In turn, you actually end up learning about yourself.
For me, the biggest lesson I've learned from my kids is patience. I've been always been very quick to [get frustrated].  If I have to repeat directions twice, I start to get frustrated –  I've always had to move. With the kids, it has just slowed all of that processing down for me.
Like Haute Living Los Angeles? Join our Facebook page or follow us on Twitter @HauteLivingMag.