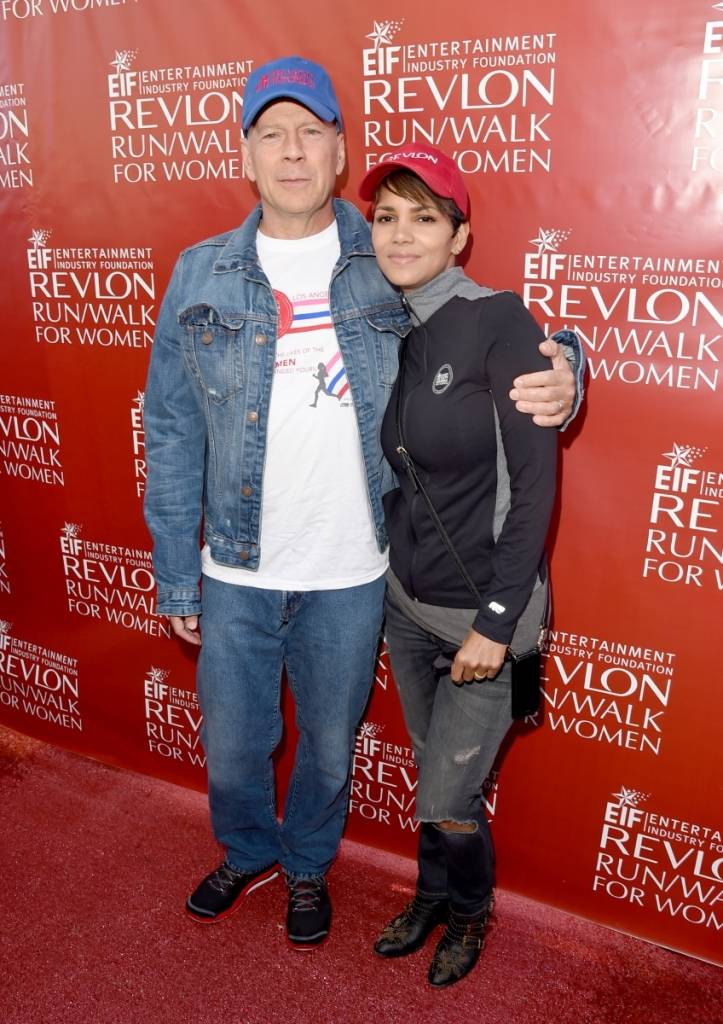 The stars of Hollywood came out for a cause over Mother's Day weekend. Revlon Global Brand Ambassador Halle Berry, Bruce Willis and Christina Applegate were among those who showed their support at the 21st annual Entertainment Industry Foundation Revlon Run/Walk for Women in Los Angeles.
The three aforementioned celebs acted as hosts of the annual event, an event that has become one of the largest single-day fundraisers for women's cancers in the United States. More than 30,000 participants joined together to help raise critical funds to support women's cancer research, counseling and outreach programs.
During the opening ceremony, Grammy Award-winning artist Brandy sang the National Anthem, while British crooner and recording artist Matt Goss performed his hit song "Strong" (an apt choice) for participants.
Additional guests at the charitable event included Nolan Gould, Aubrey Anderson-Emmons, Tallulah Willis, AnnaLynne McCord, Samantha Harris and Sandra Taylor.

The EIF Revlon Run/Walk for Women was created by the Entertainment Industry Foundation (EIF), Revlon, and Lilly Tartikoff. It launched in 1994 through the combined efforts of Tartikoff, Ronald O. Perelman (Chairman of Revlon, Inc.) and the EIF.
The EIF REVLON Run/Walk for Women has distributed more than $70 million to date for cancer research, counseling and outreach programs. The events have raised much needed funds that have helped to deliver a novel, non-toxic treatment for breast cancer called Herceptin® with another promising non-toxic treatment on the way.
Like Haute Living Los Angeles? Join our Facebook page or follow us on Twitter @HauteLivingMag.
489148393
Photo by Jason Merritt/Getty Images for EIF Revlon Run Walk
489156177
Photo by Jason Merritt/Getty Images for EIF Revlon Run Walk
Annalynne Mccord
Photo by Jason Merritt/Getty Images for EIF Revlon Run Walk
489236015
Photo by Jason Merritt/Getty Images for EIF Revlon Run Walk
489128391
Photo by Jason Merritt/Getty Images for EIF Revlon Run Walk
489128517
Photo by Jason Merritt/Getty Images for EIF Revlon Run Walk
489148461
Photo by Jason Merritt/Getty Images for EIF Revlon Run Walk
489148475
Photo by Jason Merritt/Getty Images for EIF Revlon Run Walk
489149569
Photo by Jason Merritt/Getty Images for EIF Revlon Run Walk
489149595
Photo by Jason Merritt/Getty Images for EIF Revlon Run Walk
Brandy
Photo by Jason Merritt/Getty Images for EIF Revlon Run Walk
489128739
Photo by Jason Merritt/Getty Images for EIF Revlon Run Walk
489129029
Photo by Jason Merritt/Getty Images for EIF Revlon Run Walk
Christina Applegate
Photo by Jason Merritt/Getty Images for EIF Revlon Run Walk
489136827
Photo by Jason Merritt/Getty Images for EIF Revlon Run Walk
Christina Applegate
Photo by Jason Merritt/Getty Images for EIF Revlon Run Walk
Brandy, Halle Berry
Photo by Jason Merritt/Getty Images for EIF Revlon Run Walk
489137147
Photo by Jason Merritt/Getty Images for EIF Revlon Run Walk
Halle Berry, Bruce Willis, Christina Applegate
Photo by Jason Merritt/Getty Images for EIF Revlon Run Walk
Halle Berry, Bruce Willis, Christina Applegate
Photo by Jason Merritt/Getty Images for EIF Revlon Run Walk
Halle Berry, Bruce Willis
Photo by Jason Merritt/Getty Images for EIF Revlon Run Walk
489458611
Getty Images for Open Hearts Foundation
489458597
Getty Images for Open Hearts Foundation
489129179
Subscribe to discover the best kept secrets in your city