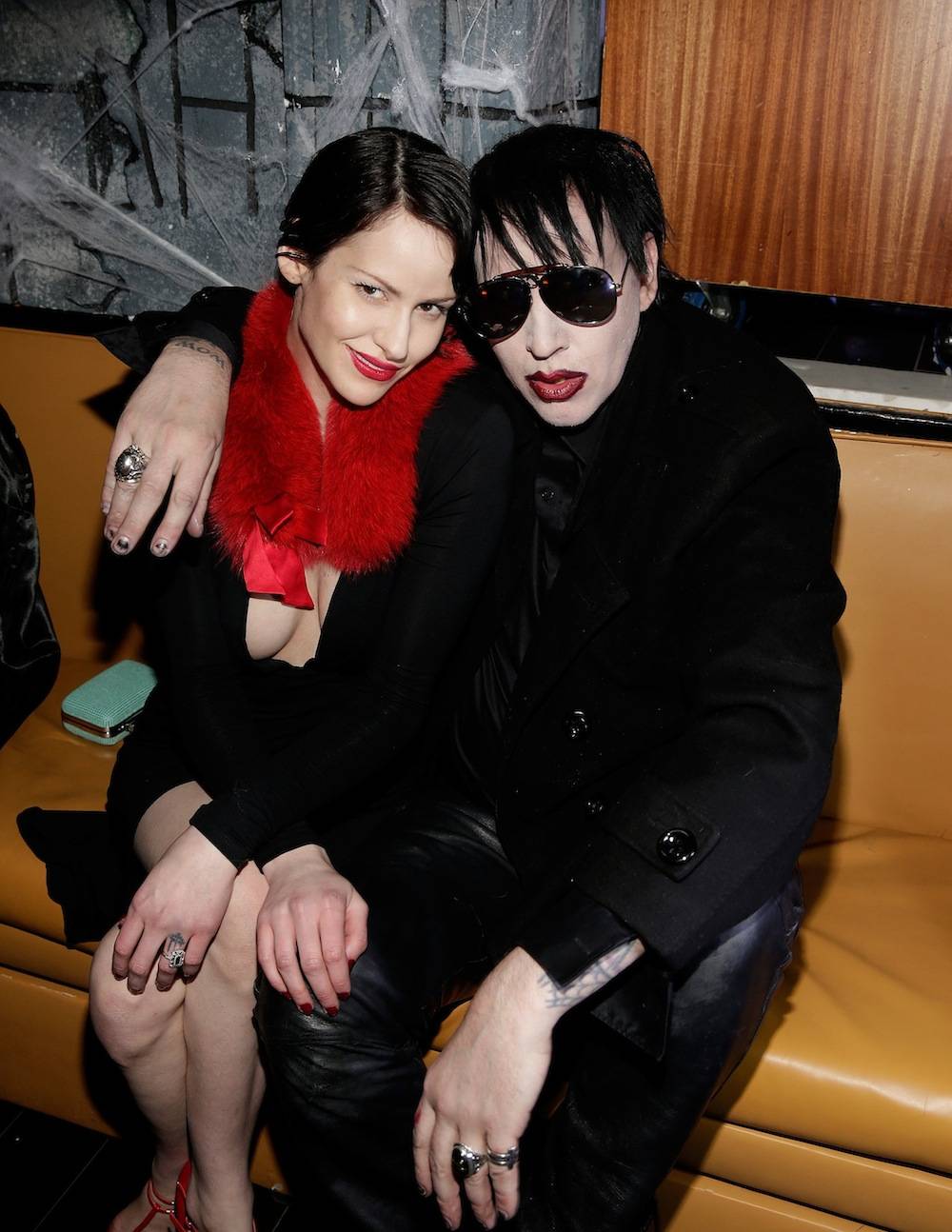 Rock star Marilyn Manson hosted a horrifying Halloween bash at Hyde Bellagio's Lost Angels Insider Night on Tuesday night.
Decked out in a black pea coat, leather pants, combat boots and mirror-tinted aviators, alternative metal's Prince of Darkness hammed it up for a mob of photographers and dozens of passionate, costume-clad fans waiting on the red carpet. After striking several devilish poses, Manson gave photographers an up-close look at his trademark white-faced makeup, making wildly animated gestures and faces right into their lenses.
Manson, accompanied by fiancée Lindsay Usich and an intimate group of friends, made his way through the packed nightclub to a plush VIP booth decorated with skeletons and spider webs. Hyde's performance artists, dressed in ghoulish costumes, greeted the group with a parade of lights and giant letters spelling out, "M-A-N-S-O-N." The alternative artist then grabbed the "N" and scribbled the words "Just Say Now" with his crimson lipstick tube, referencing his hit song, "Ka-boom Ka-boom."
The mayhem continued when DJ Konflikt brought the club to a deafening roar with Manson's famed anthem, "The Beautiful People." Manson then leapt into the booth with the DJ, grabbing the microphone and rapping along to Justin Timberlake and Jay-Z's smash hit "Holy Grail."
Fans gathered around the table trying to catch a glimpse of the famed shock rocker as he ripped skull decorations off the walls and hurled them into the crowd, even stepping behind Hyde's notorious cannon to blast confetti onto the dance floor.
Later in the night, the rowdy host received a special delivery of bubbly from the Big Bad Wolf – a presentation from Hyde's VIP bottle service menu.
Click on the photos below to enlarge.
Like Haute Living Las Vegas? Join our Facebook page or follow us on Twitter. Want Haute Living Las Vegas delivered to your in box once a week? Sign up for our newsletter.
Subscribe to discover the best kept secrets in your city