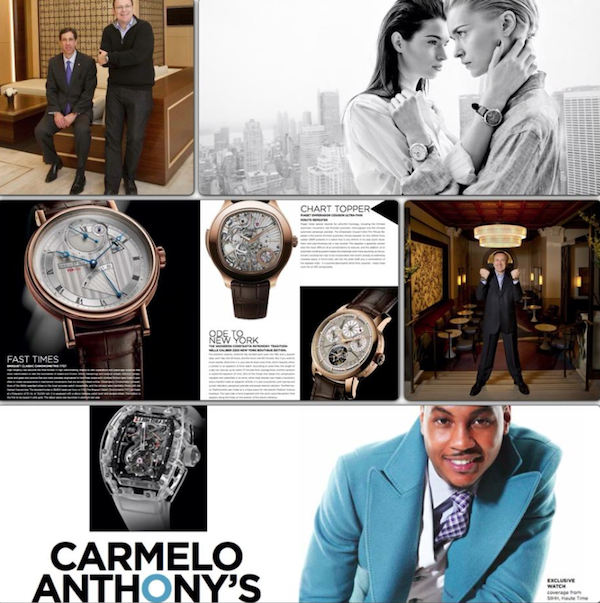 Haute Time magazine will be launched Monday Online in digital format on Monday, April 22 at 2PM. Please check our website www.HauteTime.com to read the enitre magazine online at no cost.
Haute Time's launch cover story is a huge watch collector, with over 4 million followers via his social media. His photo shoot was shot at his $30 million home in Palm Beach, showcasing his personal watch collection. We also did a powerful feature on top chefs who are watch collectors, as we got to sit down and shoot the biggest names from Thomas Keller, Daniel Boulud, Michael Chow, Daniel Humm and Eric Liepert. Fashion is a huge element as well — we have over 20 pages — along with NBA Knicks All-Star Carmelo Anthony with 12 pages of his favorite watches from this year's SIHH. For our sit down interview this issue, we got an inside tour of Patek Philippe new Headquarters in NY with Patek's own Thiery Stern.
Quick Facts about the launch issue:
~ Print distribution of 50,000. Distribution in NFL, NBA, and MLB locker rooms through Carmelo Anthony, along with will be in the private jets, mailed to around 14,000 homes over $5 million, and in over 500 Watch boutiques worldwide.
~ We will have the magazine on the home page of Haute Time and Haute Time Russia, along with being available to download via iTunes and Amazon.com
For these stories and many more, be sure to check out the inaugural issue of Haute Time online on MONDAY, APRIL 22 AT 2PM EST.
Subscribe to discover the best kept secrets in your city