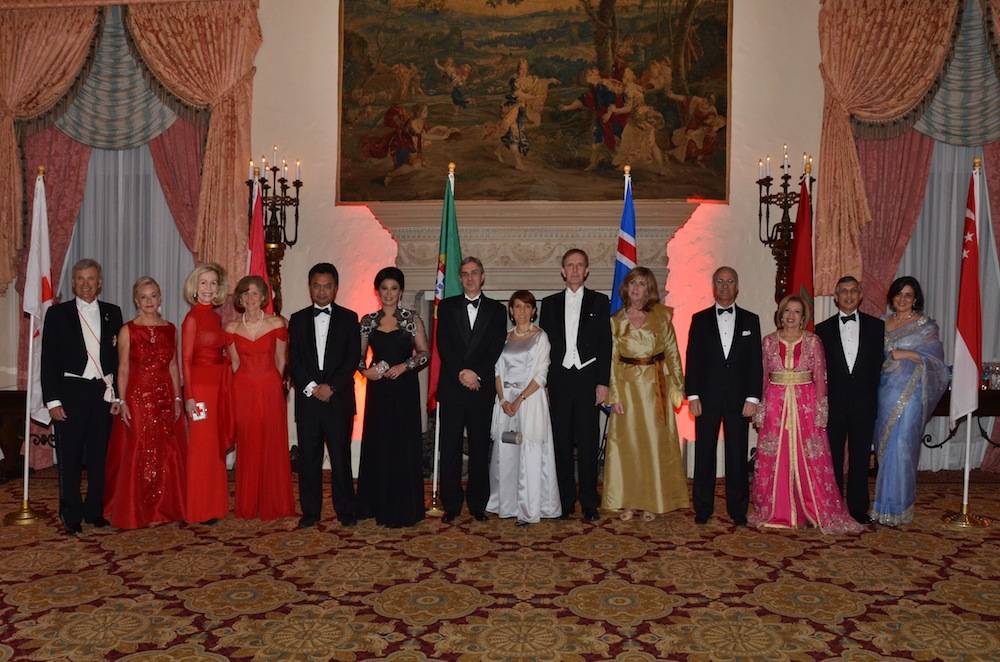 American Red Cross President and CEO Gail McGovern and Chairman of the Board Bonnie McElveen-Hunter welcomed over 450 guests including ambassadors from Iceland, Indonesia, Morocco, Portugal, The Netherlands and Singapore to the Venetian Ballroom of The Breakers Hotel in Palm Beach last week for The 56th Annual International Red Cross Ball. The white-tie gala was chaired by Ambassador Mary M. Ourisman along with co-chairmen Paula Butler, Trish Donnelley, Darlene Jordan, Amanda Schumacher, Kathryn Vecellio, and Rhonda Wilkins, The Honorable Mary V. Mochary, The Honorable Nancy Ellison Rollnick, The Honorable William D. Rollnick, and The Honorable Beverly White Yeager. Associate chairmen Mr. and Mrs. Matthew T. Mellon II were unable to attend due to a flight cancellation caused by winter storm Nemo.
The ball honored the iconic American actress and socialite Dina Merrill, whose mother -Post cereal heiress, Marjorie Merriweather Post, founded the ball in 1957. Merrill's 22-year-old grandson, and Post's great-grandson, Cole Rumbough, an up and coming jazz singer, performed with the Peter Duchin Band.
Participating sponsors for this year's International Red Cross Ball included Amazon Web Services, Braman Motor Cars, Neiman Marcus, Seguso, The Estee Lauder Companies Inc., William R. Eubanks Interior Design Inc. and Zang Toi.