"In addition to Videosync, I incorporate Zumba with Wally or Sonia and Alex's Street Jam."
It was 1984 when Wendy Skorman opened the doors to a fitness facility where members could unwind, tone up and find solace. Carolina Garcia-Pirez, who recently re-opened the gym with her husband Alex, recounts the days when she sat and watched her mother take Alex Intriago's dance class at Body & Soul.
"Alex's dance class was one of the most highly-attended classes back then, and now he's brought it back," she said. "All of the women that I remember from the '80s are back to take his class again–it's come full circle. It's like they are reliving their youth and I love being a part of that."
But to properly reinvent a brand that had already garnered an adoring following, the Pirez's returned to the principles that made Body & Soul what it was in the first place, with a fresh perspective and new digs.
"We both had a lot of appreciation for the old Body & Soul," Alex Pirez said, whose devotion to the business is seen day in and day out. "It was an integral part of our lives and of the lives of many others." The new Body & Soul prides itself on being "bigger, better and stronger" than ever before; and the gym's impressive attributes, talented instructors and diverse group classes deliver a kind of experience unlike any other, taking the memory of what it was and turning it up a notch–or two. In other words, the Pirez's have upped the proverbial ante, making the iconic facility one of enviable status and posh participants.
The construction process was long and tedious, and with anticipation building for the return of Body & Soul, delays and postponed opening dates stirred mixed emotions amongst eager patrons, both old and new.
"As anyone who has ever been involved with a build out will tell you, it is always stressful, there are always delays," Alex said. "Our delays created doubt in the minds of others and when you know your unwavering commitment to a project, that doubt is really frustrating. It felt like endless days of construction and planning. But in the end we took a warehouse space and created a beautiful boutique gym. It was well worth it." The process bears an uncanny resemblance to the long journey one may experience when aiming to obtain a svelte physique; the image lies within our minds and the road to perfection can be long and hard but well worth the wait.
The 10,000 square-foot space designed by awardwinning architect Rudy Fabiano features state-of-theart PRECOR, Hammer Strength and Cybex equipment, amongst others, providing next-level training to their members. Body & Soul's signature classes include Real Ryder cycling, Rock Hard boxing and XXL Bootcamp, three classes that Alex keeps in his own fitness rotation.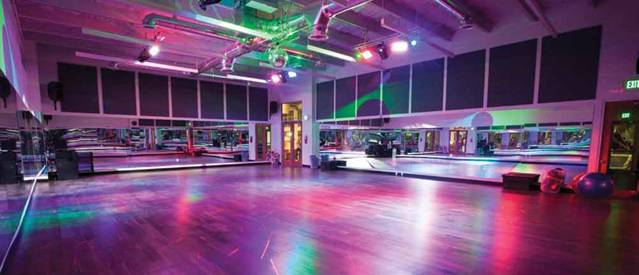 "My greatest challenge is making it through a Rock Hard boxing class," Alex said. "It is total body conditioning at its best. I also regularly take a Real Ryder class and take the XXL Boot Camp when I can make it to the gym at 7 a.m." Carolina opts for private training sessions and dance classes, especially Videosync, the marathon dance class curated by Jay Marcos, a man with moves that Alex says "are reminiscent of Michael Jackson."
"I love to dance," Carolina said of her preferred routine. "In addition to Videosync, I incorporate Zumba with Wally or Sonia and Alex's Street Jam."
Alex and Carolina chose to relocate the gym just a few blocks from its original location, converting a warehouse space into something of a one-stop-shop, equipped with a juice bar, Tina B. clothing boutique and every fitness contraption under the sun. And while Carolina ensures that Body & Soul members are reaping every benefit that the gym has to offer, Alex is the brains behind the expertly-executed layout and design—the perfect marriage of form and function, born of, well, a perfect marriage.
"Alex had a very specific vision for the gym, a great deal of the inspiration was from his imagination. He is a perfectionist and nothing was more important than creating the most exquisite home for Body & Soul," Carolina boasts of her husband, with a proud smile that is part sincere adoration and part extra endorphins from dance classes galore—Carolina is a walking representation of the stellar results one is sure to experience from living a Body & Soul way of life.
Similarly, Alex explains that his keen attention to detail derives from the vision of a bigger picture, "I aim to create the best experience a member can have." And that it does.
Alex's hands-on approach is ever present with his daily on-sight commitment to Body & Soul, greeting gym-goers and giving his facility a familystyle feeling that makes it a second home to most.
The laundry list of personal-favorite-fitnessclasses is no surprise; it is evident from a mile away that this handsome couple keeps in shape, but it's how they manage to balance brand and babies that's most impressive.
"To be honest with you, we try but it is hard," the couple said. "We are so excited and proud of Body & Soul, it's hard not to be consumed." And being the forward-thinking pair that they are, plans for expansion are already on their minds. "Our dream is to create a fitness Disney World, so like Disney we dream of other locations, of course, but our immediate goal is to perfect the experience here in Coral Gables and expand to at least one other Florida location."
We anxiously await the in-the-works concepts that will drive said expansion, but for now, we're just happy to have our very own Magic Kingdom right here in Miami.
Subscribe to discover the best kept secrets in your city