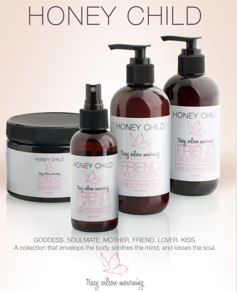 Hey Honey Child,
Are you present at this moment? Close your eyes and try to describe the actual space that you're in. What's to your left? What's on your right? Do you know what's behind or in front of you? What color is the shirt you're wearing? You may really have to think about the answers to these questions or you may not know them at all. We tend to be so preoccupied, questioning the past or worrying about the future, that we miss out on the present. We become engrossed in our day to day responsibilities, distractedly sending copious amounts of emails, checking the latest onslaught of text messages, or logging in and out of various social media accounts. Allow yourself a second to be in awe of all the details, great and small, that surround you, even if it means looking down and acknowledging what shirt you have on.
The other day, as I sat down to a business meeting at a local restaurant, a waitress came up to me and asked if she could leaf through a book that I had lying on the table. When she first approached, I didn't know what she was speaking about; I was so absorbed in the meeting, engaged in the conversation at my table while answering phone calls and trying to keep my phone charged. As the waitress held up the book, The Art of Uncertainty: How to Live in the Mystery of Life and Love It, I was finally able to focus in on the moment. The young lady who spoke to me was dressed in her work uniform. Her dark hair was pulled back into a ponytail and one hand nervously played with her black apron as she attempted a smile that didn't reach her eyes. "You have no idea how much I need this. The timing is crazy," she said and as soon as she opened her mouth to speak, tears came to her eyes. I gave her a hug and told her that she could hold on to the book.
As much as I was looking forward to finishing that book, it was clear to me that I had been carrying it around just for her. Had I stayed in place of preoccupation I would've missed out on the opportunity to deliver a message to another goddess, soulmate, mother, or friend. I was immediately reminded of what a blessing it is to be physically and mentally present in each moment.
The gift is always in the giving and we must be present to receive it.
In love & friendship,
Tracy Wilson Mourning
@HoneyChildTracy
Subscribe to discover the best kept secrets in your city