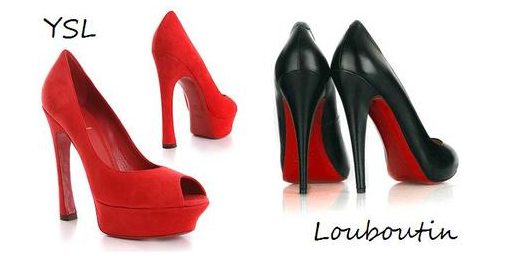 It's been a busy month for French shoe designer Christian Louboutin. Not only did he open his first ever retrospective exhibition at the Design Museum in London, but he also sued fellow French fashion designer Yves Saint Laurent and its parent company PPR for trademark infringement.
While in London early this week to launch the museum exhibition that celebrates 20 years of the luxury brand, Louboutin was spotted outside of court where he is trying to protect his world-famous red-soles, which he says Yves Saint Laurent and its parent company PPR copied and infringed upon his trademark.
"What PPR does via Yves Saint Laurent is breaking my trademark, which I find incredibly offensive," said Louboutin. "I do not own a color. I own a specific color in a specific place."
According to Louboutin's lawyers, the issue has sparked a huge debate within the high-end luxury market about whether a designer can essentially own a color.
Louboutin, 49, denies trying to monopolize the color red but nearly everyone knows that his signature red soles make his shoes one of the most recognizable fashion items.
READ THE FULL ARTICLE On HAUTEFASHIONDAILY.COM
Like Haute Fashion Daily? Check out our new Facebook page
Subscribe to discover the best kept secrets in your city