THE ARMORY SHOW
Piers 92 & 94 711 12th Avenue New York, NY 10019 212-645-6440
March 8-11, 2012
The Armory Show is a leading international contemporary art fair devoted to treasured works of art from the 20th and 21st centuries. It is one of the most significant art events in New York City, and takes place annually, each March on Piers 92 & 94 in Manhattan. In 2012, the Armory Show's focus is the Nordic countries, featuring select galleries from Denmark, Norway, Sweden, Finland and Iceland. This year, the show will feature a roster of the world's premiere galleries, in addition to the renowned Armory Show VIP program, a vibrant opening night party at the MoMA and an Armory Film. The Armory Art space has been redesigned by the award-winning, New York-based architectural firm Bade Stageberg Cox, creating a more approachable and luxurious experience. The new space also includes a farm-to-table restaurant and cafe by Great Performances.
 The Spring Show NYC will be hosted at the Park Avenue Armory, with a private opening preview May 2, benefitting the ASPCA.
THE SPRING SHOW NYC ORGANIZED BY THE ART AND ANTIQUE DEALERS LEAGUE OF AMERICA
The Park Avenue Armory 643 Park Avenue New York, NY 800-563-7632 May 3-6, 2012
The Art and Antique Dealers League of America (AADLA) is the oldest running and most significant principal antiques and fine arts organization in America. This spring, the AADLA will present a brand new art fair, The Spring Show NYC, with 50 specialists who will lend their expertise to the show. Dealers will present their tapestries, rare books, art treasures and other pieces during the show. Among the participants in this years show are Kentshire Galleries, Hyde Park Antiques, Clinton Howell, Dalva Brothers Carlton Hobbs, George Subkoff Antiques, L'Antiquaire & The Connoisseur, Philip Colleck, Foster-Gwin, Mary Helen McCoy, Earle D. Vandekar, Royal Athena, Naga Antiques, George Subkoff Antiques and Charles and Rebekkah Clark, among many others. The Spring Show NYC will be hosted at the Park Avenue Armory, with a private opening preview May 2, benefitting the ASPCA.
Best Artist
THEASTER GATES
Piers 92 & 94, 711 12th Avenue, New York, NY 10019, 212-645-6440 March 8-11, 2012
The Armory Show has revealed artist and urban planner Theaster Gates as the 2012 commissioned artist for the Armory Show. Gates' work, which features a controversial yet visionary use of archival paraphernalia, will be used to create the primary aesthetic of this year's Armory Show. His pieces are created in a historical context that is directly cognizant of the racial tension during the Civil Rights era and constitute re-purposed materials. In the artist's own words, "I offer the materials of the Black South Side or 'the forgotten city' as an Epitaph for Civil Rights, in hopes of a historical and political redemption; redemption, even for me." This is certainly one must-see at this year's Amory Show.
Best Exhibition
NYC20
Tent at Lincoln Center in Damrosch Park, West 62nd Street (between Columbus & Amsterdam Avenues) New York, NY 10023, April 12-15, 2012
The New York 20th Century Art and Design Fair (NYC20) will showcase leading names in the field of 20th century design. The fair, which is representative of art in various forms, will include pieces such as furniture, lighting fixtures, sculptures, paintings, jewelry, silver, glass, ceramics, photography, textiles, prints, and vintage clothing and accessories. Among the participants from the United States are Bridges Over Time, Camilla Dietz Bergeron Ltd., Christopher Anthony Ltd., Collage 20th Century Classics, Donzella, Downtown, Dragonette Ltd., Fat Chance, Framont Fine Art, Good Design, Joyce Groussman, Katy Kane Vintage & Couture Clothing, Le Lampade, Lillian Nassau LLC and Liz O'Brien.
Best Restaurant
CROWN
24 East 81st Street, New York, NY 10028, 646-559-4880
This Upper East Side eatery situated in a 1930s mansion attracts a strictly A-list crowd. The restaurants Chef Proprietor, John DeLucie, blends American and Italian fare in a menu that features items such as Silk Handkerchief Pasta with Hazelnuts and Black Winter Truffle. DeLucie's cooking style is the essence of modern cuisine with the delicacies of European flavors.
CATCH
21 9th Avenue, New York, NY 10014, 212-392-5978
Arrive in Manhattan's meatpacking district and you may very well overlook one of the best dining destinations in the city. Tucked away downtown on 9th Avenue and 13th Street, the discreet entrance of Catch seafood restaurant makes the eatery all the more enticing. Catch has become a social hub for New Yorkers, A-listers and the like, and serves up family-style fare that is innovative and utterly delicious. Try the Crispy Whole Red Snapper for two with Oyster Mushrooms or the Dungeness Crab Tagliatelle with Flying Fish Roe & Scallion Tomato Sauce.
Best Hotel
FOUR SEASONS
57 E 57th St., New York, NY 10022, 212-758-5700
In the densely crowded business-intensive district of Midtown East, silence and open space can be difficult to reach. Enter Four Seasons New York. Offering an oasis in the heart of this metropolis, the hotel conveys its opulence primarily through flawless classical design; which includes vaulted 33-foot ceilings, rigorous symmetry and clean-cut limestone. Guest rooms feature luxurious furnishings, yet target comfort above complexity in design. To boot, the property boasts a renowned Four Seasons Spa, a fully equipped fitness center and two award-wining restaurants; L'Atelier and The Garden.
Best Shopping
BERGDORF GOODMAN
754 5th Ave., New York, NY 10019, 212-753-7300
Indulge in the ultimate shopping experience at Bergdorf Goodman, a classic New York institution. Bergdorf Goodman is globally known for providing customers with the utmost in elegance, luxury and superior service. Browse the latest collections from top design houses for both men and women, while discovering the unparalleled selection of handbags, shoes and furs. Tired of shopping? Pamper yourself at Bergdorf's world-class salon and spa or satisfy your cravings with one of the store's dining options. Luxury at its best.
Best Salon
PRIVÉ
310 West Broadway, New York, NY 10013, 212-274-8888
This full service, plush salon was conceived and designed by Fabienne Dufourg, and features natural stone flooring, brushed aluminum details and countertops with pure white crystalline marble. Privé's array of services includes everything from Japanese thermal reconditioning to eyelash and brow tinting. The salon has also been known to style the likes of Gwyneth Paltrow, Uma Thurman, Felicity Huffman, Debra Messing, Brooke Shields and Claire Danes.
Best Galleries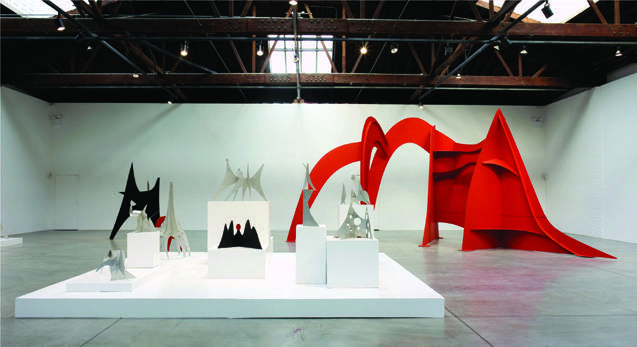 THE PACE GALLERY
534 West 25th St., New York, NY 10001, 212-929-7000
The Pace Gallery is one of New York City's leading contemporary art galleries, exhibiting some of the most significant international artists of the 20th and 21st centuries. Pace is considered one of the city's premier modern and contemporary art venues for painting, sculpture, video and installation art. The Pace Gallery has four locations in New York City, three in Chelsea and one in Midtown, and has showcased nearly 700 exhibitions and has published more than 300 exhibition catalogs.
GAGOSIAN
555 West 24th St., New York, NY 10011, 212-741-1111
Since its inception in 1979, the Gagosian Gallery has been the epicenter for contemporary art. In addition to its New York City outposts, the Gallery, owned and directed by art world giant Larry Gagosian, has locations in far corners of the world; including Rome, Geneva and Hong Kong. Gagosian has showcased some of the hottest names in the art world today, from Damien Hirst to Roy Lichtenstein.
Subscribe to discover the best kept secrets in your city