The Paris Couture shows were last week and as always, the designers did not fail to impress! From Elie Saab's gorgeous pastels to Jean Paul Gaultier's cartoon-like take on the 1950's, one thing the shows all had in common was the underlying air that fashion is on the brink of a new era. Each collection had a completely different look and feel to it unlike seasons in the past where there has been a more "across the board" look. From these completely unique collections, I attempted to do the impossible and choose my top 10 runway looks of 2012. Enjoy!
10. Armani Prive
Although the structured shoulders of this silver suit aren't exactly innovative, the clean lines and fishnet tank under the jacket are so chic and modern I couldn't help but include it. Also note the cropped pant's slight flare, which is likely to be a recurring look this spring. This entire ensemble can be tricky to pull off- I would recommend swapping the fishnet for a plain black tank if you are determined to wear the jacket and pants together.
9. Givenchy
Givenchy's couture collection stuck to a neutral palette- Elie Saab's pastels were definitely nowhere to be seen! I love this gown because it is so unique – it goes along with the western trend that will be back in full swing this spring, but the studded jacket edges it up a little. This dress is proof that edgy and studded weren't completely forgotten in the flirty, feminine, 50's movement that has taken the fashion world by storm!
8. Jean Paul Gaultier
This was one of the most wearable looks from the collection and also one of my favorites! The best thing about couture is that it can be a little more experimental than ready to wear, and Jean Paul Gaultier definitely took full advantage of this with his Spring 2012 Couture collection! I love the colorblocking in this look, and the purple jacket is especially to die for!
7. Valentino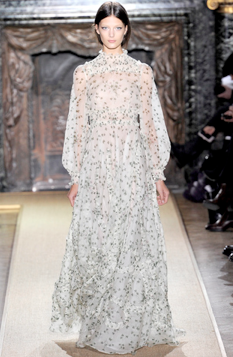 This collection with its floaty, floral fabrics was by far the most feminine and romantic of those at Spring 2012 Couture, and the more I saw, the more I loved it! This dress appealed to me in particular because of the billowy sleeves combined with the maxi-length- it's strangely reminiscent of a modern day "Little House on the Prairie", but for some reason it totally works. This dress could also easily transition from day to night during the summer months – I would pair it with lace up boots during the day and switch them out with strappy stilettos to modernize it for night.
6. Elie Saab
This dress is very wearable and as a stylist this is something I always look out for (especially at the couture shows). I can almost guarantee that this will grace the red carpet and could easily see this on a young, up-and-coming actress like Elle Fanning or Chloe Moretz, or on the queen of sparkly nude dresses, Taylor Swift. My favorite thing about this dress is that it's timeless – it's great when you find something you're likely to still love in ten years!
5. Versace
This ombre-orange gown is absolutely amazing- the hue will definitely be the color to snap up this spring.  Loving the upside down U-shape of the bodice- this is a very original cut that I can't wait to see on the red carpet on someone like Zoe Saldana or Jessica Alba.
4. Giambattista Valli
With it's plunging v-neck, studded bodice, sheer skirt, and full length, lightly pleated skirt, this gown is the perfect combination of sexy-meets-sophisticated and edgy-meets-sweet. I love that there is something slightly gothic about it (as there was with many pieces in the collection), but that it is sweetened up with little touches, such as the bow around the waist and the silk strips sewn into the bottom of the skirt.
3. Maxime Simoens
This dress is absolutely gorgeous! I love the rich shades of blue and the criss-cross pattern is super flattering. What makes this truly red-carpet worthy, however, is the long chiffon train. I can't wait to see who will wind up in this dress- the ice-blue tones would look amazing against blonde hair, so I'm thinking it would be perfect for someone like Blake Lively.
2. Dior
I love that this dress has the look of three separate parts: the black strapless bodice, the chiffon skirt, and the draped single sleeve, but that they all cohesively come together to create this gorgeous piece. The color is absolutely to die for, and there is something undeniably sexy about having a dress with this much fabric that is still so revealing at the same time!
1. Chanel
My favorite look from the Spring 2012 Couture shows was this sparkly Chanel number- I love that it looks like it could be vintage or this season. The midnight blue color is stunning, and I like the way that its slim fit contrasted with the other maxi dresses' flowy cuts. There really isn't much else to say about this look- complete perfection!
All Photos Courtesy of style.com
Marina Monroe is the CEO of Los Angeles based stylehaüs (www.stylehaus.com), the first boutique to apply a 'members-only' model to shopping and styling services.  Stylehaüs services celebrity clientele, celebrity stylists, and clientele nationwide.  Originally from New York City, Marina has over a decade of experience in a variety of fashion fields, including retail management, public relations, styling and product design. Follow her on twitter@MarinaStylehaus
Like Haute Living Los Angeles? Join our Facebook page or follow us on Twitter @HauteLivingLA. Want Haute Living Los Angeles delivered to your inbox once a week? Sign up for our newsletter.
Subscribe to discover the best kept secrets in your city