VIP-LA gives Haute Living inside access to the most luxurious happenings in LA. Check out their recommendations for this week.
EAT: B
ä
co Mercat, Downton LA
Bäco for all! The eagerly anticipated eatery, Bäco Mercat, opens soon on Main Street Downtown, LA! Chef, and bäco creater, JosephCenteno has been working on opening for months…It's Here!
Bäco is finally here! Chef Josef Centeno's pizza/taco hybrid has had everyone talking and returning to Lazy Ox Canteen on specific nights just to get a little slice of heaven. Bäco lovers rejoice, for there is a new spot opening that is all about your favorite flatbread creation!
Welcome to Bäco Mercat! The literal translation, Bäco Market (in case you didn't get that). Downtown LA's busy Main Street is patiently waiting for the doors of this eagerly anticipated eatery to open. Pushed back opening dates have caused quite a stir, but when this pork-belly paradise opens its doors, be ready to wait in line!
The bäco, a sandwich-taco-pizza hybrid, began as a dish Centeno served to late-night staff and friends at the now-closed Meson G, where he was executive chef. "The bäco is my riff on flatbread," explains Centeno, who is also executive chef of Lazy Ox. "I use different fats and lebni in the dough…. I was going to call it global taco, then globaco, then I just used bäco."
The menu will feature different forms of the bäco, including the original with crispy pork belly, beef carnitas, romesco and salbitxada (a form of Catalan salsa); the carne picada with blood sausage and lamb merguez; and the crispy shrimp with caraway-pepper-chile sauce and pickled green tomatoes.
Centeno will also be making his version of pozole soup, called bäzole, with a traditional tonkotsu ramen broth spiked with a harissa chile-spice mix and handmade noodles. "It will have a ramen-style-meets-Eastern-Mediterranean flavors with a fried egg, crispy pork belly and braised beef carnitas," says Centeno.
Ok… We're hungry now…. See you at Bäco Mercat!
DRINK: Neat, Glendale
The world of cocktails as we currently know it has, in the LA area at least, been greatly influenced by the owner of Neat, the new deconstructed cocktail bar in Glendale. Once again, this imbiber influencer has changed the way we drink cocktails. Check this place out!
Don't expect a fancy cocktail at this new Glendale watering hole; Neat, by Aidan Demarest, is taking a slightly different approach to serving drinks.
Aidan Demarest is to the Los Angeles bar scene what Thomas Edison was to electricity. He's launched and developed cocktail menus and bar concepts for Seven Grand, The Edison, First & Hope, Roosevelt Hotel's The Spare Room, The Raymond Hotel's 1886, among others. Finally he's branched out on his own — way out in fact — in Glendale of all places to open his very own bar. And it's Neat — literally and figuratively.
What was a local Moroccan beer bar called Sidebar, within three weeks, has been transformed into Los Angeles' newest go-to spot for the next wave of cocktail evolution – the deconstructed drink. Don't expect a highly engineered concept in the way of interior design or cocktail menus. Aidan Demarest's Neat Bar has stripped away all the fuss (and expense of themed cocktail bars) and invested in rare spirits and quality mixers.
Gleaming from behind the bar, Demarest's babies, as he affectionately refers to them, are proudly on display — over 250 exotic or small-production liquors to choose from. This colorful shrine to the spirit gods offers enticing liquors not readily available at other LA bars like Diplomatico Rum or High West Distillery Manhattan-infused Whiskey made in Park City, Utah. Handmade mixers, served on the side, range from grenadine to egg-white based sours to gourmet sodas like Fentiman's botanically brewed beverages.
Head bartender Arash Pakzad, with the patience of a pre-school teacher, educates imbibers one by one in the two-part ordering process at Neat Bar.
First, "Pick Your Poison" (the only quasi drink menu in the house). Sampling is encouraged before you settle on one as a part of the libation education quest at Neat Bar.
A clever wooden tray of two indented circles — one a smaller circle and one larger — gets set on the bar. The first circle gets filled with a glass of your choice of spirit, naturally, served neat.
Next, Pakzad inquires about your preferred mixer – soda, citrus or sweet. Served with Kold-Draft ice, the second circle is filled with a mixer and topped with a garnish if needed. The rest is up to you. Drink it separately or mix it up.
Neat Bar's minimalist delivery allows you to participate in the creation of your cocktail.
Aidan Demarest also allows other bartenders from some of L.A.'s best cocktail bars to contribute as well. Every week a well-known mixologist like Matthew Biancaniello, Kristina Howald, or Mia Sazaran (to name drop a few possibilities), will moonlight at The Neat Bar for those that just want a snazzy cocktail – "retro" style (premixed). Upcoming guest bartenders posted on Neat Bar's Facebook page.
Most nights, Demarest, minus the corporate getup, in jeans and t-shirt, happily chats up Neat Bar patrons — a mix of neighborhood locals, hipsters and longtime industry friends — from behind his back-to-the-basics, mid-century bar.
With his place now open less than a month, we look forward to bar maven Aidan Demarest's sequel to continue the shake up of the Los Angeles cocktail scene as The Neat Bar has.
ATTEND AFI Fest 2011, Hollywood
Hollywood's longest running film festival, the American Film Institue Fest, kicks off its 2011 festival with a huge premiere. This year AFI is offering free tickets and some great films. Check it out!
It's that time of year again! Hollywood's longest running film festival, the AFI Fest 2011, kicks off on November 3rd with the World Movie Premiere of J. Edgar at Grauman's Chinese Theater on Hollywood Blvd.
From AFI:
AFI is America's promise to preserve the history of the motion picture, to honor the artists and their work and to educate the next generation of storytellers. AFI provides leadership in film, television and digital media and is dedicated to initiatives that engage the past, the present and the future of the moving image arts.
AFI FEST presented by Audi, celebrating its 25th edition in 2011, will take place November 3 through 10 in Hollywood, California at the historic Grauman's Chinese Theatre, the Mann Chinese 6 Theatres, the Egyptian Theatre and the Hollywood Roosevelt Hotel.
As a non-profit educational and cultural organization open to the public, AFI relies on the generous financial support from moving arts enthusiasts like you to provide funding for its programs and initiatives.
Beginning in 2009,  AFI  offers free tickets to all of its screenings for its members and the general public alike. This year, with the support of Audi as the lead sponsor, it continues to do so. Get your free AFI Festival screening tickets here. Additional tickets will be released the day before each screening. Tickets to the World Premiere of J. Edgar are available for AFI members only and are very limited. VIP-LA has your exclusive access to the World Movie Premiere of J. Edgar. Contact VIP-LA now for tickets.
If you are a movie buff, this is your event; 7 days of Hollywood legacy and World movie premieres! Don't forget the popcorn!
VIP EVENT: The 2011 CMAs, Nashville TN
Country Music's biggest night! All of the stars and starlettes of the genre converge for one night full of LIVE performances and awards! VIP-LA has your exclusive access to this star-studded event!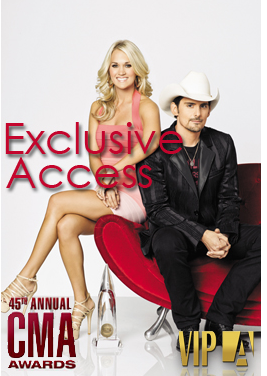 The Country stars will be shining bright as they all come together to celebrate the achievements of the best performers in their respective genres on November 9, 2011. Walk the Red Carpet, sit up front and mingle with the celebs at the official afterparty! VIP-LA has your exclusive access!
VIP EVENT: Grammy Nominations Concert, Downtown LA
It's almost that time of year again! 'Music's Biggest Weekend' is just months away. Nominees are being announced at a special Grammy Noinations Concert. Want to sit front row and watch Lady Gaga perform LIVE?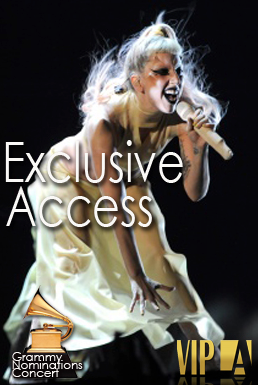 The Grammys are upon us. "The Biggest Weekend in Music" brings out the whos-who of the recording industry and all of the A-Listers that follow the scene over a long weekend of celebration. Super-exclusive celebrity-packed parties and live shows/performances leading up to the big night (Sunday) are to be expected. But after the annual Grammy Award show, the real celebrating begins! Every nightclub in LA will be wall to wall with star-seekers hoping to catch a glimpse or an impromptu performance by their favorite artist at an after party.
Grammy weekend, although right around the corner, is still a couple of months away. That doesn't mean we have to wait to begin the celebrations… The 2012 Grammy Nominations Concert is the perfect solution! On November 30th, LL Cool J will host the annual event and some of the hottest superstars in music will perform LIVE! Lady Gaga is headlining this epic event and VIP-LA has your front row access!
Contact VIP-LA for special offers, reservations and packages for these VIP happenings and more!
VIP-LA 310.988.2848 Members@VIP-LA.com
www.VIP-LA.com
www.VIPLAAccess.com
Facebook
Twitter
Subscribe to discover the best kept secrets in your city