Designer Tory Burch – ever growing in popularity and undeniably well-dressed – has added tuxedos to her stylish repertoire. As she embarked on the new venture, she looked to one of modern culture's biggest names to wear her debut piece – hip hop icon Kanye West. West wore the custom-designed Tory Burch tux to the Met's Costume Institute Gala in May and the designer is now looking to expand her portfolio to include an entire line.
On her decision to add the classy new pieces to her label, Burch explained, "A great tuxedo is modern and timeless for evening. My mother often wore her Yves Saint Laurent le smoking, and my father was known for his dinner jackets lined with silk Hermès scarves. Always superchic."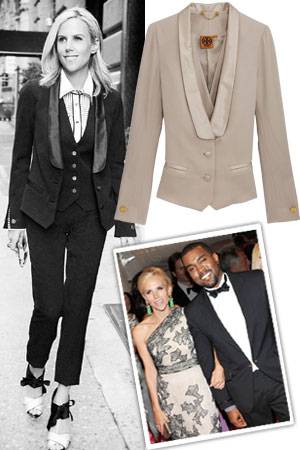 Looks like stylishness runs in the family! Burch took hold of those memories as she forged her way into her new dresswear collection for inspiration, resulting in sleek boy-meets-girl getups, which will be available exclusively at her flagship Madison Avenue store, opening in September.
Our Haute 100 list details the accomplishments of the most influential people in each of our markets. To see the entire Haute 100 New York list, click here.
Subscribe to discover the best kept secrets in your city