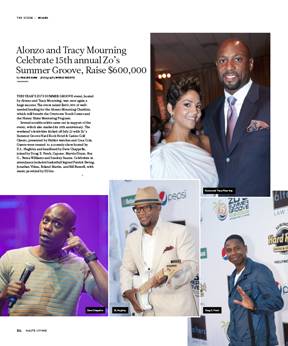 This year's Zo's Summer Groove event, hosted by Alonzo and Tracy Mourning, was once again a huge success. The event raised $600,000 of well-needed funding for the Alonzo Mourning Charities, which will benefit the Overtown Youth Center and the Honey Shine Mentoring Program.
Several notable celebs came out in support of the event, which also marked its 15th anniversary. The weekend's festivities kicked off July 22 with Zo's Summer Groove Hard Rock Hotel & Casino Golf Classic, presented by Hublot watches and Coca Cola. Guests were treated  to a comedy show hosted by D.L. Hughley and headlined by Dave Chappelle, joined by Doug E. Fresh, Capone, Marvin Dixon, Roz G., Nema Williams and Smokey Suarez. Celebrities in attendance included basketball legend Patrick Ewing, Jonathan Vilma, Roland Martin, and Bill Russell, with music provided by DJ Irie.
The next evening, more than 4,000 guests joined the Mournings for Zo's Summer Groove Benefit Dinner and Gala with a Night of Entertainment, presented in partnership with Publix and Hard Rock Live. A slew of celebrities attended, including Alicia Keys, Cee Lo Green, Carlos Mencia and Dave Chappelle for an additional surprise appearance as guests enjoyed cocktails courtesy of Grey Goose Vodka and an exciting auction of sports memorabilia, entertainment, vacations and other luxurious lots.           All of the proceeds of the event went directly towards the Alonzo Mourning Charities, whose mission is to build strong communities by supporting programs and initiatives that have a commitment to promote positive change.
Subscribe to discover the best kept secrets in your city