Ladies, ready to be WOWed?
Now there's a website with everything that you have been looking for and more. PureWow.com is dedicated to the lifestyle of a sophisticated woman (aka trendy and over the age of 35). PureWow provides free daily emails about everything that you need to know. From fashion & food to beauty & culture with so much more. Yes, finally a website that has everything all-in-one!

PureWow's official launch party took off at the well known Renaissance Hotel's R Lounge with food and cocktails from Blue Ribbon Cuisine. The guests were left blown away not only with a spectacular view of Times Square, but with music, food, celebrities & surprises! Whoopi Goldberg, Lesley Stahl & Joni Evans were only a few of the powerful women behind the scenes of PureWow that made appearances.
Whoopi, an actress that everyone adores for her comedic attitude & her honesty said that "PureWow is a much more exciting version than wowOwow.com. It's much more cleaner and refreshing!"
The CEO of wowOwow.com Joni Evans is a woman with a sense of humor, having agreed with a compliment that she was an amazing woman. When asked who came up with the idea of PureWow she stated that "The Pilot Group invested in the company about a year & a half ago. Bob Pittman & Andy Russell always said we should be a newsletter, that no one goes to websites anymore. People look for something fast & fun. And a year later I agreed that we were ready to deliver a great experience."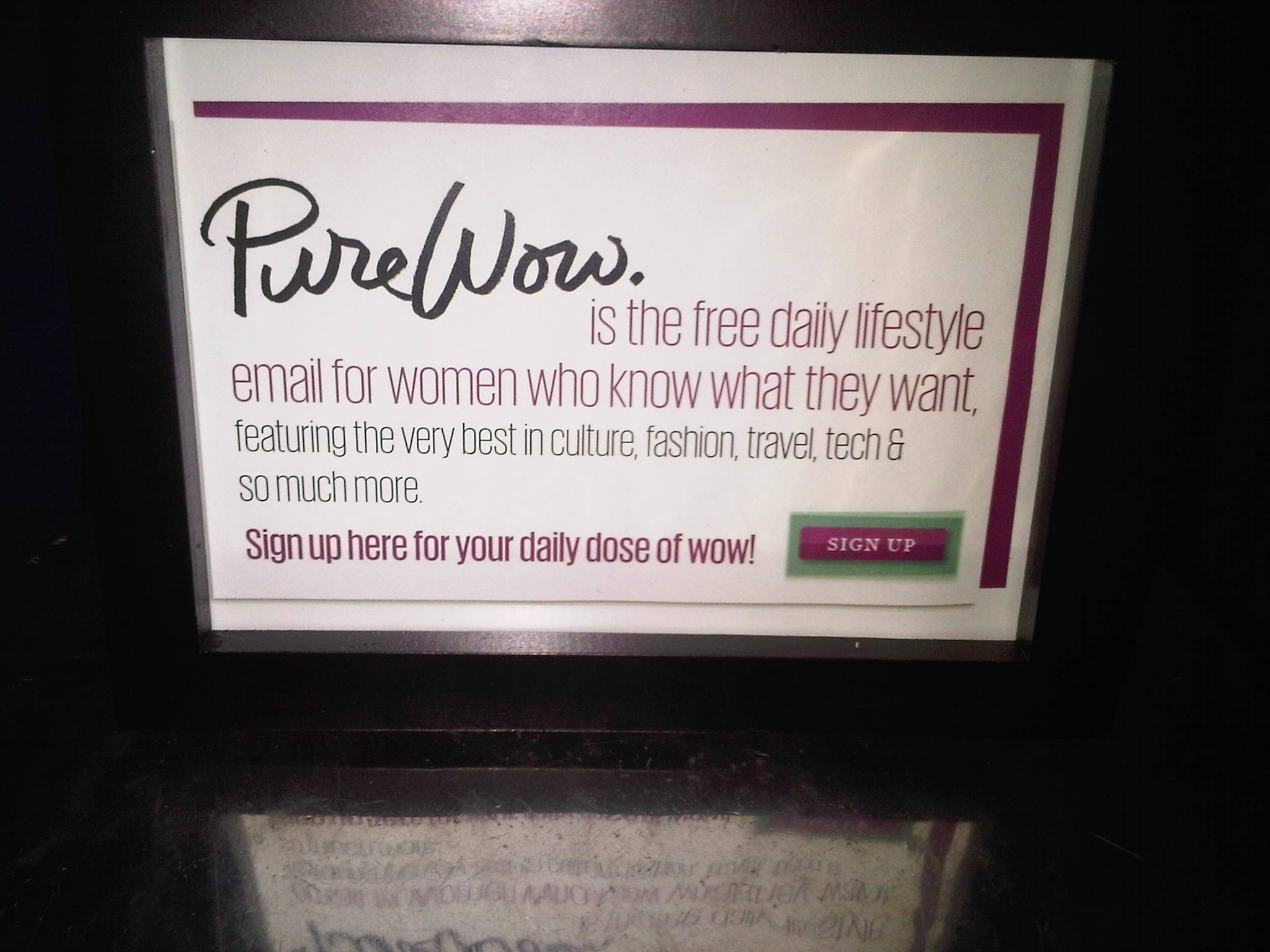 Being a publisher of countless bestsellers, Evans gave some advice to anyone eager to be a journalist. "Make sure the product and book is good and it will never be put down. Everybody always says that publishers don't care & that they're so mean, but it's the exact opposite. We're always looking for talent. Never give up & knock on all doors." And when asked to give one word to describe all the women behind PureWow, she responded "Only the obvious, WOW!"
The party was well entertained with performances from the PS 32 choir. The kids were full of excitement as well as talent & surely was a night they will never forget.
PureWow sure knew how to end a party. Announcing that there were 300 balloons for each guest & only 9 were filled with surprises. Talk about a WOW moment! With all the talent, experience, ideas & the humor that these exceptional women have, PureWow sure looks like a hit. Congrats to the ladies behind PureWow & good luck!
For more information check out PureWow.com & sign up for daily emails.
Subscribe to discover the best kept secrets in your city