Foodies, winos and mango fans made an appearance at the Moana Surfrider Resort & Spa last Friday for the Tree to Table-Mango Throw Down. The mango-centric extravaganza celebrated Hawaii's top chefs including D.K. Kodama, Donato Loperfido and Nobu Matsuhisa to name a few. Iron Chef, Masaharu Morimoto hosted the culinary contest that pitted the island's best prepared mango-inspired dishes against each other. Morimoto, local food editor Jo McGarry and the menagerie of guests voted for Best Use of Mango, Best Dessert and People's Choice.
Three separate venues created a walkabout vibe, with each location housing several mango dishes along with wine selections from Chambers & Chambers, Better Brands, Johnson Brothers and Southern Wine & Spirits. Each restaurant's neighbor delivered a perfect complimentary wine to accompany the mango-infused dish to its right. The chef's really represented as most of them were on-site discussing their use of the fresh island fruit with inquisitive attendees. Hawaiian bands played in every room enhancing the lively and inviting vibe.
The overall spirit was joyful as patrons took turns to taste mango crustacean lumpia from Sheraton Princess Kaiulani, mango crab rolls from Sansei, lamb lollipops with curried mango couscous from The Beachhouse Restaurant and duck medallions with mango and toasted almond from 3660 on the Rise. Hoku's delivered a fan favorite sweet treat with a mango tartain topped with strawberry ling hing mui ice cream.
Drunk from high doses of mango, the crowd gathered around the beachside bar as the night was coming to a close to tune into the chosen winners. People's Choice was unanimous and also my crew's pick, the mango crustacean lumpia by Chef Bauer from the Sheraton Princess Kaiulani. Chef Chai Chaowasaree of Chai's Island Bistro claimed Best Use of Mango for crafting steamed black sticky rice with fresh mango and haupia sauce. Best dessert went to Hiroshi's chef, Hiroshi Fukui for mango panacotta. Four chefs were tied for the top overall winner including Alan Wong's Lance Kosaka, Ryan Loo from Twist at HanoHano Room, Roy's Waikiki chef Jason Peel and Bali Steakhouse's Brett Villarmia.
Overall the event was a huge hit with the crowd of more than a thousand in attendance. The food-raiser was not only a ton of fun, but proceeds even helped to benefit the University of Hawaii's Culinary Institute of the Pacific.
Needless to say, I got my mango on and although it's one of my favorite locally grown fruits, I've had my fill 'til next season.
bauer_low
Chef Ralf Bauer of Sheraton Princess Kaiulani
Bauer_dish_low
People's Choice Winner-Mango Crustacean Lumpia with Mango Cucumber Namasu and Wasabi Mango Nage
Morimoto w Rodney Uyehara
Iron Chef Morimoto with Beachhouse's restaurant Chef Rodney Uyehara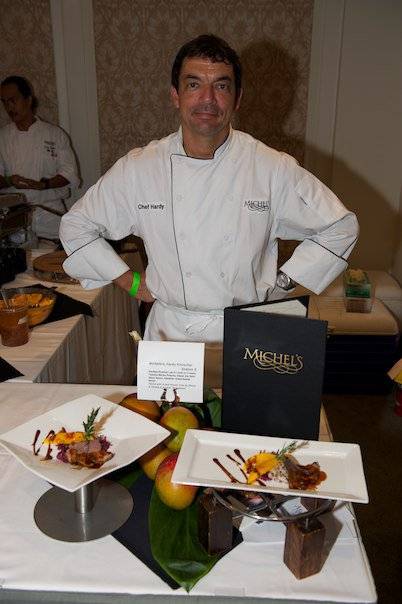 Chef Hardy from Michelles
Chef Eberhard "Hardy" Kintscher from Michel's at the Colony Surf
lamb chop lollipops
Lollipop Lamb Chop with Curried Mango Couscous from Beachhouse Restaurant
hokus mango galette
Hoku's restaurant-Mango Tartain with strawberry ling hing mui icecream
Subscribe to discover the best kept secrets in your city