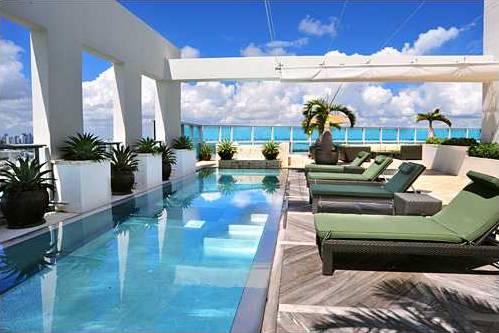 A recent real estate sale in South Beach proves that luxury is not only haute, but also everlasting. For the first time in Miami's luxury condo history, a penthouse at The Setai sold for a record-breaking $15 million. The 6,208 square foot Villa B penthouse, which was purchased by an overseas investment group, was closed by super-agent Diana Garchitorena.
Though the $15 million sale has certainly raised the bar for its market, it's in good company with nearly 150 other Miami-Dade luxury condos with price points over $1 million, all of which sold within the second quarter of this year, proving that things may be looking up in the luxury condo arena. And, for the 40th floor Villa B penthouse at the Setai, looking up may even be an understatement.
The four bed, six bath property includes a 4,000-square foot balcony, which features a private infinity pool and two Jacuzzis, along with 360-degree views of the ocean, the city, and expanding as far as the Florida Everglades.
The Villa B property at The Setai has been on the market since 2006.
Garchitorena joined the Setai Realty sales team in 2001, and is one of the company's three main sales associates.
Subscribe to discover the best kept secrets in your city