Hawaii has been long on the map as a world class surfing destination with famous brakes like Pipeline and Sunset; hosting the major surf competitions each winter featuring pros like Kelly Slater and Andy Irons. But lately there has been a new sport that has been very popular with residents and celebrities on their Hawaiian vacation – the sport of Stand Up Paddling (SUP).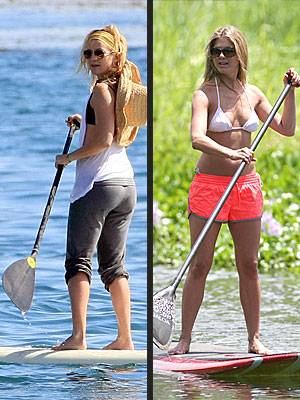 Known as SUP, it was actually popular years ago back when the original Waikiki Beach Boys would grab a surfboard and a paddle when the waves were not big enough for surfing. It also allowed them to more around the water quickly as they paddled around the waters of Waikiki on life guard patrol. SUP is a surprising all over body work out, which is why it is so popular with celebrities like Kate Hudson, Jennifer Aniston, and Cindy Crawford all of which have been spotted giving it a try on holiday in Hawaii.
In addition to working the upper body, SUP is toning the legs and core as participants are navigating their balance on the board. Surfing celebrities, Cameron Diaz and Mathew McConaughey have been sighted cross training SUP in Hawaii when the waves were no ideal for traditional surfing. Many find that they can pick up the sport in one day. Be sure to rent the correct size board for your frame and get a professional lesson so you learn the proper technique.
In Honolulu you would be surprised to find all types of people doing SUP. Often times you will see a Mom or Dad with their child sitting on the nose of the board. Even part-time Hawaii resident Pierce Bronson has been sighted out in the water on his stand up board. If it is good enough for James Bond, it must be a great workout!
Subscribe to discover the best kept secrets in your city