One hundred years ago last Thursday, a group of entrepreneurs and businessmen stripped away the faltering Italian assets of the French car company Darracq, and renamed their new concern Anonima Lombarda Fabbrica Automobili, or ALFA.  One century, two world wars and many thousands of cars later, the fortunes of Alfa Romeo are now being celebrated worldwide, but nowhere as enthusiastically as in Milan, where the storied automaker was born.
Recognizing the company's importance to Milan's heritage, the City Council worked with the Italian chapter of Alfa's owner registry as well as the manufacturer itself to stage a four-day centenary celebration that took place this past weekend.  Commencing on the company's June 24 birthday with a formal presentation at the Palazzo Marino and open sessions at the Monza Race Track, the anniversary continued at the nearby Alfa Romeo Museum, where guided tours were offered and visiting hours were extended until midnight.
Roadgoing festivities heated up on the 26th, when a 2-day tour of classic, postwar vintage and modern Alfas began a trek from the Fiera Milano Expo to the Sforzesco Castle at the city's center, where cars were exhibited and more noteworthy examples were paraded across a stage.  In all, organizers welcomed roughly 3,000 different Alfa Romeos from all eras, representing owners from 45 countries.  The international rally was prefaced with a presentation that featured the unveiling of a new statue created by Alfa's styling and design center and artist Agostino Bonalumi.  Revealed at the south gate of the Fiera Milano, the bronze sculpture was inspired by the 1900 C52 Spider "Disco Volante," a limited production 1952 concept car that, like many Alfa experiments of the era, is widely considered to epitomize the manufacturer's exploration of modernity and futurism in automobile design.
Further celebration of the Italian marque's anniversary will continue at this August's Pebble Beach Concours d'Elegance, held annually at the renowned Monterey Peninsula golf course.  As one of the Concours' featured spotlights, Alfa Romeo will be a focus of several classes of judging, including one dedicated to the venerable prewar 8C model, a performance benchmark of the genius of head engineer Vittorio Jano that is regarded by many enthusiasts as the finest Alfa Romeo of them all.  Just two years ago, a 1938 8C 2900B Touring Berlinetta garnered the Concours' Best in Show award.
the Disco Volante statue
the 1953 Alfa Romeo 2000 C52 Spider "Disco Volante"
the 1952 Alfa Romeo 1900 C52 Spider "Disco Volante"
Vittorio Jano's technical marvel, the 8C – this one a 2300 from the early 30s
the 2008 Pebble Beach Concours d'Elegance winner, a 1938 Alfa Romeo 8C 2900B Touring Berlinetta owned by John and Mary Shirley of Medina, Washington
on the field…
as it crosses the awards platform to claim its prize…
Alfa's latest superlative exotic – the 8C Competizione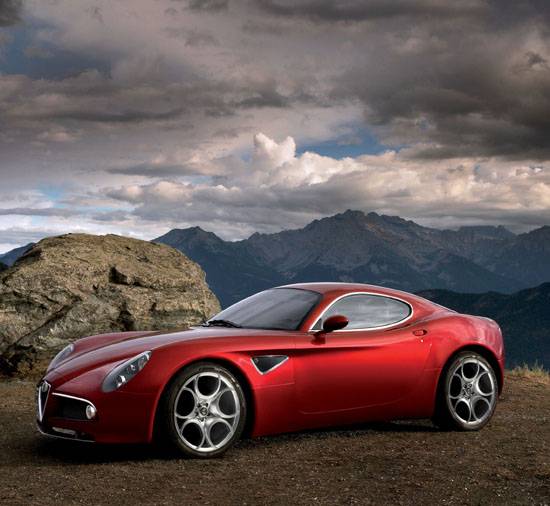 Subscribe to discover the best kept secrets in your city