Tesla Motors Senior Design Executive Franz von Holzhausen is one of those guys whose youthful charm and perpetual smile somewhat belie his intellectual capacity and obvious professional skill. With boyish enthusiasm, he comments on his company's most recent promotional endeavor, "It's a great story for us, of course, an electric car going around the world. I mean, that's awesome."
Von Holzhauen refers to the Odyssey of Pioneers, a touring road show collaboratively launched by Tesla and watchmaker TAG Heuer.
Just one month ago, Tesla used the platform of the Geneva International Motor Show to debut a one-off version of its $128,000 Roadster Sport, the hotly debated two-seat exotic sports car that can accelerate from zero to 60 in 3.7 seconds and can be re-charged from an outlet in your own garage.
On March 18 the car made its second appearance at the annual Basel horology trade show where TAG CEO Jean-Christophe Babin, flanked by Leonardo di Caprio and Tesla wunderkind Elon Musk, announced that the car would serve as an Olympic torch, a leading flame if you will, for a tour around the world to present TAG's latest concept watch, the Grand Carrera Pendulum. The Pendulum concept features a radical new power regulation technology based on magnets that replaces a traditional physical part called a hairspring. Spanning six months, the Odyssey of Pioneers has already hit Monaco and Milan, with remaining destinations to include Moscow, Delhi, Shanghai, Tokyo, Los Angeles, Miami, New York, London, and Paris.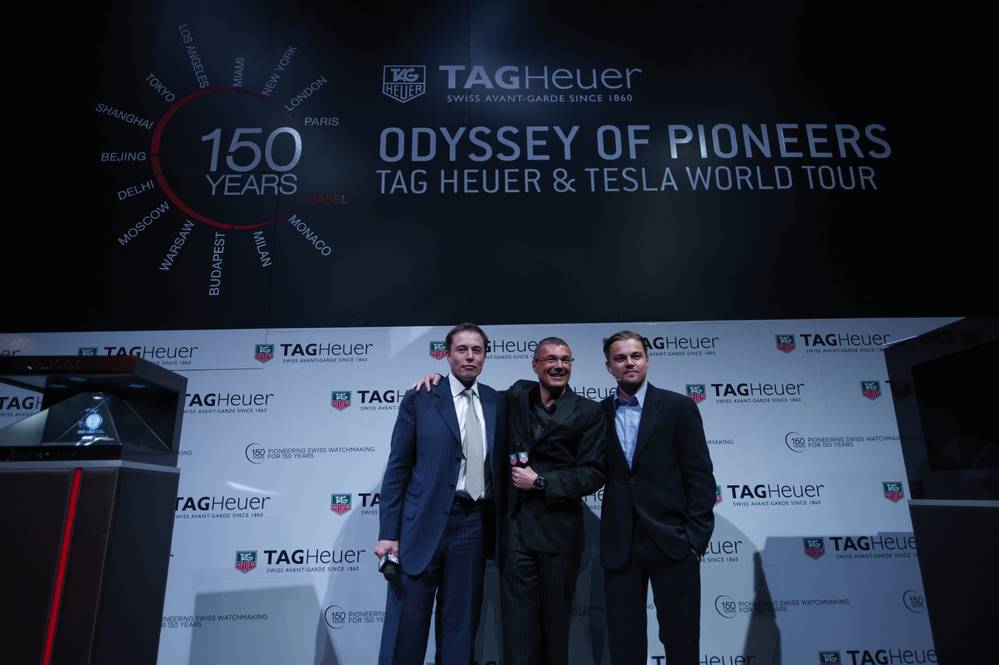 Von Holzhausen relays that the idea for the corporate partnership started with a dinner between Musk and Babin that ended in an open agreement for a collaboration of some kind. Then the meetings began. "TAG Heuer came to the table with ideas of a concept of a tour and we thought, what better way to help out and what better way to exploit the best possibilities?" says von Holzhausen of the one-off Roadster's role. "This is a great opportunity for us to dispel the idea of range anxiety and really prove to the world that a Roadster, or an electric car, is a daily-useable object."
Though wearing the original Tesla Roadster's basic shape, the Tag Heuer version features a complex, five-layer paint job executed by one of the top names in the business.  The finish is complemented by pinstriping and precision designed TAG-themed vinyl wraps whose shapes were influenced by the imagined arc of a pendulum, in honor of the watch's name.  The TAG Heuer Roadster's interior offers a TAG one-fifth second Limited Edition Stopwatch and Meridiist mobile phone, and a specially designed display box that contains the Grand Carrera Pendulum concept watch. With pride, Von Holzhausen summarizes, "there's a lot of very bespoke one-off elements of the car that are definitely unique to this vehicle."
In addition to helping promote TAG's innovative concept and its 150th anniversary, part of Tesla's mission on the Odyssey is to demonstrate how tangible the Roadster is to markets that may have barely seen it.  "We still see that people don't really realize that electric cars are here right now," explains the designer, with a hint of disbelief.  "And when we show up with an actual vehicle and you see it drive away under its own power, it's still kind of a jaw-dropping moment for a lot of people. But you just need to be behind the wheel of a Roadster for five minutes before you realize that this really is the future."
Subscribe to discover the best kept secrets in your city