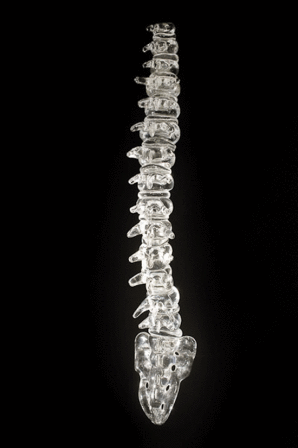 To coincide with the brand's 10th anniversary with luxury retailer Bergdorf Goodman, Ippolita has designed and created a series of in-store art installations. The project, which is a reflection of both the designer's talents as an artist and her success as a jewelry designer, will be displayed in Bergdorf Goodman's Fifth Avenue window as well as in their first floor Luxury Room through the month.
Inspired by the resilience of the human spirit and our faith in rebuilding, the installation uses the shape of body parts to evoke a sense of the human body as the "ultimate shelter." The shelter reliquary features a spine—the only body part left intact—with bones fallen to the floor. Transparent glass was used to create the spine and bones, and her signature 18-karat yellow gold jewelry is scattered throughout the displays.
Says Ippolita, "I am thrilled to have the opportunity to show my work as an artist at Bergdorf Goodman. I believe that beautifully crafted objects, whether jewelry or glass, have the power to inspire wonder and excitement, to stir the heart, so it's important to me that whatever I create aspire to fulfill that promise."
Ippolita has also issued a limited-edition collection of jewelry in partnership with the Fifth Avenue luxury fixture. The jewels were inspired by the brand's archives and the first collection Ippolita designed in 2000, and each piece is hand-engraved with "Ippolita Anniversary 2010."
Any fans of fine jewelry know that Ippolita creates beautiful and romantic pieces, so we suggest heading over to Bergdorf's before this stunning display disappears.
Subscribe to discover the best kept secrets in your city