It doesn't matter if you're a actor, a director, or a hair stylist; the trends go in and out faster than the tide at the Santa Monica Pier. But there are a few people in town that have actually overcome the trends and the passing fancies. Stylists who have established themselves as experts at what they do have gained the trust of more than just one zip code.
Here are the top three, in no particular order.
WHITNEY OLSON, WARREN TRICOMI SALON, WEST HOLLYWOOD: She may be only 25, but she's as savvy as they come. She believes that for this Spring, bangs should be swept aside, the crimper should be donated to charity, and that while the 80s look may be back in fashion, it should never touch the top of your head. She's hip, she's groovy, and she won't let you walk out that door looking anything less than fabulous.
DAVID ABRAMS, LUXE LAB, SANTA MONICA: David's beyond zen—he's pratically mellow. As co-owner of Luxe Lab on Montana, he believes he's not here to give you a hair cut, he's here to give you a look; and one that you can maintain come the following day when you have to do it yourself. For David the look is key—he's a artist, first and foremost—not a hair stylist.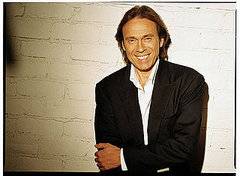 CRISTOPHE, CRISTOPHE SALON, BEVERLY HILLS: This is the man who's been making celebrities and politicians (think politicos Bill and Hillary) look good in his Bev Hills salon for more than 20 years. From the moment you sit in his chair, he's assessing you—not just your hair—your personality, your career, your lifestyle. He's not going to give you a style you don't need, or can't maintain. Cristophe is all about symmetry, and he won't let you leave until he's absolutely sure your hair is nothing less than perfection.
Subscribe to discover the best kept secrets in your city