Now that the Food Truck Movement is here to stay (not surprising in such a transport-obsessed city as ours), we thought we'd round up a guide to our favorite trucks and thus provide you with a whole new list of people to follow on Twitter.  Or at least a couple more reasons for you to finally succumb to peer pressure and join the darn thing.
The Pioneer
The Kogi BBQ Truck is really the one that started it all.  Serving Korean BBQ style tacos, innovative sandwiches, and other Latin food with a Korean flair.  Worry not, picky eaters – its truly delicious even if it sounds too fusion-y for you.  Follow them here.
The Ultimate Sweet Tooth
For those of us who are downright sick and tired of standing in line outside Sprinkle's Cupcakes in Beverly Hills, its time to start following their Cupcake Van on Twitter so we can stand in line all over the city instead.  You know what they serve – sweet cupcakes that, at the very thought of them, inspire citywide salivation.  Now that they're mobile, sitting in traffic to just then try and find parking on Little Santa Monica is no longer necessary.  Phew! Follow them here.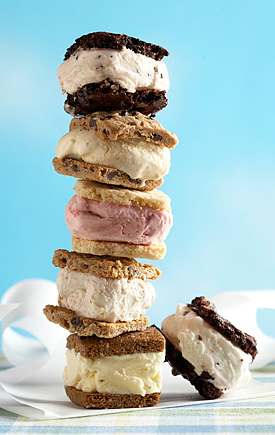 Cool Your Jets
If you've always felt that the potential of ice-cream sandwiches has yet to be reached.  That's only the case if you're yet to discover the Coolhaus truck.  A roving truck that serves "architecturally inspired ice cream sandwiches," Coolhaus can provide you with such grand combinations as Chocolate Chip Cookies with Butter Pecan Ice Cream or Oatmeal Raisin with White Chocolate Macademia Ice Cream or Brioche Cookies with Sea Salt Caramel Ice Cream.  We could go on… Follow them here.
South of the Border
If there ever was an haute food truck, Susan Feniger's Border Grill Truck is it.  Whether you're following the truck around town for their Yucatan Pork Tacos, their Poblano Quesadillas, the Peruvian Ceviche Cone, or their ridiculously good Iced Mexican Coffee, you're following the right truck.  Follow them here.
Baby steps, you know.  We'll start here and just say this, there's more where these came from!
Subscribe to discover the best kept secrets in your city