Photo Credit: Romain Maurice
An intimate group of respected Haute Leaders gathered in the Miami Design District at Tablé by Antonio Bachour on July 26 to celebrate and network with other experts in the industry. The menu at Tablé is inspired by Parisian brasserie cuisine as well as Miami and Lebanese influences to create an exceptional dining experience. All dishes, varying from the brunch to dinner menu, are carefully crafted using fresh ingredients.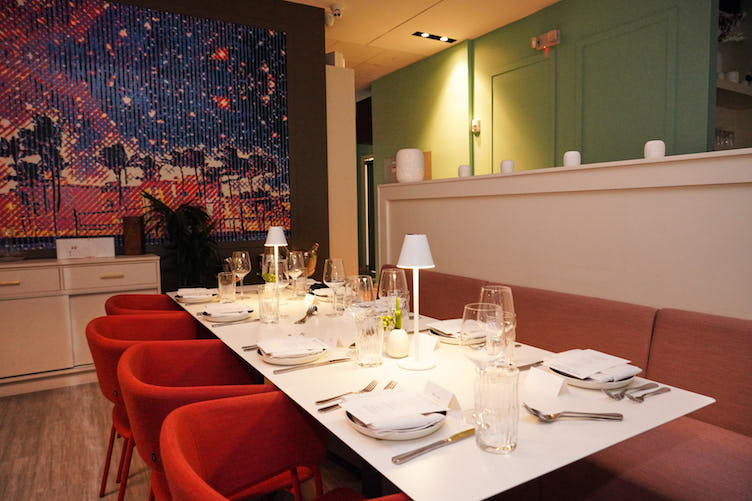 Photo Credit: Romain Maurice
Chef Antonio Bachour has a strong background in pastry. He focused on honing his craft early at his family's bakery in Puerto Rico. He highlights this skill at Tablé in exciting ways which guests were able to enjoy some delightful macaroons.
Photo Credit: Romain Maurice
The evening started off with canapé hour, guests were served Fois Gras torchon made with spiced port glaze, toasted brioche, and Ufra Biber; Lamb meatballs served with spicy aioli, herb labneh, and mint oil; petite falafels alongside eggplant marmalade, and espelette.
Photo Credit: Romaine Maurice
For appetizers attendees chose between Mediterranean salad, Spanish octopus, and chilled lobster andalouse. Lastly, for entrees Haute Leaders could choose between Alaskan halibut, gnocchi Provençal, and grilled Niman Ranch strip loin.
Photo Credit: Romain Maurice
Notable guests from the evening include Dr. Paul Durand, Dr. Bertha Baum, Dr. Alonso Martin, Nicholette White, Dr. Emerick Salas, Dr. Natalia Vidal Laureno, Lorraine Lancri, Mickael Lancri, Lana Mar, Liz Lam, Priscilla Haisley, and Andrea Gutierrez.
Photo Credit: Romain Maurice
Photo Credit: Romain Maurice
Photo Credit: Romain Maurice
Photo Credit: Romain Maurice
Subscribe to discover the best kept secrets in your city