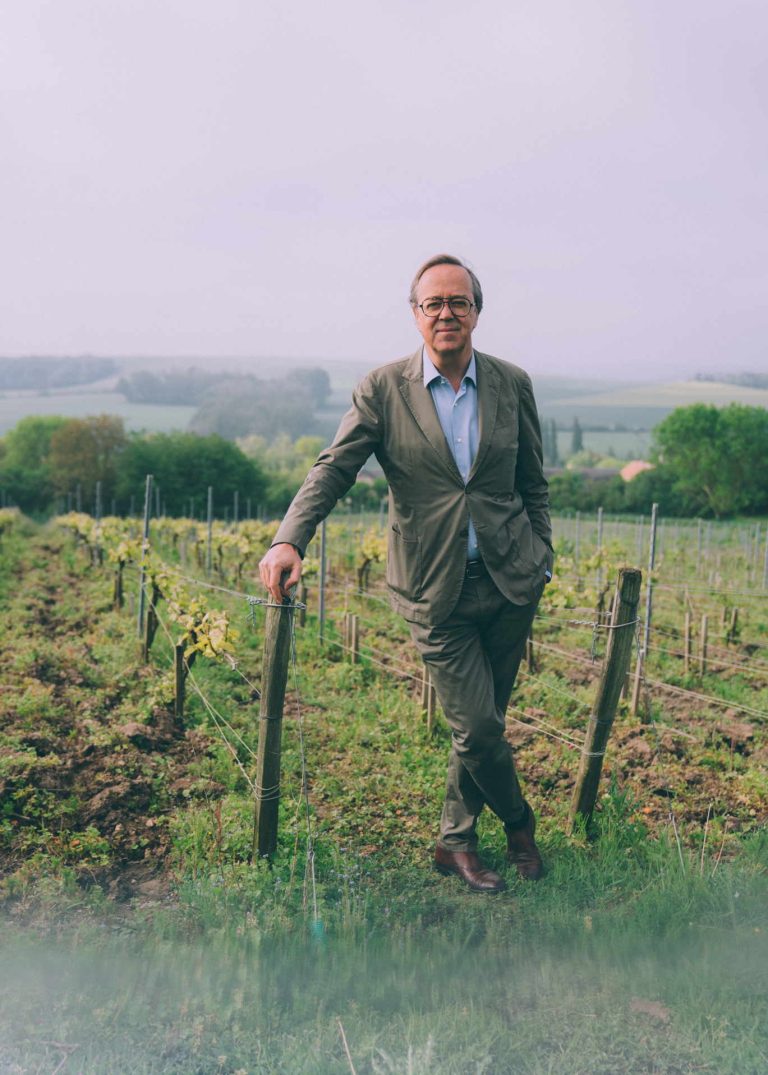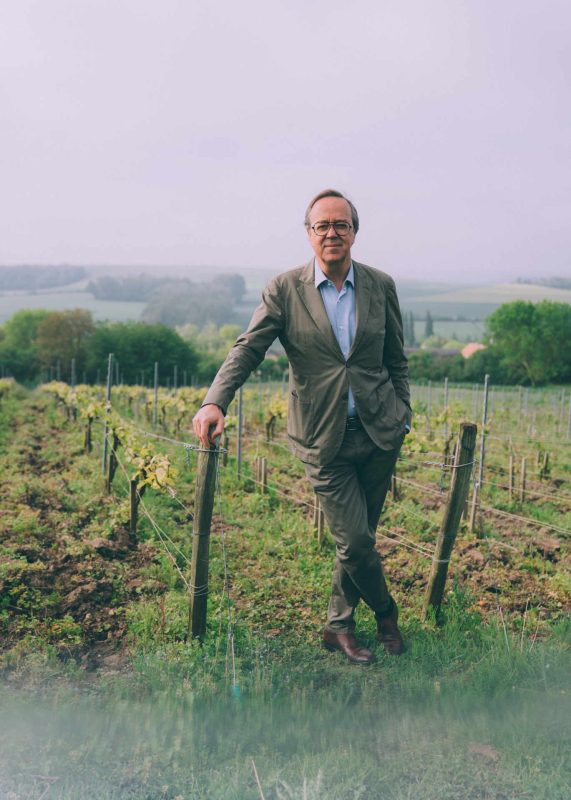 Photo Credit: Louis Roederer / Marie Flament 
Frédéric Rouzaud, son of Jean-Claude Rouzaud, seventh generation of the lineage, has been at the helm of the Champagne Louis Roederer since 2006, making it one of the few still family-owned independent Champagne houses today. As a direct descendant of Louis Roederer himself, who inherited the company from his uncle in 1833 and renamed it eponymously, it is quite right to say that Frédéric Rouzaud has Champagne in his blood. He developed a passion for the vineyards at an early age, but, first, he sought to gain experience outside of the family business. A graduate in Business Administration from the renowned Université de Paris-Dauphine, he spent five years developing his expertise in wine property transactions at a leading French realty firm. He joined the family business in 1996 as Regional Manager and rose through the ranks to become Manager of Human Resources and then Executive Vice President in charge of development. In January 2006, Frédéric succeeded his father Jean-Claude Rouzaud as President & CEO of the Champagne Louis Roederer Group. Today, Frédéric is the driving force of Maison Louis Roederer's wineries in France, Portugal, and California. Here, he discusses the Maison's past, present, and future.
Photo Credit: Champagne Louis Roederer.
What's your strategy for managing all the different projects within Champagne Louis Roederer?
We are proactively surrounding ourselves with the best talents at all levels of the organization spanning the many facets of our activities. We foster the motivation of each individual and we promote a culture of shared values and cross-fertilization of ideas.
How do you differentiate the brands within Champagne Louis Roederer portfolio with the rest of the market?
The properties of Roederer Collection share a rich heritage that weaves family legacy, pioneering savoir-faire, unique terroirs, and a respectful harmony between nature and man. Our Houses exist to create and transmit emotions.
Photo Credit: Champagne Louis Roederer.
How do you keep Champagne Louis Roederer evolving?
"Time" has long been central to Louis Roederer's DNA as the ultimate luxury to practice our craft thanks to our family ownership. This allows us to remain free, independent and committed to our core purpose: creation. Our energy is essentially focused on inventing the great wines of tomorrow, all the while respecting tradition and our surrounding environments. We are in perpetual motion and yet taking our time.
What has helped Cristal become an icon wine?
Cristal originated in 1876 from a peculiar story (a request by Tsar Alexander II…). It is sourced from our greatest terroirs, our oldest vines, built up by the successive generations at the helm of the House since its founding. The vineyards are worked using eco-friendly practices inspired by the principles of permaculture, respecting the living environment and promoting biodiversity. It is only produced in the greatest years, hence rare; its style reveals a balance and remarkable finesse along with a great aging potential.
What do you look for when acquiring a new wine brand?
Our acquisitions remain the outcome of providential encounters between two families sharing similar philosophies: long-term vision, a quest for beauty and expression of unique terroirs.
Photo Credit: Champagne Louis Roederer.
What are the 3 top ingredients for success?
The freedom to innovate, the genuine luxury of time as well as the motivation and care of the team.
What major moment in your career (business-wise) are you proud of and why?
I am proud to exercise my role in this jewel of French viticulture and my greatest pride will be to pass on this diamond with even more brilliance and personality to the next generation.
What have you learnt from your father and grandmother?
Simplicity, passion, openness, identity, care for people.
Photo Credit: Champagne Louis Roederer.
What little piece of advice will you be passing on to the future generation as 7th-generation Champagne Louis Roederer owner?
To continue to cultivate our singularity and remain independent thinkers and innovators.
What makes a family business different from other brands?
A family business is key creating the great wines of tomorrow because the values tied to a family ownership (independence, long-term vision, innovation, humility) infuse all aspects of our daily life.
What to you is the greatest luxury in life and why?
Liberty, family, meaningful encounters and be connected to nature as much as possible.
Photo Credit: Champagne Louis Roederer
Learn About the Latest: Cristal 2015

Photo Credit: Champagne Louis Roederer
2015 is the year in which the Champagne region was recognized as a UNESCO World Heritage Site. This vintage, in Champagne, followed the continental trend of that decade: a mild, wet winter and a hot, dry summer. The summer, hot and sunny, brought record-breaking temperatures and water stress. The second half of August brought some very welcome rain, giving the vines some much needed relief. Thanks to this fresh finish, the vines produced juicy, ripe and concentrated grapes.  Champagne Louis Roederer, therefore, focused on capturing the "concentration", the hallmark of this spectacular vintage.
Cristal 2015 ($ 399) from the first scent, boasts, on the nose, hints of yellow fruit, toasted almonds, and wheat from the Chardonnay, intertwined with the juicy red fruit of the Pinot Noir. On the palate, the silky texture is accompanied by the flavors of candied citrus and iodized spices. Energetic, yet gentle at the same time.
The vintage's chalky character is predominant, together with an insistent and fine freshness.
The finish integrates subtle oaky, sappy, and saline notes, creating the ultimate sensation of delicacy and concentration.
Subscribe to discover the best kept secrets in your city