Photo Credit: Nick GarciaBY LAURA SCHREFFLER
PHOTOGRAPHY NICK GARCIA
STYLING KELLY BROWN
STYLING SUPPORT SOJE
STYLING ASSISTANTS NARE OHANIAN, EMMA SACCO + JORCH VALENTIN
GROOMING CESAR FERRETTE
SHOT ON LOCATION AT LOANDEPOT PARK, MIAMI
There are certain steps you have to take every single day if you want to be successful, according to Daddy Yankee. First and foremost, you must make your bed.
Not going to lie, but if I were you, I'd take his advice. Daddy Yankee, née Ramón Luis Ayala Rodríguez, is a reggaeton icon with hundreds of awards to his name, including six Latin Grammys, two Billboard Music Awards, 14 Billboard Latin Music Awards, two Latin Music Awards, eight Lo Nuestro Awards, and six ASCAP (American Society of Composers, Authors, and Publishers) awards — as well as a spot on the Puerto Rican Walk of Fame, a feature in Harvard University's Presencia Latina, 10 Guinness World Records, and the distinction of being the only Latin artist with four Spanish-language entries on the Top 20 of the Billboard Hot 100. He, more than most, is qualified to know.
But back to bed (or not, as it were). Given that he's one of the most celebrated Latin artists in history, I'm surprised he still makes it himself. Don't most rich and successful people have housekeepers? Not Daddy Yankee. He does the damn thing himself, but for a reason. "My motto, every single day, is 'the power of discipline,'" the 46-year-old multi-hyphenate tells me over Zoom from Miami at 2 p.m. on a Friday afternoon, when his day is just beginning. "There isn't anything more powerful than that."
Besides the mandatory bed-making, showcases this power, and how has it led him to create this winning recipe for success? "Number one: I'm not looking at my cell phone so much. When I wake up, I make my bed, clean my room, and then I work out. I have a list of stuff that I have to do every day. And believe me, we have the time to do a lot of things every day. So, I make lists, write everything down, and execute all of those things. But honestly, the first rule of the power of discipline is that you've got to make your bed — it's the one thing that sets you up for the day."
Seems simple enough. But to be honest, I always thought getting your game face on was more like a Rocky montage and less, well, mundane. But hey, different strokes for different folks, right? Daddy Yankee explains this unconventional approach to self-motivation. "When your room is clean, your mind is clean, and you're ready to go. Believe me, those little things, those details, they make a difference in your life. Now, I'm looking at my cell phone to only inform me of what's happening during the day and execute all my lists. And it sounds like I'm doing a lot of things, but honestly, I'm not — I'm just doing the right things."
And he's doing all the right things for this life right now. After all, it was only just over a year ago that the global artist stunned fans by announcing his retirement from music at age 45, revealing that his current tour, which wraps at the end of 2023 in his native Puerto Rico, would be his last. After making music for over 30 years (20 professionally), he is officially done.
"I've dedicated a lot to music — more than three decades — and I think my job is done here. I established reggaeton at the worldwide level, and basically, I did what I had to do to change the game and establish something that wasn't established," he says.
In his opinion, he's broken barriers, won every award, and met every challenge that he possibly could. The only thing left to try: something new.
"I've achieved everything I could in music, everything I dreamed of, and now I want to move to another direction where I know I have the potential to challenge myself and really establish new goals in life," he admits.
Photo Credit: Nick Garcia
When I play devil's advocate, wondering if (eventually) he would maybe, just maybe, change his mind, he shuts me down, but nicely. "Right now, I don't have plans to, honestly. I'm wrapping the tour at the end of the year in Puerto Rico, and I have pre-recorded songs that I'll be dropping as a bonus album [of his seventh and final studio album, 2022's Legendaddy], and that's it. I don't have an answer for the long term, but for right now, it's not in my plans. Right now, my mind is beyond music. Music is going to be part of the projects I'm working on — working with different artists and such — but for right now, it's not my path."
It's a surprising admission to hear from the "King of Reggaeton" (as dubbed by music critics and fans alike), who exploded onto the scene in 2004 with the release of his first single, "Gasolina," a track that brought reggaeton to the world. In fact, he is the artist who actually coined the term "reggaeton" in the mixtape Playero 34 back in 1991 in his song "So Persigueme, No Te Detengas." Naturally, it's only fair to assume that he played a massive part in making this hybrid type of music mainstream. His third album, 2004's Barrio Fino, made history when it became the top-selling Latin music album of the aughts, and anyone who didn't hear "Despacito" — his 2017 collaboration with Latin pop singer Luis Fonsi that became the first Spanish language song to hit No. 1 on the Billboard Hot 100 since "Macarena" in 1996 and the first Latin song to receive a diamond certification by the Recording Industry Association of America (RIAA) —must surely have been hiding under a rock.
But sadly, though he vows that "music is [his] number one passion," in the same breath, he also says, "But if I tell you right now that I'll be making more music, that's a lie. Because right now — though it's my passion and will be forever — I don't have plans to make more music in the future. What I'm saying is that I want to achieve new things in my life. I know I can create more businesses, more opportunities, and keep challenging myself. It's time to do something else. I want to move in a different direction."
So, what does this next phase look like? Well, it looks like the same things he's been doing all along, to be honest; he's been padding his resume since his third album took off. Daddy Yankee has worked in the film industry as both an actor and producer; is the co-creator of El Cartel Records and Fundación Corazón Guerrero, a charitable organization in Puerto Rico that works with young incarcerated people; and is the owner of the Puerto Rican baseball team Criollos de Caguas.
"The next phase, for me, is a challenge," he says. "It's creating content for different companies, going deeper into sports, like baseball and boxing — different sports where I know I have the potential to really manage and develop athletes. I see myself owning more teams; producing content for movies, documentaries, and series in the entertainment world; producing new music acts. That's where I see myself. I want to move in between Miami and Puerto Rico, doing different things, having two home bases."
Despite still being on his lengthy farewell Legendaddy Tour, he's been working behind the scenes, too, creating content for all the future projects he'll be announcing, in particular, in the fourth quarter of this year … none of which he's legally allowed to share here (though I can share that he'll be announcing his participation in a new sport outside of the realms of boxing and baseball, so watch this space).
And since we're talking sports, he cites his recent turn as the ambassador of the 2023 World Baseball Classic — he performed his anthem, "Chispa," and threw out the first pitch at the Classic's first game on March 12. "I got involved and the ratings went through the roof. The impact that I had on the Classic was amazing," he boasts, adding, "But that's what I wanted to prove — that every time I get involved in a project, it succeeds."
His personal challenge was accepted and met, and now, he's ready for others — whatever they may be. "I can't say anything about what I've got going on, but I'm working. I'm focused. People know that I'm a winner, that I always make things happen. But the most important thing right now is that I'm happy."
Photo Credit: Nick Garcia
Ramón Luis Ayala Rodríguez has been many things to many people for his entire life. First, he was that young kid out of Rio Piedras, San Juan: the guy who wanted to be a baseball player and even tried out for Major League Baseball's Seattle Mariners. But before he could be signed, he was hit by a stray round of bullets while taking a break from a recording session. During recovery, he turned entirely to music. And then, for over 20 years, he has been that musical pioneer. He has been a husband to wife Mireddys González for the past 28 years and a father to children Yamilette, Jeremy, and Jesaaelys. And now, with music in his rear view, he gets to be something else: just happy.
"The number one thing in my life right now is that I want to be happy. Above all else, finding your happiness is the most important, and it's also the hardest to do. You have to work hard at it, just like you have to work hard to be a great person, but when you find it, you know everything is going to be fine," he explains. "If you start with that — if you're happy with yourself, happy with your mentality, having positive thoughts all the time, and have the discipline to love yourself — after that, the rest is easy."
Is Daddy Yankee happy? It sure sounds like it, but one never wants to assume (because you know what they say about assuming). "I'm in the best place right now," he confirms, before admitting, "There was a point in my career where I felt like I was a slave to my work, but then I changed everything. I made a [180-degree] turnaround and said, I'm gonna be on top of the wave. I'm gonna control everything. I don't want to let this industry to control me. I felt like that, that I was moving everywhere, but I wasn't going on to big things. And then I stopped, I changed my motto and everything, and I said, Ok, I'm gonna change everything. And I've seen the results of it for the past years. I sit in quiet and silence now more than ever. I've seen the future in everything that I've changed in my life. I feel very comfortable right now; I have a very nice attitude right now. I'm facing life."
He says there was no epiphany, no "aha" moment that led him here. Just a desire to make positive changes and get to the next phase of his life and career. "I was trying to control too much, being on top of everything, always needing to be number one. So, I decided to go back to basics. And the number one most important part of going back to basics is to love yourself, you know? And try to be happy. It sounds simple, but it's not."
Photo Credit: Nick Garcia
I agree with him — this is a universal truth of life — and he continues. "You have to work hard to achieve that happiness. And I worked hard to feel free and to be healthy — I don't drink, I don't smoke, I don't do anything — but I know that I can bring a lot more to the table and have the potential to do great things. I know that for sure. I know my abilities and my potential. I know all my goals, and I'm going to work hard to achieve all of those goals."
Wealth, ironically, isn't one of them. Despite his humble beginnings and his obvious fame and fortune, he says that to understand the real riches in life, all he needs is, well, (mostly) love.
"I mean, honestly, when I was growing up, I paid a lot of attention to [expensive things], and right now, for me, luxury is a combination of a lot of stuff. It's having a great family, being healthy, and having your friends with you — everybody enjoying that success with me. That's it. For me, that's luxury. My family, my friends. Nothing would make sense if they weren't all here with me." He pauses. "Obviously, I've got my investments, I have my cars — I have all of that — but I'm not a person that shows off, because that's not my priority. My priority is always family, friends, challenging myself, and proving to myself that I can make things happen."
Just like the defining moment of his musical career — when he dropped "Gasolina" in his early days — he's certain that whatever comes next will be equally impactful, but in a different way. He's older, wiser, smarter, steadier. Ready to lead the next generation from behind the scenes.
"There's a lot of things in the Latin community that we haven't achieved, and I'm ready to guide the community beyond limits," he shares, noting, "I've always been an independent artist, so being independent and having the freedom to do whatever you like, and having this type of success, has been groundbreaking in my career. Daddy Yankee is ready to set an example for other new, upcoming artists in the Latin market."
He's not wrong (outside of speaking in the third person). Daddy Yankee has, indeed, been an inspiration to many up-and-coming, as well as already established, Latin artists, including J Balvin, Ozuna, Tini, Lunay, Natti Natasha, and Bad Bunny, the latter of whom he cites as his pick to lead the next generation of reggaeton artists and follow in his footsteps. "Obviously, Bad Bunny is doing great stuff. I respect him a lot; I love the kid a lot. He's really young, and the opportunity that he has in this stage of music — all of those opportunities that we didn't have — if he takes advantage of all of that, he is probably going to be the most successful Latin artist ever."
As long as he's — yes — disciplined, that is. Like Daddy Yankee, who has temporarily put his workout on hold to speak to me. But you better believe that after we're done Zooming, he's running right over to hit the gym. After that, he'll take some more meetings, do some more work, and get back to mixing those tracks from Legendaddy. The beginning of the end, as it were. And he can't wait.
As we prepare to sign off, he repeats what he said earlier, perhaps to really drive home its importance. "The words that I want to share with you and the world is to be disciplined with yourself. Being disciplined with yourself is loving yourself. It means you're really working to be happy, and really taking your potential to the next level. You can do it. When you focus, everybody has the potential to conquer."
The king has spoken.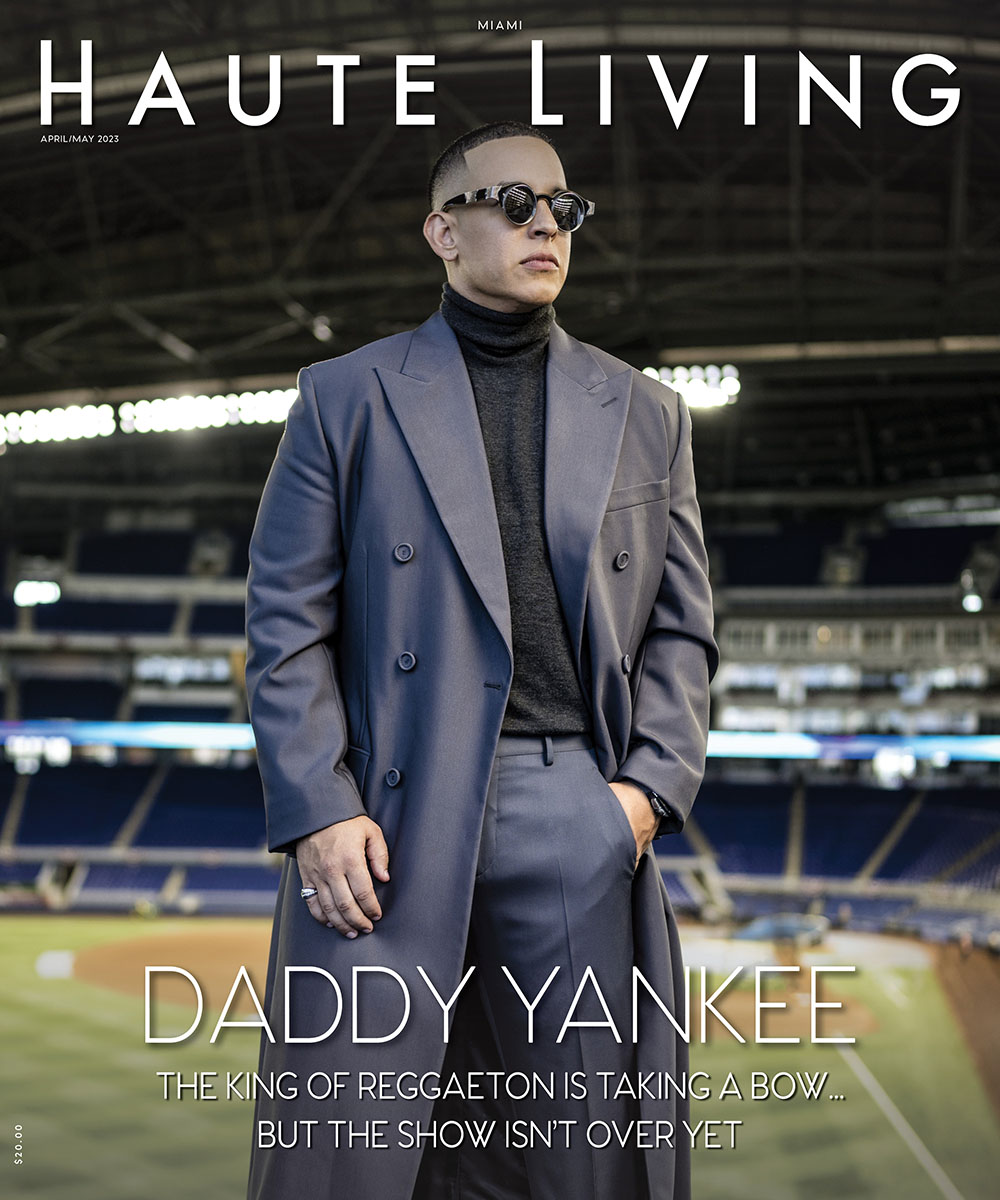 Photo Credit: Nick Garcia
Subscribe to discover the best kept secrets in your city