Photo Credit: Andreas Branch
BY Laura Schreffler 
PHOTOGRAPHY Andreas Branch 
GROOMING Juanita Lopez 
SHOT ON LOCATION AT Petit Trois Valley
As a Frenchman, Ludo Lefebvre's love of America — land of the free, home of the brave — is unparalleled. And he owes it all to Baywatch.

That fact is not immediately obvious to anyone who meets Lefebvre — he of the thick Burgundian accent, TV pedigree (he starred in cooking shows such as Ludo Bites America and Rat in the Kitchen), luxury partnerships with brands like Lexus and Fisher & Paykel, and prestigious, award-winning French cuisine. Personally, I've met up with him several times over the years, and not once did this raison d'être (or reason for moving, as it were) come up in conversation.

And it possibly wouldn't ever have if Krissy, his wife of 23 years, hadn't been on our March Zoom and sold him out. They are the Blake Lively and Ryan Reynolds of the culinary world, except she's trolling him in person, and I'm here for it.

The topic arises because, halfway through our video chat, while discussing his future projects and plan for world domination, Lefebvre reveals that he's always wanted to open a restaurant in Dallas because of, well, Dallas … the show, that is.

Why? Well, logically, he wants a piece of the Texas city's burgeoning culinary scene so that he could be among the first of a wave of really stellar fine-dining establishments. The less logical reason? "When I was a kid, I was very inspired by [the series]. I would watch it every Saturday night with my grandma," he recalls.

"So, Laura, in summary, Ludo's whole career is based on a Frenchman watching American television. He came to Los Angeles in the first place because of 'Alert in Malibu,' which was Baywatch," Krissy laughs, adding, "So now, he's going to go to Dallas because he liked who shot J.R."

I'm flabbergasted. This can't be true. Oh, but it is.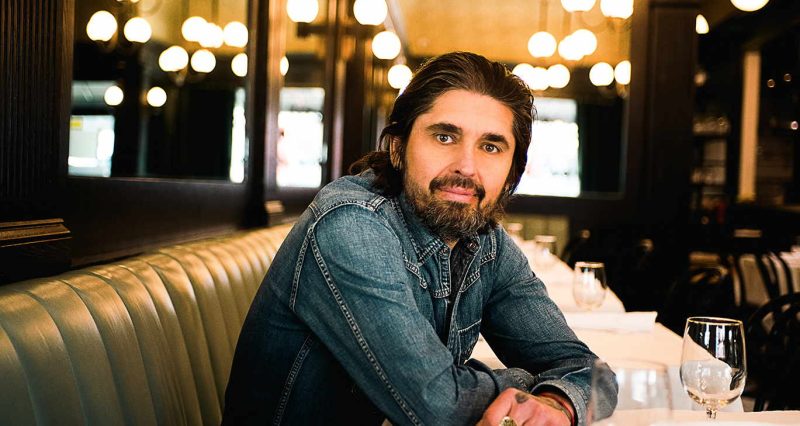 Photo Credit: Andreas Branch
"I loved it," he enthuses, drawing out his o's, sounding less like a strict, basically 50-year-old French chef (he's still 51 at the time of our interview) with a wooden spoon in hand, ready to paddle, and more like what his teenage self must have been like drooling over Pamela Anderson in her cleavage-bearing, red one-piece. (And for inquiring minds, it was totally Pammy who served as his 'Bu inspiration and fixation, not a long-standing desire to be The Hoff; in fact, he scoffs at me for asking such a stupid question. Fair.)

More seriously, he says, "No, but really, it was always a dream for me to work in the USA. French people love the USA; we love everything you guys instill. And so, when I was 24, I decided, I'm going to go to LA. I love it! And voilà!"

And up until last year, Lefebvre's major culinary moments have occurred mostly in Los Angeles. He opened Ludo Bird; Ludo Bites; Trois Mec with the Animal guys, Jon Shook and Vinny Dotolo (by the way, he literally just bought them out of the restaurants in early April); and Trois Mec's signature, more low-key French brasserie offshoot, Petit Trois. But in 2022, he expanded his reach to Denver — where Krissy is from — with the opening of Chez Maggy at the Thompson Denver, an homage to his wife's late stepmother. And he doesn't plan on stopping there.
He is almost fully Americanized after 27 years here, and the 50 states are his oysters (or should I say "escargots")?

Photo Credit: Andreas Branch
"What I love about America is that you can do whatever you want," he says now, noting, "I think I'm successful in Los Angeles because Los Angeles gave me the freedom to do whatever I want. People are really listening here, really up for trying new food, to the influence of different cultures. When I first moved here in 1996, I was doing French cooking only, with butter, cream, foie gras — all the expensive ingredients. [But since moving here], I've discovered Korean food, sushi, Japanese, Peruvian, Mexican — all this flavor I never tasted in France."

It was the "City of Angels" (home of Pamela/C.J. Parker, The Hoff/Mitch Buchannon, and Lifeguard Unit 101) that inspired his upcoming project, the simply titled Ludo, a totally fitting French-meets-California concept with a French Riviera feel that, at the time of our conversation, was still tied up in permits.

"It's more olive oil and a lot of grilled vegetables — very healthy and more colorful — food that you'd find when you go on vacation in the South of France but that's perfect for California. California has amazing produce, so I would want to use that, but the main intention is to make guests feel like they're traveling to the South of France," he explains.

Despite still having a natural tie to France, this new eatery will blend the best of both his worlds, and it would highlight the influence his chosen home truly has on him. But in case you're worried that he's turned to the dark side — aka the LA diet — fret not. The repertoire he's spent nearly the last three decades building is well and intact.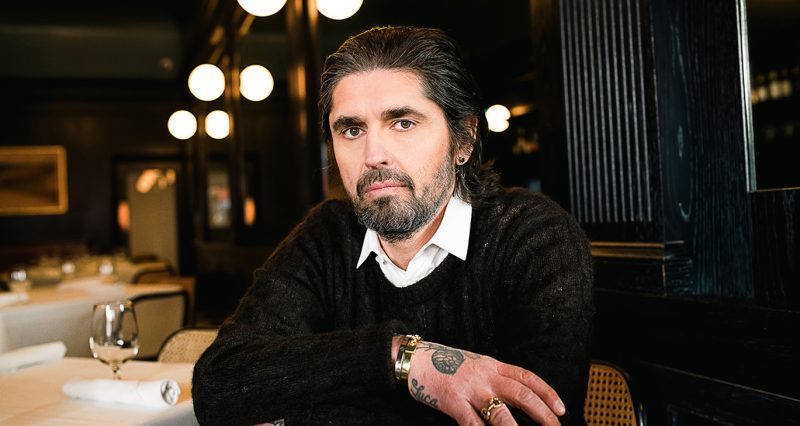 Photo Credit: Andreas Branch
"I mean, people really want to eat healthy, but also some people want to eat butter, too. So, you know, people love butter. Petit Trois is always busy," he declares with a laugh, noting, "I'm always surprised by it. I say, 'Oh, my God, in Los Angeles, they have so many people eating butter and fat, and I love it. It's so cool.'"

As he says, Petit Trois — a classic Parisian bistro that serves up quintessentially French fare such as French onion soup, escargot, and boeuf bourguignon — is always booked, and with two Los Angeles locations under his belt, he definitely has the taste to open more, which he'll be doing as soon as he can through his and Krissy's latest business development, the newly announced L'Esperance Hospitality group.
"In France, ['l'esperance'] means 'hope,'" he explains — a fitting phrase for the young man he was, the young man who hoped for a new start as well as fame and fortune when he moved across the pond. "I wanted to create my own company, create good value, and create my own culture — hiring good people in the hope of training them, inspiring them, providing growth opportunities, and ultimately bringing some magical energy," he shares.

But really, the name is an homage to the place he got his start: a now-shuttered 3 Michelin starred restaurant in a small, 200-person village in Burgundy run by the pedigreed French chef Marc Meneau. Lefebvre, who grew up nearby in the town of Auxerre, became Meneau's apprentice at the young age of 14 in 1985. "It was an amazing time for me," he recalls. "I learned about discipline. I learned how to be consistent, to care about what I'm doing. I was very proud to work over there, and that's what really put me on the road to cooking. The food was so beautiful, so fresh; it was just amazing. There were 25 cooks in the kitchen there, and it felt like being in the army: everybody was doing the same thing every day. To be consistent like that was very difficult; it's an art."

And it's a formula that has served him well in his restaurant endeavors, from Petit Trois to Trois Mec to Ludo Bird at the Crypto.com Arena. Which is why the first order of business for L'Esperance Hospitality will be to develop and expand Petit Trois nationally.

Photo Credit: Andreas Branch
"We have a good [thing] with Petit Trois, but I'm never happy. I want to make it better: refine the food a bit, change a bit of the design. It's been open for almost 10 years, so it's time to change it. I mean, I'm going to keep the classics definitely, but I want to create some fun, gastronomic dishes, too — take French classics and revive them with different techniques, make them lighter [and more California-friendly]."

Also, under L'Esperance, Ludobab (the French kebab concept he created during the pandemic) will also be an area of growth, as will Ludo Bird, the gourmet fried chicken arm of his brand.

And as for Trois Mec, the restaurant that put him on LA's fine dining map? Well, the jury is still out … sorry, Angelenos. "I don't know yet what's happening there. Sometimes I want to reopen, sometimes I don't," he admits, adding, "I miss cooking with Michelin star food, you know, definitely. I loved it. I love the pressures and the creativity. But, since COVID, I have taken a little break to try to figure out my life again. And now that I have bought out my partners, I'm going to see what I'm going to do with Trois Mec, but for sure, something's gonna be happening at Trois Mec."

As we all collectively breathe, he shares that he's not stopping there, either. Lefebvre has a wine bar in him as well — the French kind. It would be a gathering place with his favored French Burgundies (plus, you know, things that appeal to others, too), where food isn't a focus, but rather an accompaniment. It will be based in Sherman Oaks, as he is, and it's in the works, though not a fully formed reality … yet.

A wine bar likely wouldn't have cocktails, but Lefebvre isn't opposed to them anymore. When he first moved to the States, he adamantly refused to drink a cocktail with dinner. But now that he's an American convert, well, let's just say things have changed.

"I was very surprised when I moved to America in 1996 to work at a restaurant called L'Orangerie. It was a very froufrou French restaurant, where you dress up for dinner, and I was surprised to see people pairing food with cocktails. In France, we never do that. I did not understand in the beginning, but now I think I learned more about it from [late Los Angeles Times food critic] Jonathan Gold when he started to talk about it. I love the idea now, because it gives me the opportunity to be more creative. I have more freedom. And so, finally, after 20 years, I'm okay with cocktail pairings," says Lefebvre.

Though he cites his favorite cocktails as the Italian Negroni and Aperol spritz, we all agree that a love of cocktails is so American of him.
"I'm so American now. Trust me, I'm more American than French. Thank God," he says, laughing.

Whoa, whoa, whoa … say what now? Lefebvre's very French-ness is a major part of his identity. So, what gives?

"I mean, don't get me wrong — I love French people. I love French food. I love French culture — the way we live, the way we just take time to enjoy our lives. In America, we just work, work, work. But I feel more American because I work more here than I did in France, and I don't think I enjoy life enough, either, because I'm always working." He pauses before addressing why he is extremely happy to consider himself American these days. "Plus, French people, we always complain — we complain a lot — and I don't like it," he complains.

Oh, the irony.
Photo Credit: Andreas Branch
LEFEBVRE RUNS HIS BUSINESSES with the precision of a general. He likes to be in control, you see. But running restaurants in different locations means giving up some level of this control. And when you have to give up control, it's exceedingly hard, especially for him..

Take, for example, Chez Maggy. For the past year, he's been traveling back and forth to Denver once a month, racking up those Southwest miles, to make sure his team does things the right way. But when he's not there, he still has eyes everywhere. His spies? Let's just call them "Instagrammers."

"It's scary to have a restaurant outside of Los Angeles where you cannot go every day," he admits, sharing, "I mean, I see pictures on Instagram of the food, but I cannot test it. But I do look on online, and if the picture is not good and doesn't look right, I don't like it, so I call [my team there] and tell them they're using too much butter or cream."

That being said, he knows they're capable, and he has to trust them … because, until he's cloned like Dolly the sheep, what other options does he really have?

He agrees. "The most important thing for me right now is to have a strong team. It's like the army; I am Napoleon and I have all my generals, and I need to inspire them so they can be successful. That's really what I want to do: inspire my team to create new concepts with me, be creative, have fun, and bring something different to the market. I really want to do that."

And maybe he's already done it, given that he considers himself to be the "old guard." He says, "There are a lot of great restaurants in LA now, a lot of new, young chefs of new generations, and they're good. I'm the old guy now. And you know you're getting old when you have all your old chefs de cuisine opening their own restaurants, and they are like 25, 30 years old. Shit." (He said "shit," not "merde," and I'm convinced his Americanization is almost fully complete — despite being named an actual French knight — the prestigious Chevalier Ordre des Arts et des Lettres — an honor that he received in 2015.)

The fact that his chefs might spread their wings and one day leave him doesn't deter him any. It's the exact opposite, in fact. "I will not be successful on my own, so I'm focusing on that now, on building the right team. And I need to teach them," just as his mentor Marc Meneau (as well as the other famous chefs he worked under, such as Pierre Gagnaire at Saint-Etienne and Alain Passard at L'Arpège) did for him.

Photo Credit: Andreas Branch
"I was lucky," he admits. "Marc was behind me, and he taught me to love my job, be responsible, have a lot of respect in the kitchen. So, I really train my chefs a lot; it's my job to do that, to make sure they understand the food, the concept, the story, and after, to make them try the food and remember the taste. I also need them to be consistent, practice discipline, and make sure they replicate the food, every day the same. And that's hard. To be creative is easy, but to be consistent is so difficult. Especially when you're not there."

He sighs. "I wish I could be a painter. A painter is alone, just him and his canvas. As a chef, you need to trust the people around you. In the beginning, that's very difficult, but if you don't trust the people around you, you're not going to get anywhere."

Similarly, he says that if you don't have a story, you're also going to stand still. And this is his: a young, tattooed hot shot from Auxerre in Burgundy who moved to America in search of sunshine and Pamela Anderson and who fell in love with his wife, fell in love with the culture, and settled down. But before that, he was an impressionable young kid, watching his grandmother cook in the countryside and falling for the art of consistency and discipline while watching Dallas. And there is still more of his story to be told.

Like the tale of escargot, the dish he says defines both him and his restaurants. "When I was growing up, my grandma made a lot of escargot. A lot, a lot — every celebration, we would have escargot in a very classic way — we would eat it with bread, soaking in butter, with a glass of Burgundy. So, I do the same here in Denver, and in Los Angeles."

Photo Credit: Andreas Branch
"What was the most you ate in one day?" Krissy says innocently, and I sense she's ready to troll him again. I can't wait.

"I think 72, something like that," he says with a shrug, and I wonder out loud if that's even healthy. Did he become one with the snails?

Well, no (it wasn't healthy, that is — he definitely did not become one with the snails, obviously). "I mean, I was a little fat when I was a kid, like [age] 11 or 10; I was a bubble. I loved to eat. And I think that's why I've become a chef — I just truly love to eat. And my grandma really inspired me. My parents were working a lot, and she would pick me up every day at school and make me do my homework on the big wood table in the kitchen. And she'd be cooking in front of me for my grandpa, for the family. So, I was there watching her, smelling and asking questions, and — the most important thing — eating. I was like a little dog, just eating all the scraps she dropped on the floor." 

He's smiling when he says it, and I can tell that Ludo Lefebvre gave not one, not two, not any shits about being a "bubble." Food, to him, is love. Food is happiness.

And he says as much now, sitting in a quiet room at Chez Maggy, where he's taking a break from food prep to group chat with me, Krissy, and Melissa Koujakian, his West Coast director of operations at Apres Cru. "I feel very happy right now," he declares, sharing, "You know, COVID really, really got me down; it really affected me. My creativity, my energy. It was so hard to learn how to deal with everything. But now, I feel I've passed it. I have more and more energy, more creativity. [It's as if] I was a little flower that was dead, and now I am reborn. I'm very excited about the future, and I have a lot of new challenges. I love to push myself, and I think it's good to push the machine and to be creative, to motivate people around you, as much as you possibly can."

I'm sure C.J. and The Hoff would agree: there's many different ways to save a life.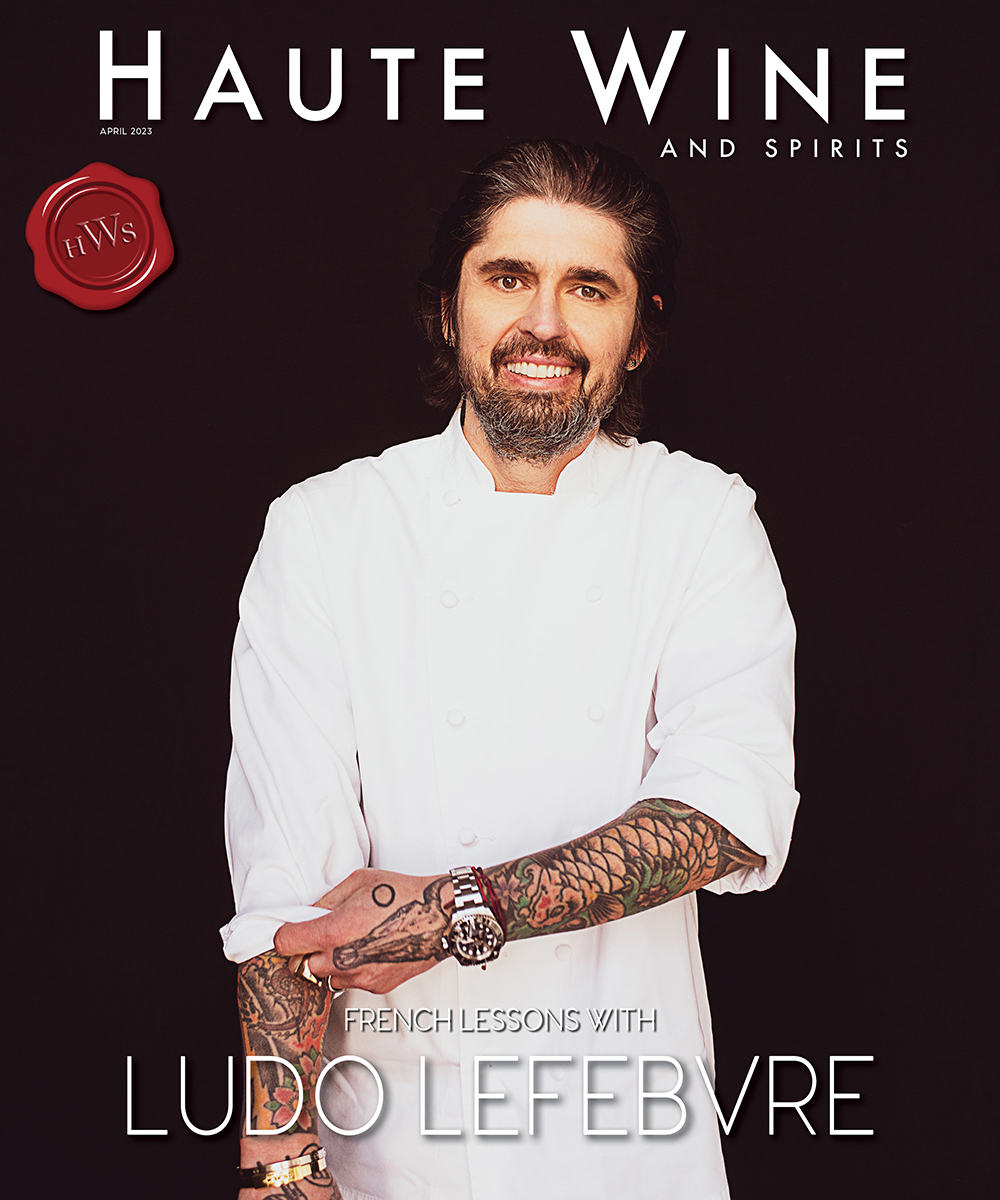 Photo Credit: Andreas Branch
Subscribe to discover the best kept secrets in your city