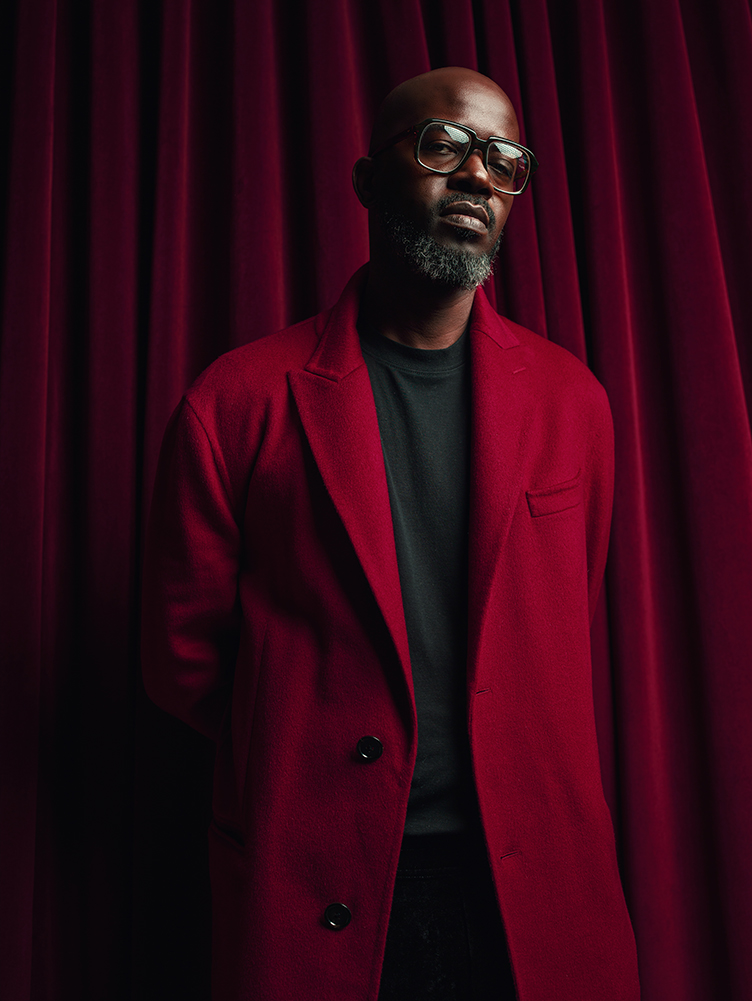 Photo Credit: TREVOR STUURMAN
BY LAURA SCHREFFLER

PHOTOGRAPHY TREVOR STUURMAN
PRODUCTION SOULISTIC AGENCY + ALEGRIA AGENCY
ASSISTANT PHOTOGRAPHY 1454
LIGHTING RICHARD COOK
STYLING BOB THE STYLIST
GROOMING NTHABISENG SENONG
SHOT ON LOCATION AT THE HALLMARK HOUSE HOTEL, JOHANNESBURG, SOUTH AFRICA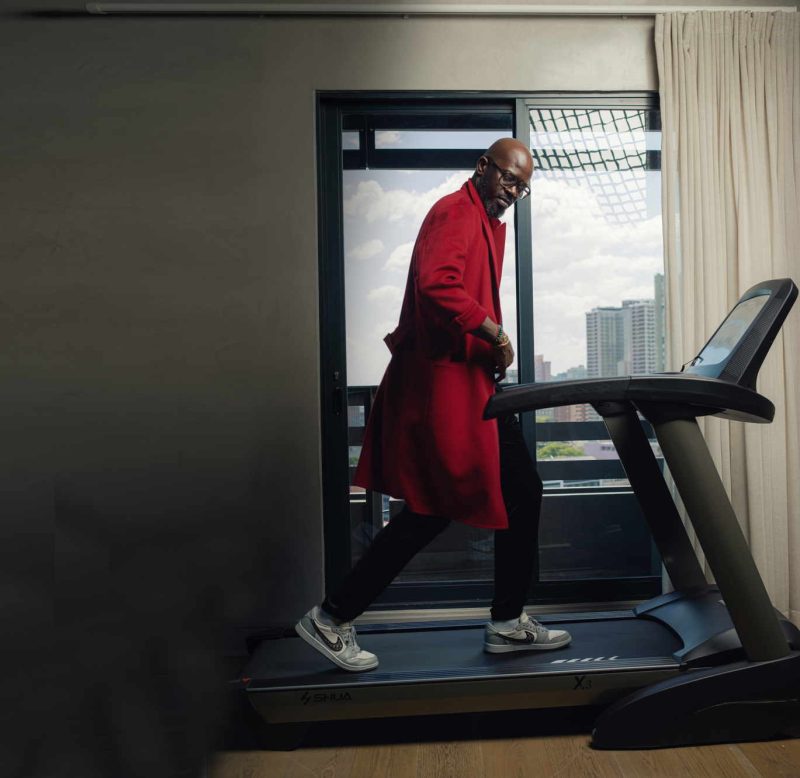 Photo Credit: TREVOR STUURMAN
IT AIN'T EASY BEING BLACK COFFEE. The 46-year-old DJ's life may seem exciting (OK, it definitely is), but it's also exhausting. That's how, 16 days into the new year — with trips from his native South Africa to Mexico and Ecuador already under his belt — he finds himself in a New York City hotel room with a stye in his eye and an IV in his arm … while taking a meeting, to boot.

"I've been suffering, but I'm feeling a little bit better," he laments during our Zoom chat (camera off, thanks to the unforeseen eye infection). "This is how 2023 is starting. Basically, it's telling me to take better care of myself. But so far, it's been amazing."

That kind of attitude is what makes Black Coffee — née Nkosinathi Innocent Maphumulo — so successful. He may be multitasking like whoa while feeling like crap, but he isn't losing sight of the big picture. Namely, he's worked hard to get to where he is — and this particular trip, more than anything, proves it.

Tomorrow — before following a rigorous travel itinerary that includes Argentina, South Africa, Colombia, Brazil, Uruguay, St. Martin, and then Mexico for his 47th birthday in March — he'll head to Madison Square Garden, where he's shooting promotional materials for an upcoming landmark show on October 7 involving an orchestra. But right now, his barber is waiting, as is old friend, fellow South African and former The Daily Show host Trevor Noah, with whom he's planned an extremely early (bird special) dinner at 5 p.m.              

Even though this lifestyle isn't for the faint of heart (or, indeed, mostly anyone), Maphumulo wouldn't change a thing about it. "Actually," he says when I appropriately express awe and visibly shudder with fear at the pace he's set for himself, "I was talking to a friend of mine yesterday, and they were saying, 'Do you think you're going to ever slow down?' And I said, 'Yes, but the day I stop, I think I will be miserable.' I love playing music for the people. If one day I woke up and was told that DJs were no longer going to be paid, but here is a tour if you want it, I'd still take the tour."

Considering he's one of the most sought-after DJs in the world — with residencies in Ibiza (indeed, he is the first-ever resident DJ at hotspot Hï Ibiza) and at the Wynn in Las Vegas ― that's a bold statement. But it's an addictive lifestyle he leads. No amount of money could compare with the experiences he's had, and no amount of pressure could make him give up the name he's made for himself (even though he does sometimes question the wisdom of his stage name). He's worked hard to put himself on the map — and to give African artists the voice they deserve.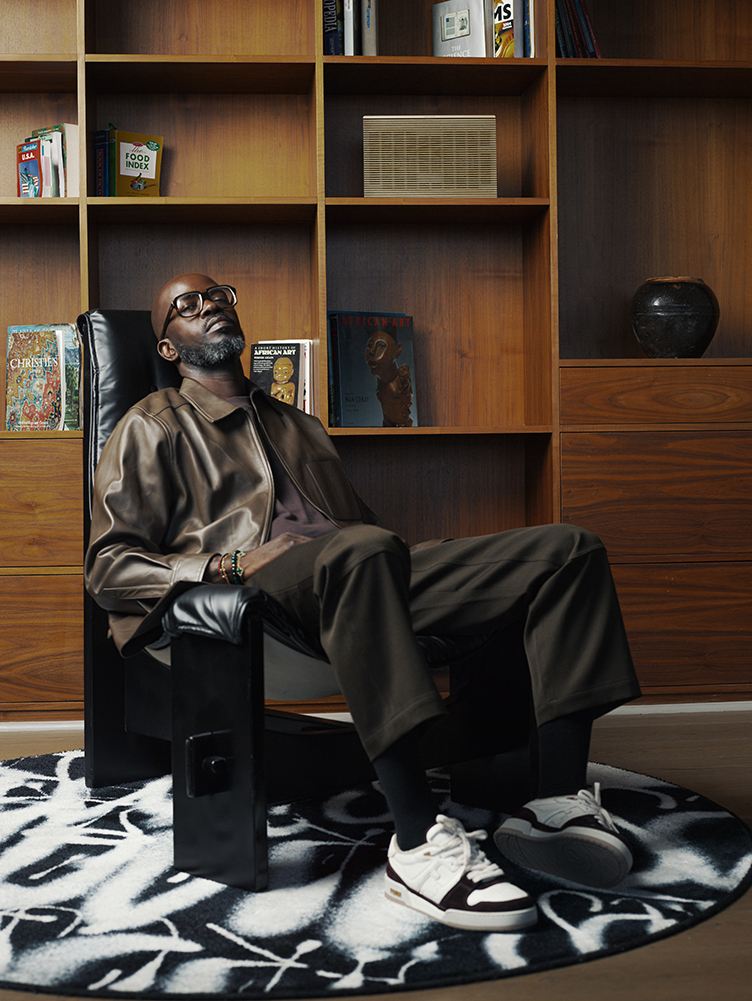 Photo Credit: TREVOR STUURMAN
"I think from the beginning, I was always obsessed with the idea of crossing over as an artist, being known by and exposing myself to a global audience. My first album [2005's self-titled Black Coffee] was more local in terms of songs that were sung in English; I just wanted to test the waters. My second album [2007's Have Another One] had more English songs, and then the third album [2009's Home Brewed] had even more songs in English. In fact, my most successful album [2021's Grammy-winning Subconsciously] is fully in English because I understood how important it was for me to talk to the global audience as opposed to just making sense on the continent alone."

Yet, it is very uniquely his integration of an African sound that put Maphumulo on the map, and he knows that to ignore his roots moving forward would be a colossal mistake. Having localized music with a global approach is the very fabric of who he is as an artist. "The only way I can be unique is to be myself," he maintains. "In the past, global people have taken local things and made them mainstream; it's never the locals that see that global in themselves. I'm talking fashion and art and anything that's cool. My approach is understanding who I am, being proud of who I am, and understanding my value. In that, I hope to inspire many, many Africans to understand the power they have in building their brands and crossing that line themselves without being exploited."

Basically, he wants to prevent others from dealing with the struggles and discrimination he faced when first trying to break into the international music scene. He says now, "I had a dream of winning a Grammy, but that dream was very specific, because most people — in fact, everyone from my country who has won a Grammy — has won in the African category. Meaning, they were put up against other African artists, and that's something I deal with every day. I was never really on the radar with other mainstream people in my line of work. Like in Ibiza, I have a residency where David Guetta is. His night is on Friday; mine is on Saturday. When he's in Ibiza, he comes to check out my shows, and vice versa. In Vegas, Diplo and I have a residency at the same place. What I'm trying to say is, we're peers; we are in the same space. But because I'm from Africa, I won't be put up against my peers; I'll be put up against other African people, which doesn't translate the value of who I truly am. And so when I started putting out albums, I was very aware of how I wanted to compete with my peers ― those I look up to and who inspire me. I knew I didn't deserve to be labeled in the world music category; I wanted to compete on the mainstream."

A career-defining moment that steeled Maphumulo's resolve to break out of the box he had been put in was winning a BET Award in the "International Act: Africa" category back in 2016. "Going to the show, it's a big thing. I'm nominated, I'm in LA. But then I was told that my category was going to be announced on a Friday, while the main show was on Saturday. So there goes my excitement," he recalls. "I mean, I'm nominated for a big award, thinking I'm going to be walking the red carpet with Beyoncé and Drake. I've made it. But then, I haven't. 'Don't worry,' they told me. 'We're going to record it in a way that when people watch it on TV, you're going to appear like you were there, too.' And so, I went. It's still an award. It's still big. But then, on Saturday, I don't even have an invitation because that's when the real artists come. I was like, I'm never going to do that to myself again. If I'm in the music industry for real, I want to put in work that is going to sit on the same par as my colleagues and my peers, and I'm not going to be there for the Friday show again. When I put out my last album, I had that in mind."

That's how his sixth studio album, Subconsciously, won "Best Dance/Electronic Music Album" at the 64th Grammy Awards, beating out efforts from Illenium, Major Lazer, Marshmello, Sylvan Esso, and Ten City. It broke Apple Music's and Spotify's 2021 records for highest streams (over 100 million) and featured turns from monster guest artists, including Pharrell Williams, David Guetta, Diplo, and Usher.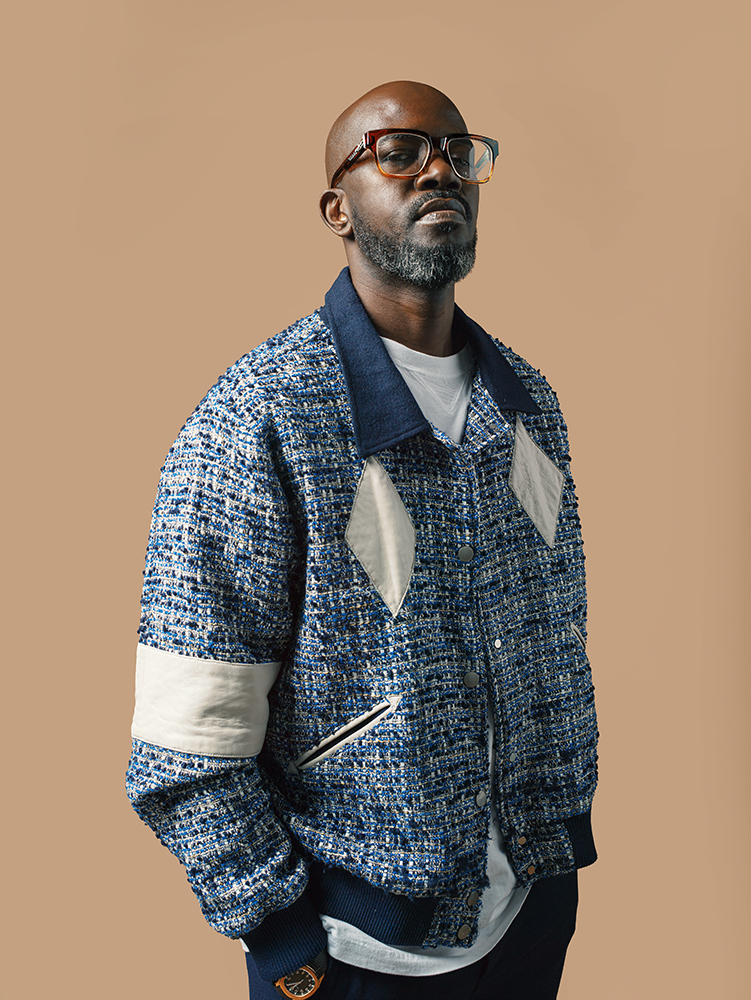 Photo Credit: TREVOR STUURMAN
Of Subconsciously, he says, "When I put out this album, getting the nomination alone was a big win because I was like, OK, I've achieved it. I don't even care if I win a Grammy. I've been recognized in a place where I think I belong. And when there was the actual win, it was like, This is it. Because I'm from a continent that has already been marginalized, we already feel small. If you look at a map of Africa, it looks smaller than the other continents, but in reality, it's the [second] biggest continent of all. So we are carrying that already, not being seen. We already have to work 10 times harder than other people. We have a lot of catching up to do as a group of people."

His life changed after that Grammy win. Maphumulo began to receive more than just validation. "For me, yes, life changed. [That statue] brought a different level of confidence in what I do. It brought a different level of respect in the industry I'm in."

Although his sound remains virtually unchanged apart from a heavier use of the English language, he says the biggest change of all is that he is finally, finally being seen. His sound hasn't changed. He hasn't changed. But now that he's been given a platform, his career has changed.
Drake — the guy with whom he wished to walk the red carpet back in 2016 — is now a collaborator; Maphumulo was an executive producer on the Canadian artist's surprise 2022 album, Honestly, Nevermind, and received additional production credits on tracks "Currents" and "Overdrive." He's also produced for other major stars like Alicia Keys. "I'm not acting different. I'm not trying to go mainstream because I now have a bigger audience. I'm still doing the same thing, basically," he maintains.

So it's perfectly justified that he is confident enough to slide into the DMs of fellow artists like James Blake and Tems, but he hasn't let his success go to his head. "I humble myself all the time to be able to start a conversation and tell people how much of a fan I am, because I truly am a fan," he declares. So watch this space — you may just see these guys (and maybe even Frank Ocean) on his seventh studio album. He's currently in the "approaching and talking to people" phase and hoping to release by the end of 2023.
This time around, he says, there won't be any pressure for that big Grammy win. He's proven to himself that he can do it after all. "I have a personal belief about music. The minute you start looking outside when you're creating it, you're already lost, because it's also a reflection of what you're going through at the moment and where your headspace is. So you must create without thinking, I need to sound like this and do a super commercial song. There shouldn't be pressure — but it should be a challenge."

Needless to say, Maphumulo is up for it.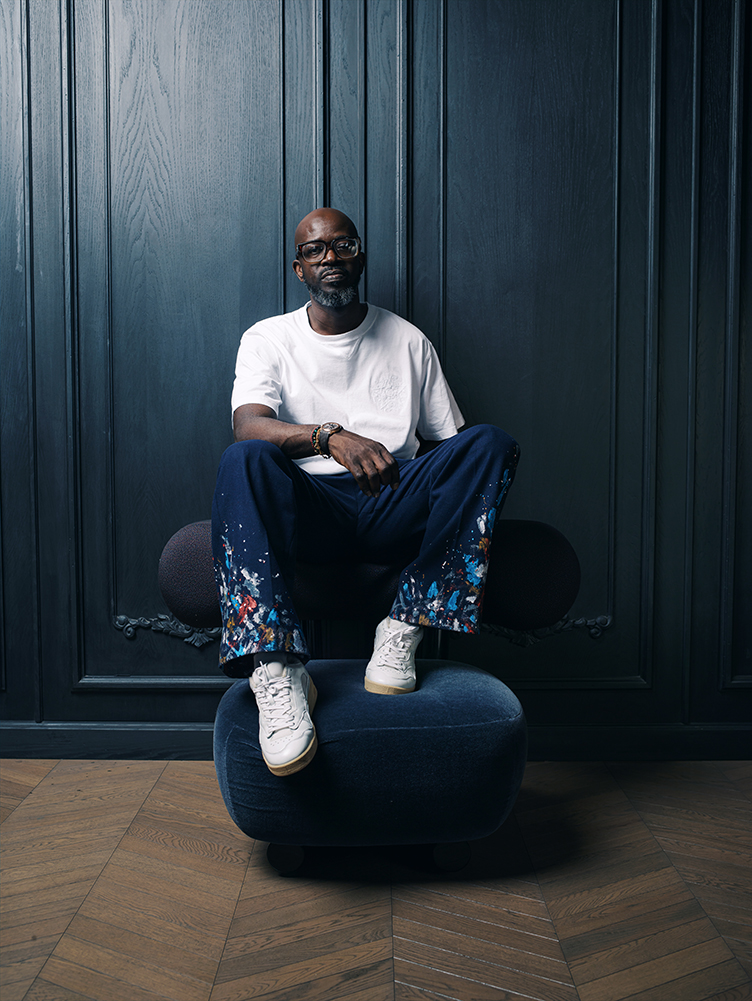 Photo Credit: TREVOR STUURMAN
Being that it's 16 days into the new year, I feel like it's a normal thing to ask Black Coffee what New Year's resolutions he's got percolating. Given how driven this guy is, I'm sure that he's got more than a few brewing.

"Damn," he laughs ruefully. "I literally just told my manager now that we need to push our target to work more. We're playing a catch-up game — at least I am. There are so many things that I want to achieve in my lifetime, [which is why I started] investing money in different things. I want to create a different type of revenue so that I can one day slow down and be able to play for fun, knowing I've invested money in the right things. That being said, the No. 1 resolution is always work, work, work. It's such a blessing to be able to be given work. There are people who are looking for jobs every day, and to be able to be in demand — knowing people are looking for you — is a blessing on its own. So I want to run with that, and while I'm doing it, make sure that I invest money right in other things that I'm doing."

These "other things" include the philanthropic — such as his work with his Black Coffee Foundation, a nonprofit focused on supporting the people of South Africa — and the profitable, through his venture capital firm, Flightmode, and his Johannesburg streetwear store, Yawa. He recently teamed up with interior architect Tristan du Plessis to design the penthouse of Johannesburg's Hallmark House Hotel (the site of our photo shoot), which recently won the "Best Suite" award at the AHEAD Awards in Dubai. Now he's working on another hush-hush design project that he says will be revealed in two or three years' time.

He's also working on designing a clothing label, a long-held dream that began to materialize after he collaborated with the late, great Virgil Abloh on an Off-White capsule collection — the Black Coffee Capsule — that paid homage to their mutual African heritage with symbolic colors and patterns. Abloh, who passed away in 2021, serves as an inspiration for the coming fashion collection. "It is inspired not by him, but by his story," Maphumulo explains. "He did so many different things. He was that guy who had many talents. I believe I have similar traits; there are many things I have interest in. Outside of music, one is the interior designing thing that I'm doing, and the second is the clothing label. The clothing label is not really inspired by Virgil but is inspired by being African today and just trying to reclaim the power that we've lost. What I'm trying to do with my clothing brand is imagine what would have happened if no one came to take anything from Africa and it was never colonized. If we had our own resources and we created our own things — our own furniture, building brands, and if we had our own LVMH Group — as a continent, what would we look like? What clothes would we wear? So I've been doing my own research and looking at some of the rulers and people that had the power, like [Muammar] al-Qaddafi; he was his own man, even through his dress sense. I want to create a clothing line that is of that kind of imagination, that is very rich in texture and in culture. I'm not trying to make hoodies; I want to stay away from such things. I want to create something that is of value and deep history at the same time."

It's not far along — don't expect to see a Black Coffee logo anywhere in the immediate future — but it's coming. "We're still busy conceptualizing," he explains, "because that's the hardest thing with the name that I chose — Black Coffee. It's so hard to even create a logo, you know, because the first thing that comes to mind is a drink. I want to do something obviously different. That's where we are currently. We're working with people that are trying to help us first re-create an identity of this brand."

There isn't even a name yet, though he does know this: "We want it to be a lifestyle brand that will encompass a lot of things outside clothes. That's why the name has to be right. It can't just fit one thing. We're still trying to figure out the DNA of the brand." He adds, "It's something that I've always been trying to do, but the time was just not right. [In the past], I was all over the place with my personal style and where I wanted to go with it, and I think now I know where I am."

Literally and metaphorically, of course: Maphumulo is in a good place mentally, emotionally, and career-wise … though perhaps not as much health-wise as he'd like. "The hardest part is just finding time to rest in between [travels and shows] honestly, because eventually the body feels it. Exhaustion is the hardest part, always being on the road."

That said, he swears he's happy (even if he doesn't have time to smell the proverbial coffee), which is always a great way to start a new year. "Life is good," he declares. "The minute you put any kind of energy on the negative stuff, then it becomes your story. I learned this quite early, so I always look at the blessings. I'm like, Man, it could be worse. This is where I am. Then this is where I come from. There's no time for, like, a pity party. We keep it moving."

And with the pace Maphumulo has set for himself, no doubt he'll reach the stars in no time.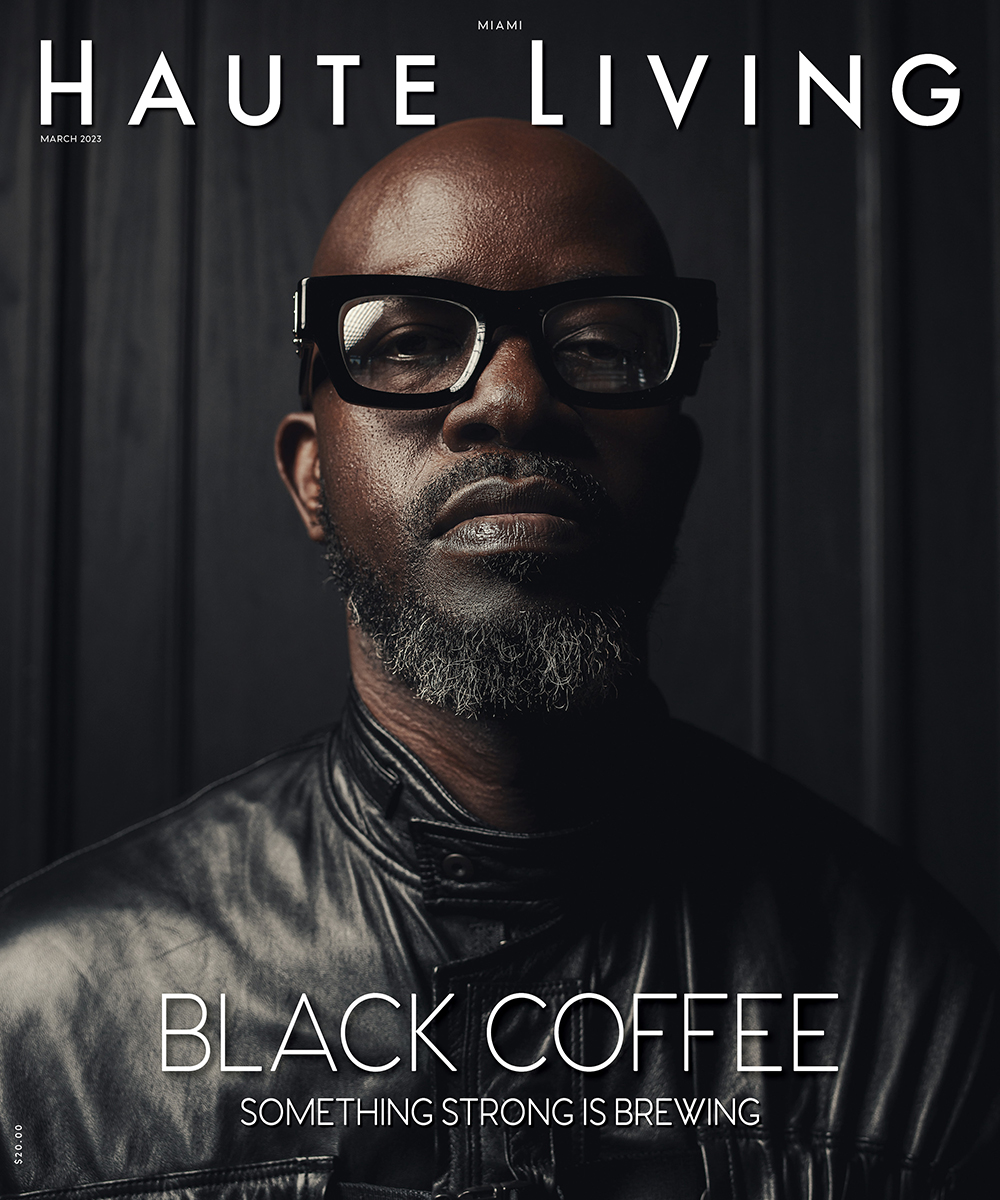 Photo Credit: TREVOR STUURMAN
Subscribe to discover the best kept secrets in your city