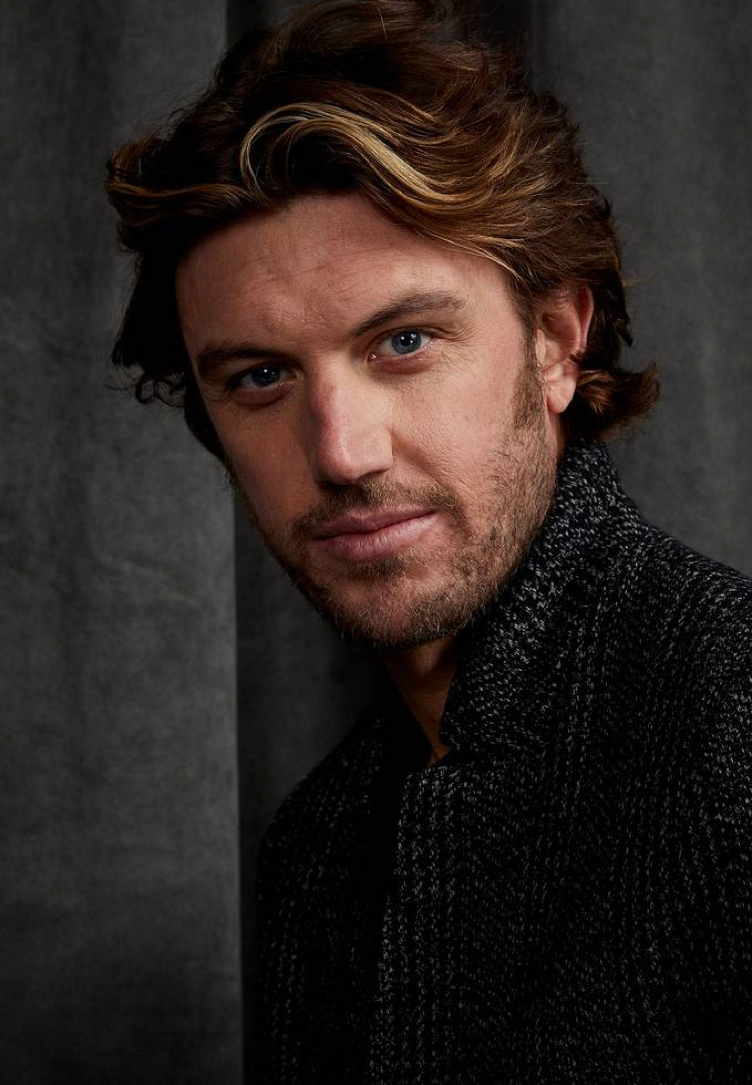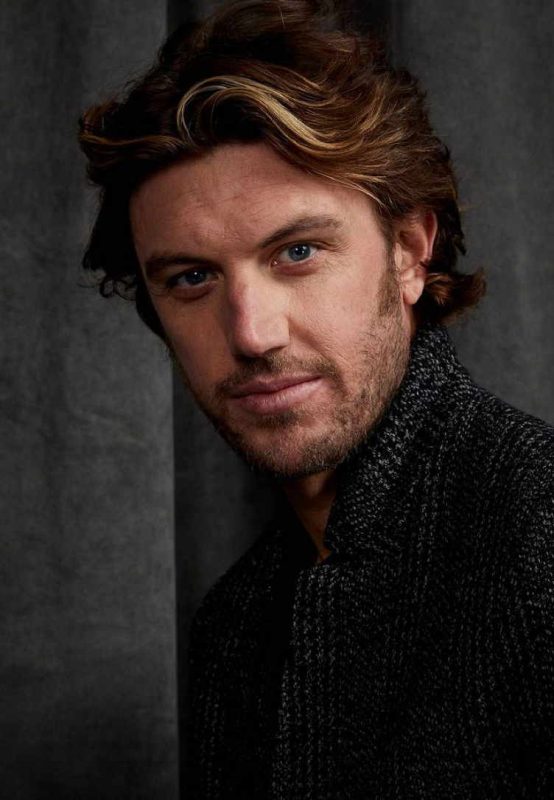 Photo Credit: Netflix
Adam Demos is back in his native Australia when we sit down to Zoom on St. Patrick's Day (the day after, a Saturday morning, in his world). The topic: Sex/Life. Not his, per se, but that of "bad Brad," the enigmatic object of leading lady Billie's (Demos' real-life partner, Sara Shahi) affections on Netflix's steamy, mega-hit series (it's now reached over 67 million households, making it the third largest audience for an original Netflix series).
Here, Demos — who made his U.S. television debut in the third season of Lifetime's award-winning hit drama series UnREAL in 2018 —  had to say about those cold shower-inducing scenes, getting naked literally and metaphorically, and where he plans on going from here.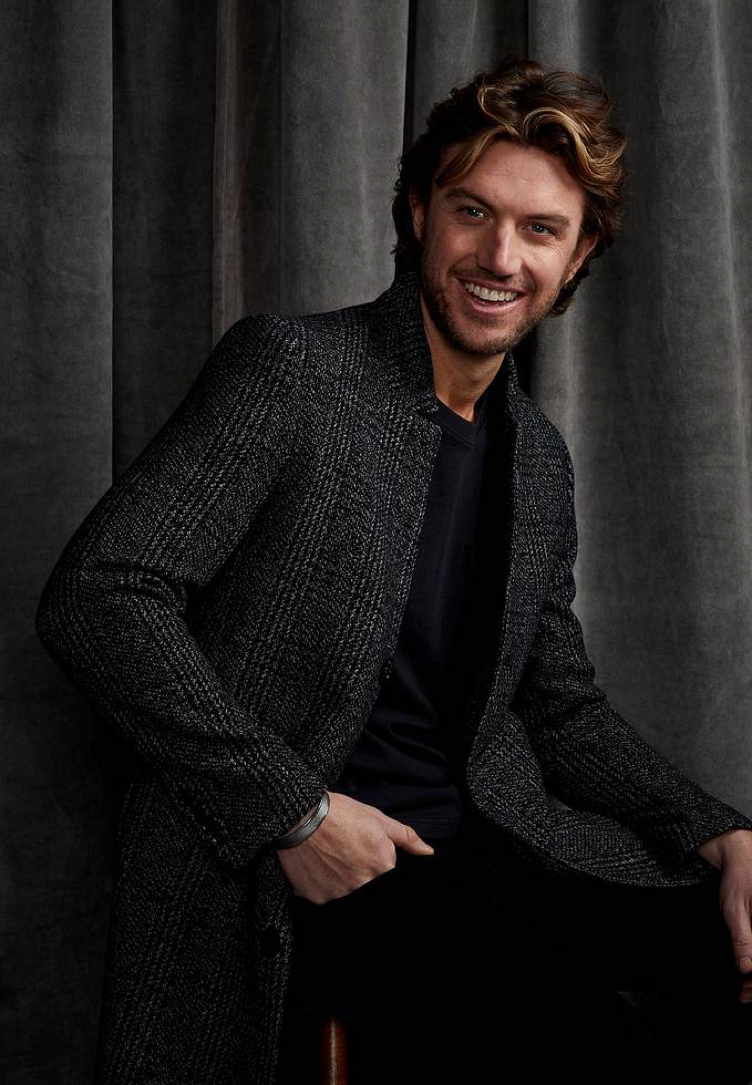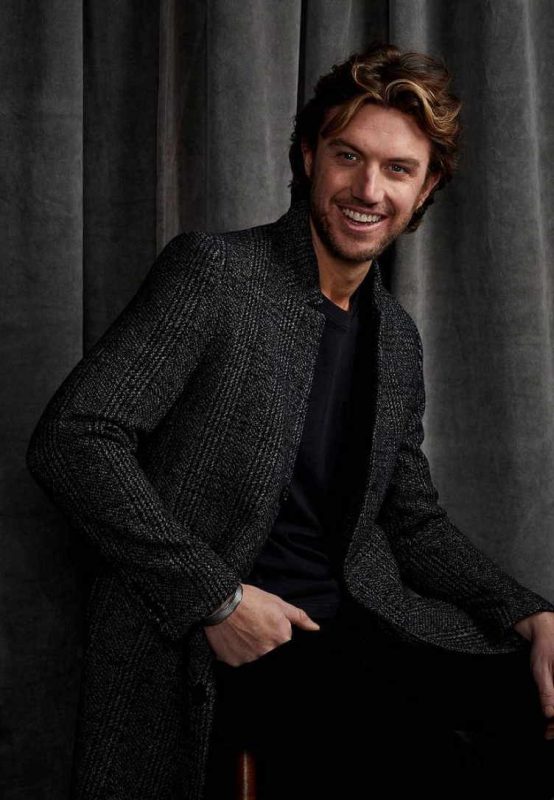 Photo Credit: Netflix
So mostly today I think we're gonna talk about Sex/Life because that's the most current thing that I've seen of yours, although I loved you in Unreal. That was such a good show.
Aw, thank you. That was my first job overseas outside of [Australia]. You know, I'm still great friends with Constance [Zimmer] and a couple of the guys on there, and that was one of the coolest experiences – bizarre and surreal because you're almost like shooting two shows within one, but so much fun.
So clever, too. I think the writing was pretty superb on that show.
Well, I think it was Sarah [Gertrude Shapiro], the producer of The Bachelor, who co-created it, but yeah, after that, a lot of people I met through producers who have done reality shows like that say it is eerily quite similar to what actually happens.
But for Sex/Life, there was so much and, excuse me here, but there was so much nudity in that show. How do you get comfortable doing that?
You know, it's part of the job. When you read the script, you see that that's gonna happen, so you are mentally prepared going in. But those scenes are a little awkward to shoot, of course, they become very mechanical and all of that sort of stuff. I think the way you become comfortable is just the environment that they set if that makes sense. It's a closed set, we've got an intimacy coordinator, and then you rehearse them so much. You rehearse them more than the actual just scenes-scenes – the talking scenes – so, everyone feels really safe and sure of what they're going in to do, and it's very choreographed, so that makes you feel more comfortable. You'll never get over the fact that it's awkward, but the more safety protocols, the more rehearsals that you do – our intimacy coordinator is the place to go if you don't feel like you want to do something, you don't have to, and they look after you. It makes it a lot easier when it's really safe and protected, but you're still out there.
So what you're saying is the sexiest scenes on TV are deeply unsexy. Go figure.
Yeah exactly! The goal of it is to look sexy and real and all the things, but the making of it audiences should not want to know because it becomes very mechanical and kind of the opposite of what you're seeing on screen. It's probably more enjoyable just to watch it as an audience member not knowing all the stuff that comes with it. It can get sort of awkward and that sort of stuff, but as long as you feel safe, that's the main thing.
Do you feel like you have to be, I guess metaphorically naked in a way, to put yourself out there in such a way? There's that whole idea of being naked, but then also showing very much how you feel in each of those scenes.
In the non-sex scenes, in the actually emotional ones, no it's not like I'm uncomfortable. I think that stuff is exciting and nerve-wracking in a great way. Not too often, you get to have a role where you have to dig kind of deep and show your vulnerability, and that's a dream. To be scared by something and then to work on it and show up on the day overcome it and be proud of what you did – that's the dream, that's where you get adrenaline from. Not all roles you get to explore that deeply. So I loved it. I felt grateful – they gave me a lot of stuff where I had to dig pretty deep and show Brad's vulnerability and rawness. It's a cool challenge, and you really are lucky if you get it.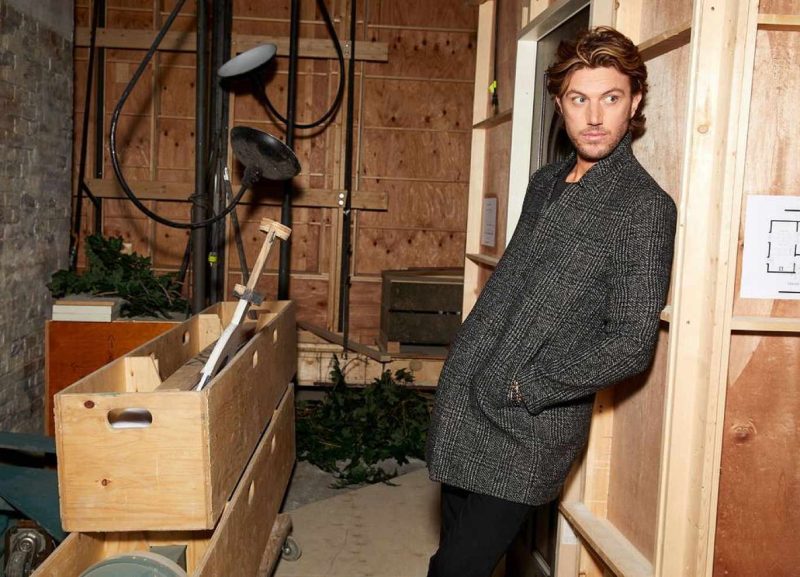 Photo Credit: Netflix
Would you say that's the rawest role you've had, to date?
Oh yeah, for sure. The first season, when it's flashing back to 10 years before when he hasn't dealt with certain stuff, and then they cut to the current day, so you're doing the same back-to-back but showing the evolution of the stuff he's worked through and dealing with his father issues, and then he's put those to bed in the present day, and then you see how he acts differently or projects or attacks. Then you see the present day when he's dealt with it, and he's calmer and realizes his mistakes, it was really cool. I loved that. It's not often you get to show the two sides of when someone's worked through something or hasn't.
The way they wrap it up at the end of the season, I can't really see it continuing for another season, but I guess you never know; anything can happen in television.
It's a pretty bow, the end of season 2, for sure. They just said to us, and I say this all the time, it's above my pay grade to create storylines. We have an incredible showrunner and writers – I'm sure they could come up with an epic season 3, but it comes down to numbers. It's a Netflix numbers thing – I think if there's demand for it, they could certainly find a way to continue the story. Those sorts of things become a waiting game, I think, to see how much people want more. Our showrunner did an interview, the other day though, and she said she's got tons of ideas to continue the story. So, we'll see.
I mean, where can you go, though? It's in a good place, you don't want to see a negative thing happen or her go back to the way she was at the beginning of season 1. I feel like audience members want a happy ending.
Yeah, I guess so. That's why I'm not a writer, that's why I just say what they've written. I think it is beautiful that they end up together in this one, but you know, she's got some ideas, and I think people enjoy the happy ending but also love the rollercoaster of emotions that both seasons were, so who knows. Maybe there will be more of that, but that's for smarter people than me to decide.
Copy! So, now, the real-life relationship question. You're talking about how deeply unsexy it is to film these sex scenes, but you're doing it with somebody you care about [your real-life partner, Sara Shahi]. How hard is it to separate your personal life from your professional life?
It's not hard for us because we met as actors. The first time we met, we were there to do a job, so it was actually quite easy. We're extremely good at that to go, "okay this is work, this is the job." We don't want to let anyone down who trusted us with these roles and we're professionals. It's weirdly quite easy because that's how we met, so what's home is just us and our relationship, and going to work becomes about making sure we do the characters justice, and that's not some PG answer – it truly is how we first met, so we're very good at the line being drawn, and you go there, and you have a job to do. When I do scenes with her, I love it because I'm such a fan of her as an actor and there are some scenes where we have to show chemistry, and it feels very effortless sometimes. Or, when I'm looking at her in a scene and her character's heartbroken, it clearly breaks my heart a little because I'm looking at someone that I love. It makes it kind of easier, in that sense as well, but we're very good at going, "this is work, and that's home."
Photo Credit: Netflix
Well, so now what's next? Now that this is wrapped, what are you working on now?
So I'm back in Australia at the moment. I'm doing a bunch of press for Sex/Life here, and then I'm doing something back here, but they haven't announced or released it, so I can't really say. But I'll be doing a cool project back here, back home which is awesome. I try to get back here as much as I can to see my mum and my mates, and I do get back quite often, but to be able to get back, do all of that, and to work on something it's pretty cool right now – I'm excited.
Well, awesome! So, now what would be your dream job?
There is something very adrenaline-filled and exciting about having those roles where you go to dig deep emotionally. That's what I did love about Sex/Life and that character. But, I never really put a label on it because I'm open to whatever. For me, the biggest thing is if I can relate or find my way into the character and know I would do that justice – that's all I look for, regardless of genre or whatever. I'm lucky, at the moment, I've been working with such great people progressively. All I really want to do is keep that train going. If I can work with people who are of high caliber like I am like I have been, and you know. Genre and all that stuff, it doesn't bother me. It would be cool – I haven't done action and all that stuff – I don't really get tunnel vision with that stuff because I like to stay open to see what's out there.
Do you feel like, and this is just something that came to me now – I realize that there are a lot of Australian actors that have been superheroes. So, is that something that you would be open to, and if so, which one do you think you would be a good fit for?
I would definitely be open to it. Those movies have a great purpose in the world, and the opportunities that come off the back of doing those are incredible, but I don't know. I actually don't know what one, um, we'll see. I don't know – they seem to be making a bunch more in certain superheroes that I haven't heard of. It's good, keep those coming because there's more of a chance I could end up being one of them, but I would definitely love to do it. I would definitely love to do it.
Now, one last question for you. It's a hard one for a Saturday. What to you is the greatest luxury in life, and why?
The greatest luxury in life: Being able to spend time with my loved ones. That maybe sounds corny, but that is my luxury, you know? Especially coming from country to country and being away from everyone I'm very lucky to be away from the people I love because it means I'm a working actor and I found my partner in another country. The fact that I still get to come back and spend time with them, it's always meant something, but it means more and more the older you get and the more time you spend apart. That's it, that's my luxury is just being able to be here with mum, my mates, and my Mrs. That's it.
Subscribe to discover the best kept secrets in your city