Photo Credit: Luis CorzoCADA Consult hosted an an intimate evening of soulful conversations with Feng Shui Maestra and spiritual psychologist Inessa Freylekhman at 1 Hotel South Beach's nature-inspired restaurant, Habitat. Inessa explored how our homes reveal the current state of our love life and provided advice on how to create the ideal sanctuary for romance and rest.
Guests gathered around a flourished table decorated with florals by Roses et Pivoines, sipped rosé sponsored by Font Freye by La Godonne, and dined on family-style meals including kimchi fried rice, white oak grilled skirt steak, and delectable guava cheesecake. Inessa moderated engaging conversations focused on the ancient Chinese practice of Feng Shui within our homes. Advising guest on how to create the ideal environment for abundant positivity, Inessa provided tips such as how specific placement of mirrors can open a space, why sage is essential in clearing out negative energy and what to invest in when welcoming new love into your life.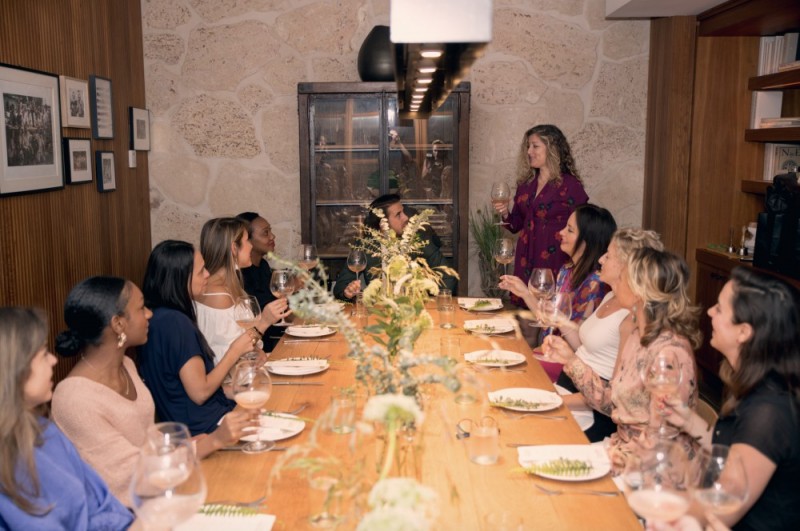 Photo Credit: Luis Corzo
Inessa specializes in harnessing the natural energy flow in physical spaces promoting outcomes such as prosperity, health and happiness. The Feng Shui expert has cleared hundreds of commercial and residential spaces making her optimal in assisting people on all levels emotionally, spiritually and physically in designing a suitable space.
Focusing on mindfulness of guest experiences, 1 Hotel South Beach has also collaborated with Inessa in cleansing rituals creating a warm and welcoming space within the environment-friendly hotel. 1 Hotel South Beach aims to create a wellness atmosphere where guest can participate in monthly activities including full moon parties, beach clean-ups, yoga sessions and a host of other retreats. The conceptually unique hotel, its mission, and its signature restaurant was idyllic in hosting Inessa's intimate evening of enriched discussions.
Photo Credit: Luis Corzo
Concluding the event, attendees including Tracy Mourning, Sarah McMillian, and several guests from LVMH's private management team, took home gift bags including a deluxe aphrodisiac scented candle and a gift card provided by Aroma360.
For more information on Feng Shui From the Heart, please visit click here.