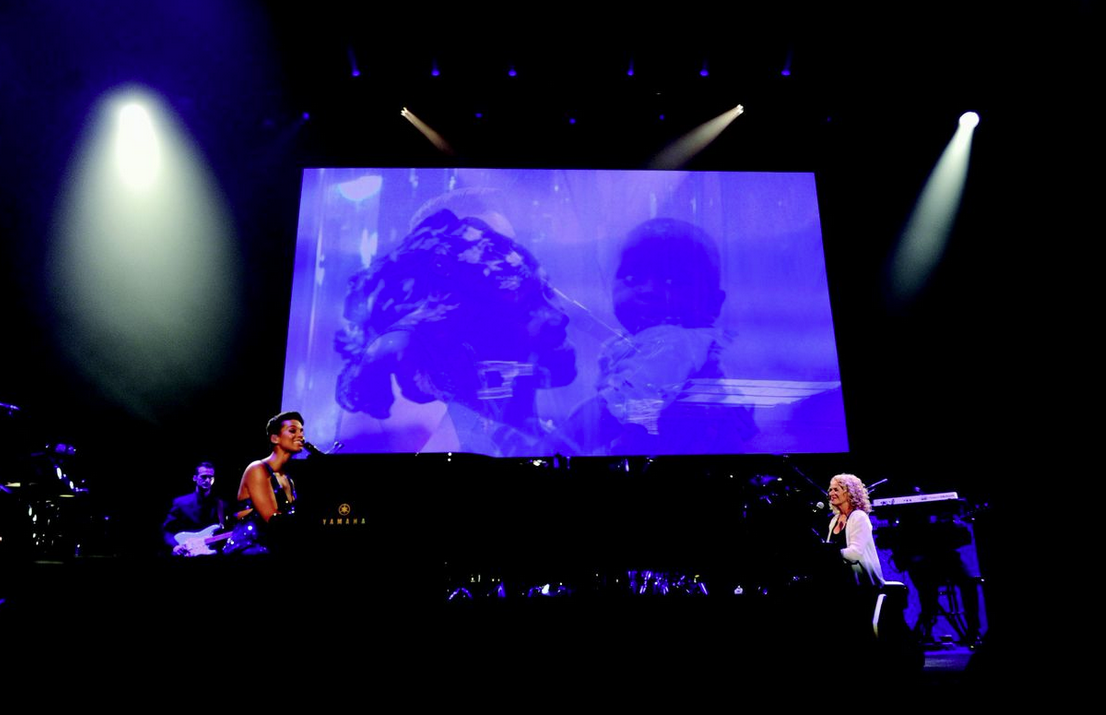 Some artists spend years trying to find their voice. Their style. Their cause. Their sense of self. But Alicia Keys isn't one of them. She knows who she is, what she stands for, and what she wants. So much so, that when she's asked to describe herself in five words, she doesn't fluster, or even pause to gather her thoughts. Instead, she rambles off a list of powerful descriptors—fierce, focused, fluid, loving, and empowered—as if she knew the question was coming. Maybe she can read minds? Maybe she's been asked the query a dozen times before? Or maybe, just maybe, she knows herself that well.
"Five years ago, the word 'tired' would probably have been up in there," she tells Haute Living with a laugh. "I don't feel tired now because I have a better concept of balance. It comes through experience—understanding what non-balance is and then making the choice to actually implement some balance. Sometimes, I find myself on the whole other side of the spectrum of crazy, and then I think, this is too much, and I definitely need to find my way back. I think experience is what does it."
With 14 Grammy awards, five chart-topping albums, and more than 35 million records sold, it's safe to say that Keys is one of the most experienced musicians in the world. But that experience, she says, comes from being open to change. "I've evolved as an artist in so many ways," she reveals. "I've been exposed to so many things from life and womanhood… music styles, clarity of self, and self-purpose. Musically I've evolved, lyrically I've definitely evolved, emotionally I've totally evolved, and physically I've evolved. There's been a lot of evolution!"
For Keys, the journey began at the age of seven when she started playing the piano—a hand-me-down from a family friend—in the small Hells Kitchen apartment she shared with her mother. After graduating from Manhattan's prestigious Professional Performing Arts School at 16, Keys spent a short stint at Columbia University, but dropped out to further her burgeoning music career.
And she hasn't slowed down since. Her songwriting process—a culmination of real-life scenarios sparked by conversations, books, movies, and family issues—remains the same after all these years. "I think I could technically sit down and write at any time, but it still has to be based on a reason or to vocalize a feeling," she explains. "It's definitely about an urge—a feeling, an emotion. It's important that the feeling is present so that it comes together in a way that comes from somewhere truthful."
Keys' latest single, a soulful power ballad entitled "We Are Here," tackles a variety of societal issues—ranging from conflict in the Middle East, to violence in Chicago, to absentee fathers, to educational deficits throughout the US—and serves as a call to action for her legion of fans. "People definitely want to do something but where do they start? Who do they connect with? How do they actually make an impact? How does that make a change?" she asks, a resounding fervor in her voice.
I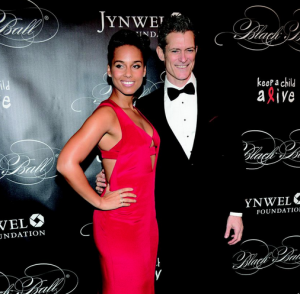 n an effort to create a national dialogue about global issues that can't be solved in insolation, Keys launched the We Are Here movement, and invited her 35 million Facebook fans and 20 million Twitter followers to answer the question: Why are you here? Since its inception in September, the movement has generated an overwhelming response, triggering a peace army of high-profile power players like Taylor Swift, Madonna, Lenny Kravitz, and Carmelo Anthony to post photographs on Instagram alongside the hashtag "WeAreHere." "I'm loving the diversity of it," she gushes. "It's a very diverse group of people who are sharing what they are here for and what their purpose is, and I think it's incredible. It's about starting that dialogue and creating that platform so all of our voices can unite in one place. To then take 300,000 voices and go to our leaders and say, '300,000 people believe this. Now we have to change it'—it's powerful, and it shows the way we're all affected by different things."
One of the issues nearest and dearest to Keys is providing life-saving treatment to individuals with HIV and AIDS. "With AIDS, a lot of time people tend to think that it's sort of under control, but it's definitely not," she clarifies. In 2003, Keys joined forces with activist and film/television producer Leigh Blake to co-found Keep a Child Alive, a people's movement that provides AIDS medicine and medical care to children and families in Africa and India. Every year, the organization throws a star-studded Black Ball in Manhattan to raise funding and awareness for the ongoing epidemic.
Currently in its eleventh year, the event has raised $22.6 million since its inception and is considered one of the most sought after tickets of the fall social season. "Over the years we have honored some amazing people, and I have been blessed to share the stage with some of the world's leading musical artists—Bono, David Bowie, Lou Reed, Pharrell Williams, just to name a few. It is a truly inspiring, moving experience," Keys admits.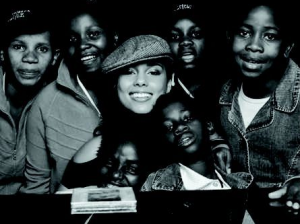 This year's Black Ball—which takes place on October 30 at New York's Hammerstein Ballroom—will focus on the power and potential of a generation of young people living with HIV, a theme that Keys feels is symbolic of how the face of the pandemic is growing and becoming more powerful. The event will also honor Givenchy artistic director Riccardo Tisci for his ongoing support and innovative thinking. "He is a force for change. He has dispelled outdated notions of identity and discrimination. And his voice is bold and unapologetic. He broke cultural barriers with his support of transgender and black models on the runway, and he has captured the imagination of a vital new generation with striking media campaigns," she asserts. And of course, there will be plenty of star-power, with performances by David Byrne and hip-hop artist Angel Haze, plus a few surprise guests. "Anybody that's been to it before knows that it's going to be an experience that you just can't quite peg," she divulges. "You don't exactly know who is performing or how it's going to come together, but you know that it's going to feature incredible people all on one stage whom you've never witnessed before and will never see again."
As Keys continues to talk about her humanitarian projects, it's clear that she's not simply just another celebrity philanthropist. She doesn't lend her name to foundations for compensation or press coverage; she's really on a mission to change the world. No easy feat, but if there's anyone up for the challenge it's her. At only 33, she's dominated the music industry, inspired a social movement, and waged a war against AIDS, all while balancing marriage and motherhood. "My husband [music producer Swizz Beatz] and I are different in so many ways, but fundamentally, I know where he's from and I know what he's been through. I know it because I've been through it myself," she reveals. "I'm from there myself. I understand that speech, that language, that communication, and that dialogue." But the secret to maintaining a happy marriage, Keys says, is friendship. "We're truthful, we're gentle, and we're able to communicate well, which I think is a huge, huge part of it. We know each other's thoughts and minds, just because we take the time to listen. I think that all of that really does make marriage fun and a happy relationship attainable." ∎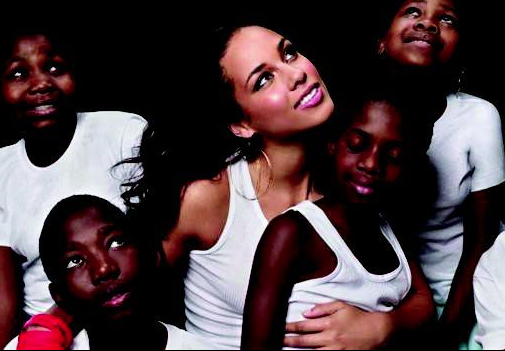 What has been your greatest thrill as a performer to date?
Being able to touch and talk to people in a way that is really genuine, and in a way that connects us in a truthful way. Often, it happens on stage— you can feel the palatable energy of connection and understanding.
Who would you love to collaborate with?
I'd love to collaborate with Idan Raichel and Ali Amr, the musicians I performed with during the Global Citizen Festival. Doing another musical moment with them would be really powerful.
So many celebrities have participated in the We Are Here movement. Is there anyone you'd like to see get involved and post a photograph?
I would love Forest Whitaker to do one—I think he's an incredible human being. I love what he stands for and what he's about. Ed Norton would be really cool too. He's an awesome human being who really is about making change and doing things.
Who is your role model?
Ruby Dee is a big role model to me. My grandmother is a big role model to me. My mother as well. Maya Angelou is a big role model to me. It depends what we're role modeling.
What kind of music do you and your husband play during dinner parties?
It's really eclectic—we'd have some salsa music in there, we'd have some dope jazz mixed with some fusion in there. Definitely some good party songs too—it would have a big, big mixture of sound and feeling.