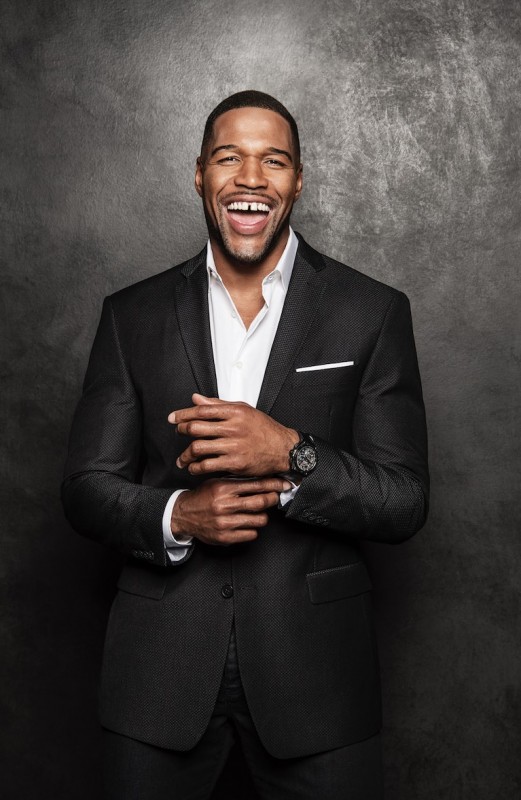 Photo Credit: Scott McDermott
Photography: Scott McDermott
Styling: Victoria Trilling + Andie Cummings
Makeup: Alyssa Shackil
Hair: Juanita Townsend
Shot on location at Oskar, Hell's Kitchen NYC 
Michael Strahan is the proud owner of a collection of enviable art acquisitions that includes a Basquiat, a Retna, a handful of Harings and a Baldessari. He also has an elevated man cave with its own Moët & Chandon champagne vending machine; a varied assortment of watches, highlighted by umpteenth Rolexes; and a car collection that even Jay Leno would admire: a rare 1990 Lamborghini LM002 truck, a 2018 McLaren Senna, a 1971 Ferrari Daytona and a Porsche Carrera GT… as well as various Mercedes-Benzes, BMWs and Porsches. And yet, despite his highbrow tastes, the two-time Emmy winner and Super Bowl champion does not consider himself to be a Renaissance man. In fact, the former pro footballer-turned-talk-show-host considers himself to be the exact opposite.

"I consider myself to be a working stiff, I really do," he says with a laugh before noting, "I do feel very fortunate and blessed to be able to have gone from one career to another, and to be able to have all these opportunities come my way now, because I never saw them coming. I never imagined this."Although he's referring to his career reincarnation—a varied wealth of opportunities across a plethora of platforms, from broadcasting to TV and film production to fashion design—he could say the same for the job that led him to this very place: pro football. Prior to joining the ranks of the top sports broadcasters in the country, this 15-year NFL veteran—who spent his entire career playing for the New York Giants—was the equivalent of athletic royalty: a seven-time Pro-Bowler; one of only four players in history to lead the NFL in sacks for two seasons; breaking the 18-year-old NFL single-season sack record with 22.5 sacks in 2001; and a spot in the 2014 Pro Football Hall of Fame class―the sport's highest honor. During the last game of his final season in the NFL, he helped lead the Giants to win Super Bowl XLII over the favored New England Patriots, which had a perfect season record. He retired on the highest note possible in 2008, with a Super Bowl title, 141.5 career sacks, 854 career tackles, four career interceptions, 24 forced fumbles and three career touchdowns over a 200-game period. He paid the price for his gridiron success; upon his retirement, he found himself pigeonholed as just a football player and found it incredibly hard to break free from the "jock" stigma.

"Half the time, you get so boxed in. You're supposed to just do one thing," he says. "I'm like, 'That's cool, that's great, but I'm more than just a football player. I'm a person who has other interests outside of sports, and I want to find and explore some of those things.'"
He started doing so almost immediately after retiring, though inevitably, he turned to sports. Mere weeks after officially retiring from the NFL on June 8, 2008, it was announced that Strahan would be joining the Fox NFL Sunday pregame show alongside Howie Long, Jimmy Johnson, Terry Bradshaw and Curt Menefee.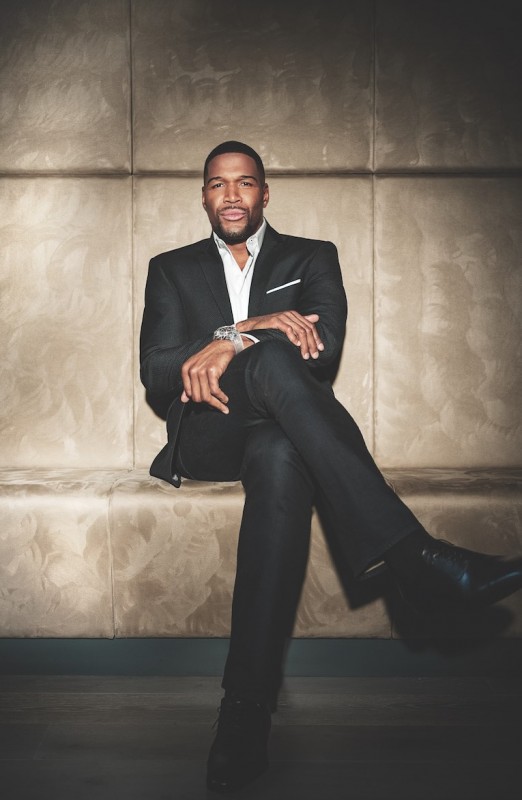 Photo Credit: Scott McDermott
Two years later, in 2010, he co-hosted Live! with Regis and Kelly for the first time as a guest host. When Regis Philbin retired in 2011, Strahan was the obvious choice to partner with Kelly Ripa, since their chemistry and his overall charisma made the show fun to watch (fans agreed; ratings surged so high in all key demographics that the show bypassed its direct competition—the fourth hour of NBC's Today Show—by 87 percent). And thus began Strahan's career evolution.

When he left Live! to begin working on Good Morning America in 2016, it was with two Daytime Emmys—co-wins with Ripa for "Outstanding Talk Show Host"—under his belt, as well as a nomination for 2014 Sports Emmy Award in the category of "Outstanding Sports Personality – Studio Analyst." Currently, he hosts both Good Morning America as well as Strahan and Sara, the newly renamed third hour of said morning show, which debuted last September as GMA Day and serves as an analyst of Fox NFL Sunday. He also co-hosted FOX's Thursday Night Football Pregame Show live from New York for the 2018-2019 NFL season alongside fellow Pro Football Hall of Famers Bradshaw and Long.

In the interim, he formed SMAC Entertainment—a business venture with longtime friend Constance Schwartz-Morini—to produce shows like ABC's $100,000 Pyramid and TBS' The Joker's Wild, a game show hosted by Snoop Dogg, as well as the Nickelodeon's Kids' Choice Sports Awards, plus several additional projects in the athletic space that marry his past and present, such as Tackle My Ride—a series he executive-produced about current NFL players helping to restore dream rides for fellow auto enthusiasts.

And while none of these ventures—save for sports analyst, a field he knew intimately—was particularly expected, they were all completely organic, and all came about because Strahan refused to settle for what was expected of him. "I'm somebody who's willing to take a chance and not afraid to fail," he maintains, noting, "You've got to be able to throw yourself out there, and whatever happens, happens. Some things are going to be great, and some things aren't, but you've got to be able to live with your decisions."

This includes his past sartorial sins. The man you see so well put together on your HDTV every morning, whose look is so sharp that it even garnered him his own clothing line, was the opposite of impeccable during his time in the NFL.

He recalls in particular one much-photographed look that he fervently hopes never resurfaces: a huge, multicolored button-down shirt tucked into baggy jeans with a cell phone clipped to his belt. "There are like 200 things wrong in one photo!" he laughs. "At the time, you think you look sharp, but I cringe now thinking of all the pictures that must exist. Back in the day, you'd have orange, green, purple suits—[my closet] was like a bag of Skittles. But when you're in the locker room, you've got to show up and look sharp. If you don't, the guys will ride you into the dirt."
Photo Credit: Scott McDermott
His rainbow-hued wardrobe was accessorized with the ultimate teammate-approved accessory: the NFL necklace. "Back in my day in the NFL, I had the big gold chain with the NFL logo made of gold with my name etched along the top in diamonds," he recalls. "I called it the 'NFL starter kit.' When you want people to know who you are, you pull it out and lay it on your chest. It was my badge of honor for hard work, and a way of getting into the club for free."
However, he notes, "As you get older, you tuck in the chain, and the next thing you know, you're taking off the chain. I realized people would go, 'Oh, you're that football player.' You go, 'Yeah, that's me.' But after a while, you start to go, 'Yeah, I played football, but I'm not just that football player.' I had to get people away from the mindset that I was just a football player… and I think it worked because now, most people don't even remember that I played football, which is great."

He certainly looks like a football player in stature—6'4" and 255 pounds of pure muscle—but the impeccable image he presents on Good Morning America is miles away from the look he rocked in the '90s (aka the fifth member of Boyz II Men). "I've definitely had a fashion evolution," he notes. "I love fashion, and I love looking good."

Whether it's rocking suits and ties on the small screen or athleisure as he does off-screen, for the most part, it's his own line—Collection by Michael Strahan—that has him feeling like the king of the world. And why not? He designed it for himself, after all. "I pretty much always wear my own stuff," he admits. "It freaks me out to go into my own closet, pull something out and go, 'I love this'—[especially because] it has my name on it."

Speaking of which—his name, in a word, is everything. "Everything I promote and sell are things that are authentic to me," he notes. "I'm not selling you something that isn't me. I'm not giving you a product that isn't authentic or a person that isn't authentic. Authenticity is very important to me. It's something I harp on because so many things that are done are formula for people. My life is not a formula; it never has been and it never will be."

That's why he turned to designer friends he admired—including John Varvatos, former Nautica CEO Harvey Sanders, Kenneth Cole, Neil Cole and Theory co-founder Andrew Rosen—for advice when launching Collection, which encompasses suits, collared shirts, belts, ties, cufflinks, shoes and suspenders, as well as a line for boys in 2015 and MSX by Michael Strahan, a men's athleisure line, in May 2016. "I asked these guys for advice, and they've been so forthcoming and easy with it," he says. "I've been friends with them for over 20 years, and it was never about the business because I never thought I was getting into the business. But apparently osmosis [is a thing]; you hang around with someone long enough, and you end up doing what they do."

Or, as is the case with Religion of Sports—an original documentary series, now in its third season, which examines unique examples of sports' cultural and spiritual impact in regions around the world that airs on the Audience Network as well as on both DIRECTV and AT&T U-verse—you end up working with people who excel at the same things you do. Strahan co-produces the series with Deepak Chopra's director son Gotham and none other than the New England Patriots' most famous face, Tom Brady.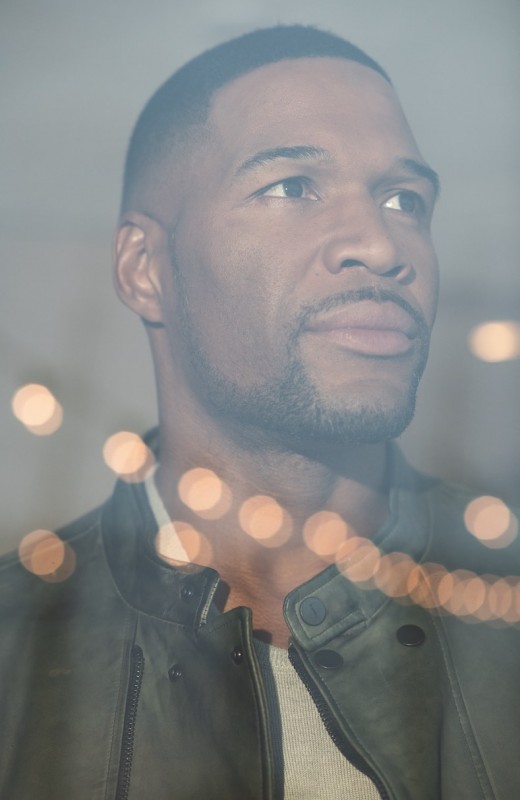 Photo Credit: Scott McDermott
The idea to correlate sports and religion was Gotham's. Over lunch at a Los Angeles café years ago, he explained his idea to Strahan, how parishioners are fans, cathedrals the stadiums and sports the religion. "We talked about compelling sports stories that tap into a different idea of what sports mean to society, what goes beyond the athletic and becomes something deeper," Strahan says.

Personally, Strahan didn't realize the correlation until he was actually in the game. He grew up as an Army kid in Germany and got his first taste of sports mania while playing a year of high school football in Texas. "Your team sets the mood for the whole city through all the fans. It is a religion in so many ways," he insists. "It taps into people."

Once he and Gotham established the idea, they recruited Brady to the cause. "Tom was in love with the idea, and we were in love with what Tom brought to the table—a guy who's brilliant; the best who's ever done it."

Never mind that in his final football game, it was Strahan who bested Brady. It should have made them enemies, or at least have some good, old-fashioned rivalry… but nope. Strahan wasn't having any of that. "Yeah, we were on rival teams, but you know, if you sack a guy enough and you're always laying on top of him, you get to know each other pretty well," he says with a laugh, before adding, "In all seriousness, I've known Tom since his first few years in the league, and he's always been the coolest guy. We've always had a mutual respect. I respected his grind to be the best because I've always tried myself to grind to be the best. It comes from a mutual appreciation for each other. I was excited to get a chance to work with him off the football field because a lot of times, athletes don't have that opportunity, and if they do, they don't take advantage of it."

Trust us, Michael Strahan is a guy who is taking advantage of every opportunity life throws his way. On a professional level, he plans on building the direct-to-consumer business of Collection, as well as launching women's products. He's also focusing on developing films and television features through his SMAC Entertainment because he finds it "one of the most amazing things to have an imagination that you can make a reality." When he adds, "I'm excited to go work every day because this is a life I could never have imagined." We're in awe… and we believe him.
As if he hadn't done enough already, in 2015, Strahan released a book (a best-seller, naturally) titled Wake Up Happy: The Dream Big, Win Big Guide to Transforming Your Life. The gist: his personal stories and motivational advice are meant to inspire readers to go from good to great in pursuit of their dreams, as Strahan did himself.

Oddly enough, it was football—the channel through which he owes his dream-like reality—that was never his dream… it was his father's dream, that became his reality. Born in Houston, Texas, Strahan spent most of his childhood in Germany, where his father, Gene, was stationed for the U.S. Army. As a result of his father's urging him to earn a football scholarship, he returned to the U.S., where he lived with his uncle Art, a former NFL defensive lineman, back in Houston. It took just one season of playing football to score a scholarship offer from Texas Southern University. During his senior year at TSU, he was selected for the first team All-America. He was drafted by the New York Giants after college, and the rest, as they say, is history.
Photo Credit: Scott McDermott
To say that Strahan's life reads like fiction would be accurate. He himself can't even pin down the "craziest" part. "The craziest part of it all? Hell, what are you talking about? It's all crazy!" he laughs. "From growing up in Germany with a dad who said, 'You will get a football scholarship,' who put me on a plane and sent me to live with my uncle to a Hall of Fame football career. Everyone expected me to talk about football on TV, but all of a sudden, I'm on a daytime show, which I parlayed into a news show, then another daytime show. It blows my mind because I keep on thinking, 'How does this thing keep going?' But it does. I think when I look back, all of it is going to blow my mind. It kind of blows my mind right now, but I try not to act like it because I don't want to get caught up in the fray. I don't want to stop and think about it because if I do, it's overwhelming."

So instead, he keeps his head down and back straight. He works harder than anyone. He's up at 5 a.m. every day, reading emails for Good Morning America, researching his subjects, going over his notes, racing from one show to the other and heavily studying up on anything and everything he might need to know about. "I compartmentalize," he says. "Once I get to Strahan and Sara, I completely block out GMA. It's weird. You could ask me, 'Who was on the show today?' and I won't remember it."

His way of coping is called self-preservation: If he stopped to think about one section of his day, he might not get through it. This is still just his morning: He has even more meetings—with his production, management and clothing companies—plus 90-minute daily gym sessions to keep his football physique intact. Somewhere in his scheduled day, he finds time to eat and to speak to his kids—daughter Tanita and son Michael Anthony (from his first marriage to Wanda Hutchins) and twins Sophia and Isabella (from his second marriage to Jean Muggli). "It's a full day," he notes. "I wake up at 5 and go to bed at about 11 every day, and it doesn't stop."

And during the football season? Forget about it. We want to weep with exhaustion just hearing about how hectic Strahan's life becomes. "During football season, there is no chill," he says. "I work Monday through Friday on GMA or Strahan and Sara, then Thursday during football season for Thursday Night Football. Friday after GMA, I fly to L.A. Saturday is my only day off. Sunday I'm at the Fox Studio from 6 a.m. to 5 p.m. shooting the football show, then I get back on the plane, fly back to the East Coast and start the week all over again."

When he acknowledged that his epithet should be "working stiff," we didn't realize how accurate that would be. Post-football season, Strahan has his weekends back—though he has difficulties dreaming up ways to fill "all" that time. "It's always weird [post-season]; two days feel like two weeks to me," he says. "I'm not used to having two days in a row off. It's crazy."

What's even crazier is the thought of retirement. Strahan simultaneously yearns for it and can't even envision it. Seriously, what would he do with himself if he had weeks on end off if he can't even survive a free weekend? "I'll probably sleep more," he laughs. "When people ask me what I'm looking forward to in the future, I'm like, 'Retirement.' No time soon, though; I've still got a ways to go. I'm still a young guy!"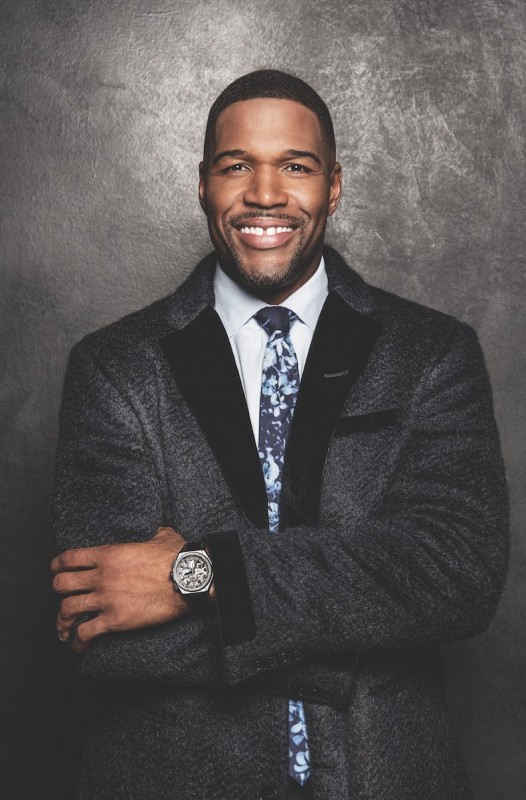 Photo Credit: Scott McDermott
Until that fated day comes (likely when he's 90), Strahan is going to keep working and striving to be better every single day. When you're a perfectionist as he is, "perfection" is a unicorn of a sentiment that exists but is rarely achieved. 

"I always feel like I could do better every day," he confides. "I literally will think about the shows that I've done today and go, 'I could have said that better or a little different.' I don't think that ever changes, and if it does, that means I need to get out of this business because it means I don't care as much. I'm just never satisfied. I think that's why I do all the things that I do. I always strive to do better and do more and make what I do perfect.  What makes me wake up every day is thinking—foolishly—that I can make [life] perfect."

When we call him on his perfectionism, he admits to having some perfectionist tendencies. "I have to finish things," he explains. "Things have to be right, but I'm not one of these people that is [so uptight that they aren't] enjoyable to be around. I'm more of the perfectionist in that, if I'm working on something or part of something, I want it to be right. Most of the things I do are about the enjoyment of other people. If someone is watching something, I don't want them to feel cheated in any way; I want them to feel like I was really working. I'm the guy who cleans up when the cleaning lady is coming; the guy who if I throw a piece of paper in the garbage can and miss it, I could never leave it. I've got to go and pick it up and make sure it gets home. I actually did that yesterday with the garbage and paper with a buddy. He was like, 'Just leave it.' I said 'No, no, I can't.' I believe that when you start taking shortcuts and stop finishing things, that's kind of a metaphor for how your life is. For me, I finish. I don't care what it is; once I start it I have to complete it in the way in which it was intended to be completed."

He's learned the hard way that shortcuts don't work. "When I played football, I learned a very valuable lesson: Don't think you're so good that you've just got it, because you're fooling yourself," he acknowledges. "When you're in the game and there's this guy that's beating your butt, you're thinking, 'Maybe I should have watched the film and been a little bit more prepared to handle this.' That's a life lesson. It taught me to know everything I can about everything I'm going into. To this day, I read everything. Emails—work, business, personal—I read everything. I retain it all and I don't cut corners."
But what if the perfectionist makes a mistake? Does he beat himself up? Self-flagellation is not recommended, in our opinion. By that token, he agrees with us. "I've definitely made mistakes, but who hasn't? And I don't have any regrets because every mistake I've made has been a learning experience," he maintains, noting that there is one bee in his bonnet that, while not a regret or mistake, certainly taught him a lesson.

"I was doing a sitcom [the short-lived 2009 Fox series Brothers], and there were some decisions made on the show that I felt differently about. I regretted that I did not share my opinion. When the show didn't work, and I felt like I held back, I was mad at myself. At the end of the day, when your name is on something and it doesn't work out, then people are going to look at you. Now, my name is on something, I'm invested 100 percent. I put everything I have into everything [I do]. I learned that if something is going to fail, at least you put everything you had into it, and you can feel good about it."
He pauses. "That's the biggest lesson I learned from failure," he notes. "I don't have any regrets because without those things, I don't have this mindset, this career that I have."
To that statement, there is only one word left to say, and thatis "perfection."