Book your tickets to these haute spots now and then read on to be in the know when you travel to these 10 exotic locales in 2019.
CAIRO, EGYPT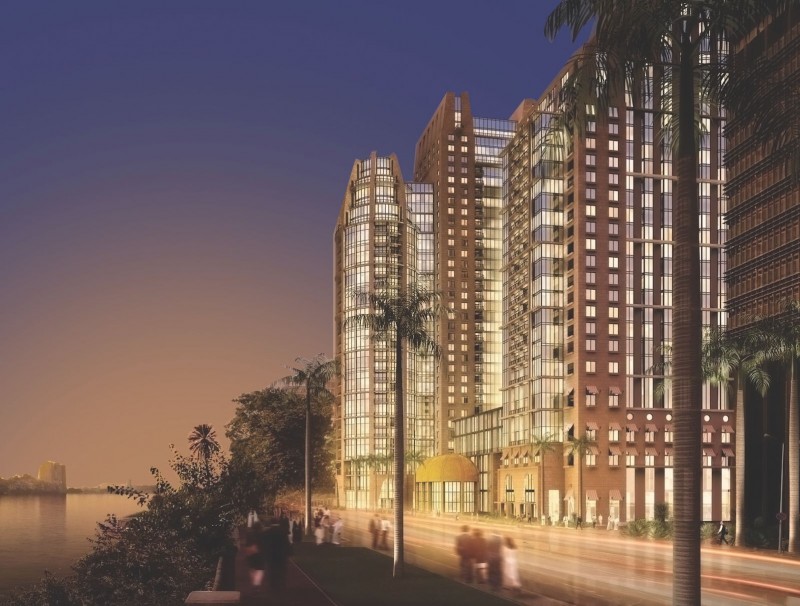 Photo Credit: T. REGIS & BUSHAPHOTO
Although Egyptian travel hasn't always been a go-to tourism destination in the past due to its political instability, that's going to change this year in a big way thanks to the much-buzzed-about opening of Cairo's Grand Egyptian Museum. GEM as it's best known is a $1 billion marble shrine to the country's history that will display—among other treasures—King Tutankhamun's entire 5,000-piece burial collection, including his jewel-encrusted sandals and a 3,300-year-old chariot. Stay at the St. Regis Cairo, which will finally interject some buzz into Cairo's vintage hotel scene when it opens this February on the Nile. Opulence is everywhere on the 36-story property, such as in its hand-crafted mother-of-pearl inlaid nightstands, sumptuous signature beds topped by exquisite Egyptian linens, bathrooms clad in light Emperador marble and a dramatic Swarovski chandelier dangling from a three-story vaulted ceiling in the Astor Grand Ballroom. Bespoke experiences await in no less than seven food and beverage outlets, while the two-story Iridium Spa with its vitality pools, ice rooms and adventure showers, almost demand relaxation. The traditional St. Regis Butler Service—the gold standard among worldwide St. Regis hotels—remains the ultimate luxury experience.
MATERA, ITALY
Photo Credit: PALAZZO GATTINI
Forget Florence, the Amalfi Coast or even Rome: This year, Matera is going to be the most buzz-worthy destination in Italy thanks to its recent accolade as the 2019 European Capital of Culture. This Southern Italian city's pleasures aren't as immediately as obvious as those of the aforementioned locales, though travelers looking for a unique, immersive stay will love this little city that's built into the rock of a ravine. Matera is known for its sassi, or cave dwellings, which had been written off as uninhabitable until savvy hoteliers began transforming them into luxury properties. If you missed the Culture celebratory festivities in January at this UNESCO World Heritage site—which included 2,000 musicians and dozens of brass bands performing through the city's candlelit streets—you'll have time to book a reservation at Palazzo Gattini, a former 17th century home modeled after Rupestrian churches that oozes Old-World elegance. The old and the new live in perfect harmony at Palazzo Gattini: A wide staircase encircles a glass lift, while a fully modern spa that resembles a Roman bath of the past resides in one of the cavernous spaces Matera will quickly become known for by all.
THE TURKISH RIVIERA
Photo Credit: MONTICELLO/SHUTTERSTOCK.COM
Turkey's Turquoise Coast is having a major moment. This stunning aquatic stretch between the Mediterranean and Aegean has seen a flurry of upscale activity in recent years, with rapid-fire openings from some of the world's top-tier tourism brands, including Mandarin Oriental, Aman and Nikki Beach. The latest kid on the block to join the glam pack is Bodrum EDITION, which reopens for the season in May on the Aegean Sea within the Yalikavak Bay. Ian Schrager's haute spot features a 330-foot white beach made from local marble that's been transformed into sand; a spa with a Turkish hammam (naturally); two restaurants from pioneering Peruvian chef Diego Muñoz, formerly of the world's most celebrated restaurants El Bulli and Mugaritz; 102 guest rooms, suites and villas, some of which include private pools, balconies or gardens; and an exclusive beach club with a jetty that houses private cabanas. Take your time exploring Bodrum in style (it is known to be one of the seven wonders of the ancient world, after all), but make sure not to miss out on the relatively unspoiled wonders of beach towns like Datça, Kaş and Çıralı—because at the rate the Riviera is developing, they won't be staying unspoiled for long.
ST. BARTH
Photo Credit: Cheval Blanc/LVMH
It's been over a year since Hurricane Irma and Hurricane Maria devastated the Caribbean in rapid succession, and in that time, there's been a flurry of rehabilitation on many of the islands, including—most prominently—in St. Barth. The island's five-star properties have been revamped so extensively that they're like new again, but better. Hôtel Le Toiny reopened in October with eight new, stellar private suites, while the LVMH-owned Cheval Blanc St-Barth Isle de France finally remerged in December with a new design by Jacques Grange, as well as 19 new rooms and suites and a tropical garden courtesy of world-renowned landscaper Madison Cox, adding a little je ne sais quoi to already existing luxuries in the Guerlain-specific spa La Case de l'Isle and the White Bar eateries, and the personalized Art de Recevoir service. As for the island's OG—the Eden Rock St. Barth—this haute hotel owned by Pippa Middleton's in-laws isn't anticipated to reopen until November 2019, but when it does, expect extensive fanfare.
THAILAND
Photo Credit: CARLOS CASTILLA/SHUTTERSTOCK.COM
Thailand has something for everyone—from the rainforests of Phang-Nga to the hedonism of Bangkok to the magic of Koh Samui—but in 2019, the general focus is on luxury, specifically for Phuket. Enhancing the more-is-more mindset are a slew of luxury hotels, including The Standard and InterContinental, which join several new culinary events and music festivals in the area this year. Bangkok is also seeing a rise in tourism: Luxury hotel brands settling into Thailand's capital include Rosewood, Waldorf Astoria and Capella. Lebua Hotels & Resorts continues to lead Bangkok's international culinary scene: Following the opening of lebua No.3, the world's tallest gin, caviar and vodka bar, last December, lebua will introduce Chef's Table, an interactive, fine-dining French establishment, and Pink, a champagne bar serving France's rarest vintages, this spring. And while these two well-known regions are definitely musts, Krabi should also be at the top of your bucket list. This southern Thai area with 200-plus islands off its coastline has the most breathtaking scenery in the world. We're waiting with bated breath until a new Banyan Tree opens there in 2020.
TAHITI, FRENCH POLYNESIA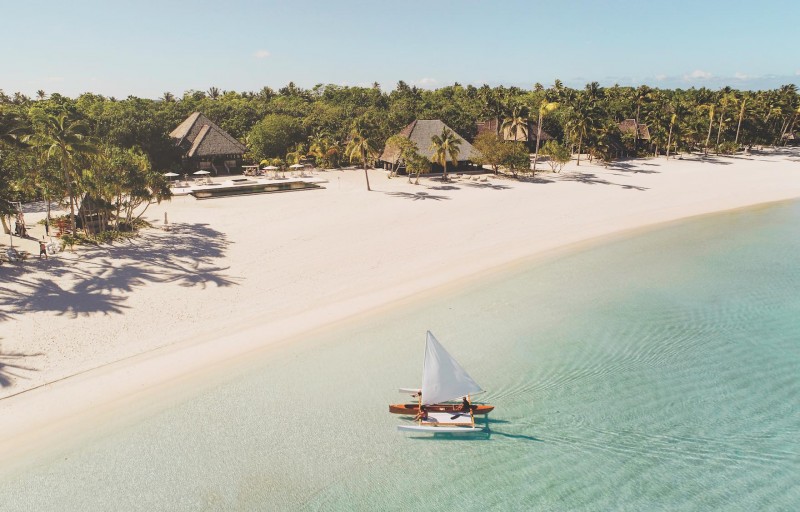 Photo Credit: SUNSET LUXURY VILLAS
There's much to love about Tahiti―unless you hate white sand beaches, the aroma of vanilla musk, tropical heat and crystal-clear turquoise water, that is. One might even say it's magical… and one did. Cirque du Soleil founder Guy Laliberté, an expert on mystical matters himself, will open his magical playground Nukutepipi, a private island with 16 beachfront villas and bungalows, this March. Laliberté, the owner of Sunset Luxury Villas, a private collection of destination retreats, has created the ultimate luxury getaway in Nukutepipi, which features a freshwater pool, fitness room, cardio room, Nordic bath, massage room, library, movie theater, DJ booth, tennis and basketball courts, boats, an observatory, a hammam, sauna and a mirador, among other things. And while Nukutepipi is the newest game in town, Tahiti is still home to one of the world's most famous celebrity retreats in The Brando, a private-eco-resort bought by Marlon Brando and beloved by Leonardo DiCaprio, Lady Gaga and Bradley Cooper, among others, that has somehow managed to rid itself of the Zika virus. Now that, my friends, is true magic.
ARGENTINA
Photo Credit: SL-PHOTOGRAPHY/SHUTTERSTOCK.COM
With a focus still very much on experiential travel, luxury lovers are heading to Argentina in droves for the glitz and glamour of Buenos Aires, but they're staying for the wine of Mendoza and the adventure to be had in Patagonia. Cultural experiences are rife year-round in Buenos Aires, including its International Tango Festival in August, Open Polo Tournament in November and December, Art Basel and Masticar Food Festival in September, ATP World Tour and Carnival in February and Art Fair in May. Check out the Viceroy Buenos Aires when it opens in the cosmopolitan city this year. Then make your way to Mendoza for wine, wine and more wine―apt, considering Argentina is the fifth-largest wine producer in the world. While you're there, indulge at master chef Francis Mallmann's Siete Fuegos or 1884. Keep the Mallmann party train going by heading to Patagonia to indulge in the chef's $43,000 cooking class and stay at his casa, on the private island of Lago La Plata. Work off your foodie fiesta on the world's longest hiking trail—the 1,700-mile Route of Parks—which passes through Cape Horn to the Chilean Lake District.
SINGAPORE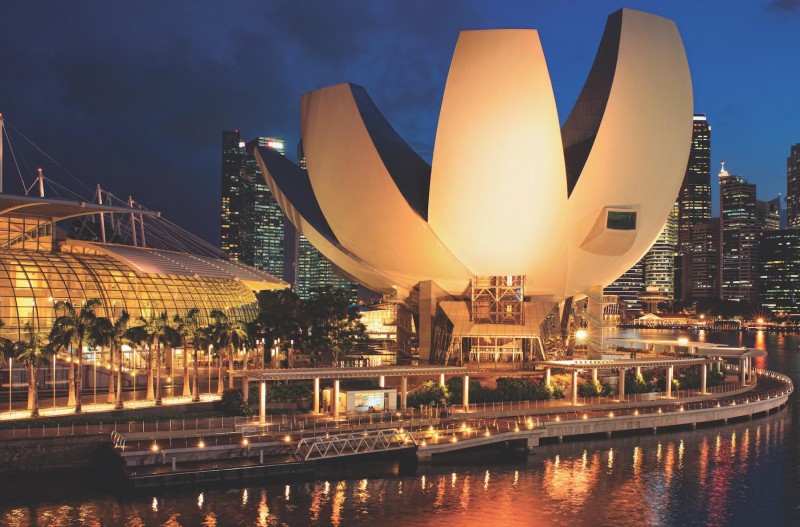 Photo Credit: SINGAPORE TOURISM BOARD
Crazy Rich Asians had raked in nearly $200,000,000 domestically by December, and with it, an influx of tourists hoping to fulfill every champagne wish and diamond daydream fulfilled by its Singapore-born characters. In 2019, travelers can celebrate the affluent city-state's bicentennial by floating in the world's largest rooftop infinity pool from 57 floors up at the Marina Bay Sands, grabbing a Sling (or three) at the newly renovated Raffles, taking a step back in time at just-opened Six Senses Maxwell—which is housed on a former nutmeg plantation—or booking a stay at the Art Deco jewel that is the Capitol Kempinski Hotel Singapore. And regardless of how you fly, be it private or public, all travelers will be impressed by the unveiling of the Jewel Changi Airport, a mixed-use complex with a glass and steel façade covering 1.4 million square feet that also features the world's tallest indoor waterfall (131 feet) and Canopy Park, a leisure attraction with gardens, walking trails and dining options at Singapore's Changi Airport, which was rated the world's best airport for the sixth consecutive year in 2018.
NAMIBIA, AFRICA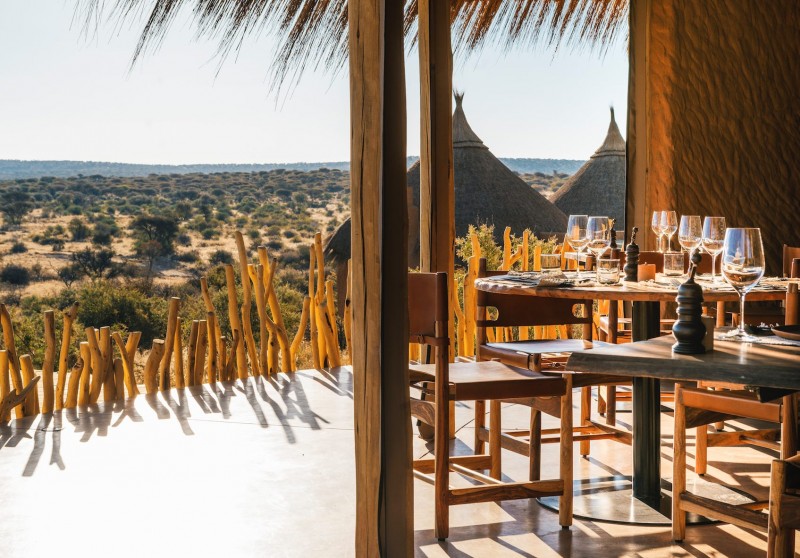 Photo Credit: ZANNIER HOTELS
An expedition to the beautiful, sub-Saharan southwestern country of Namibia along Africa's Skeleton Coast will be a popular destination this year in particular… thanks, in part, to Angelina Jolie. The Oscar-winning actress—a longtime human rights advocate who holds the position of UNHCR Special Envoy—inspired French hotelier Arnaud Zannier to open Omaanda, a 10-hut lodge near the Namibian capital of Windhoek within the Zannier Reserve by N/a'an ku sê, a new 9,000-hectare private animal conservancy. The lodge offers guests amenities including a bar found on the edge of a heated infinity pool overlooking the Savanna, a boutique and a spa. Zannier Hotels will also open Sonop, a glamorous, 1920s-style tented camp in the southern Namib Desert this spring. Zannier Hotels' properties lead the pack of intimate, upscale lodges that are catching on like wildfire in the Namib Desert for those seeking an elevated safari experience, though the remote Serra Cafema—which recently reopened after a major refurbishment—is a solid option, as well.
THE SCOTTISH HIGHLANDS
Photo Credit: ICMI COLLECTION
Cinematic and televised offerings like Mary Queen of Scots and Outlander have brought the Scottish Highlands into sharper focus recently (and, in turn, making it a more coveted holiday destination), but this United Kingdom locale is creating a luxury touch all on its own. Enjoy the wild and windswept scenery of the Highlands' lochs and glens at five-star retreats like the new Fife Arms in Braemar, where each of the 46 bedrooms and suites offers its own unique décor inspired by a place, person, event or custom integral to the life of its village, including Robert Louis Stevenson, who wrote Treasure Island there and Lord Byron, who penned the poem "Dark Lochnagar" about the area, or Inverlochy Castle in Fort William, a onetime haunt of Queen Victoria's with Ben Nevis mountain as a backdrop while you're sampling some of the best Scotch whiskies the world has to offer (GlenDronach, The Macallan and Oban are a few of our favorites). Go for the Highland Games, which run every weekend from May through September, and if you have time, take a day to visit the V&A Dundee, which—though it's south of the Highlands—is worth the trip. It houses more than 300 exhibits dedicated to Scottish design… and we're not just talking about kilts, either.