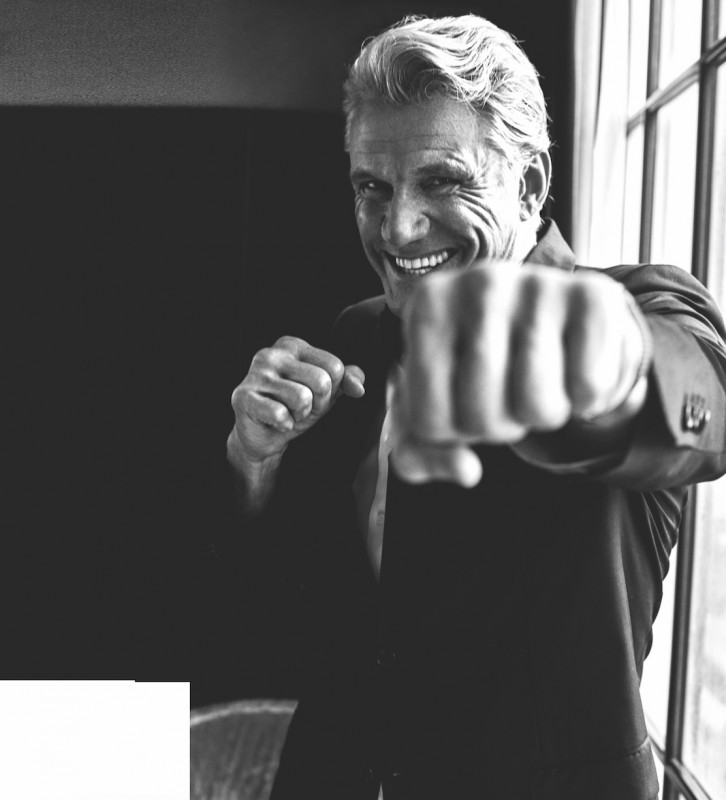 Photo Credit: Mark Squires
Photography by Mark Squires; Styling by Shala Rothenberg; Grooming by Lisa Raquel
Shot on location at Viceroy Central Park 
Amidst the prerequisite blood, sweat and tears of Rocky IV, there's one glimmering, vulnerable moment of truth. Boxing champion Rocky Balboa and former heavyweight great Apollo Creed are watching old clips of their younger selves sparring in the ring. Creed (Carl Weathers) has emerged from a five-year retirement to fight Soviet giant Captain Ivan Drago (Dolph Lundgren), against the better judgment of Balboa (Sylvester Stallone), who tells him, "We've got to face the facts. You don't want to believe it, but maybe the show is over… We can't do it the way we did it before. We're changing. We're turning into regular people." Sixteen minutes into the film later, Creed is dead, the victim of a killing blow by Drago's hands of stone during an exhibition match. The iron giant's victory is a cold one. "If he dies, he dies"—his victory words—inspire Rocky's revenge.
Much has changed in the 33 years since this epic on-screen showdown—including the fall of the Berlin Wall, the dissolution of the Soviet Union and the end of the Cold War—but some things eerily stay the same. America and Russia relations are once again dominating the news, and—three Rocky-themed films later—Ivan Drago is back to face Rocky Balboa. The show isn't totally over for these two former boxers: In Creed II (out November 21st), the follow-up to Ryan Coogler's 2015 drama that focused on Apollo's son, Adonis Creed (Michael B. Jordan), their rivalry lives on as they train up a younger generation—Rocky in the form of Adonis, and Ivan through his own fighting-machine offspring, Viktor (real-life Romanian boxer Florian Munteanu).  
Lundgren remembers that moment like it was yesterday, but never expected to reprise his role as The Siberian Express, but when his longtime pal Sly—the same man who gave him his Hollywood chance and breakout role—came a-calling, it was hard to resist. "I got a text from Stallone about a year ago, asking if I was interested in playing the character again," he recalls. "He said something about the 'sins of our fathers.' I wasn't really sure. I thought, 'Well, that's a tough order.'"
Yet, he was intrigued, especially given how Rocky IV played out: After a typical training montage (this time, Rocky did his thing in the Soviet snow instead of his usual—running up and down Philadelphia Museum of Art steps), Rocky avenges Creed by besting the Russian fighter on his home turf.  A low blow, to be sure.
And the years have not been kind to former Olympian Drago since his defeat. "As they say in drama, it's the antagonist who drives the action. If it wasn't for the antagonist, there wouldn't be a picture. In this case, the antagonist is me," the Swedish star says, noting, "Ivan has been living a rough life since 1985 when he lost the fight in front of Gorbachev and everyone else in the Soviet Union, and now he's ready to come back to get his dues using his son, who's a heavyweight fighter from Russia. There's a lot of pressure on his poor kid. My character feels betrayed by his own country, and it's obviously still in his head that [what's gone wrong in his life is Rocky's fault], so he's a bitter and angry guy with a lot of pain. It's a natural progression, if you think about it."
He looks the part, too. To convey his inner angst, Lundgren suggested to director Steven Caple Jr. that Drago should look broken. "I wanted Ivan to look really worn out, but I also wanted him to be in good shape, to look powerful," he says. "The kind of guy who works too hard, drinks vodka, doesn't sleep but still is always training so that I looked powerful enough to push my son around, which I do a little bit both in the ring and outside the ring. Steven wanted my wardrobe to be really big, almost like I had lost weight to make me look older and more haggard. It really helps the audience to understand this guy and feel a bit of sympathy for him, I think, but it's still a bit of a shock when you see the guy."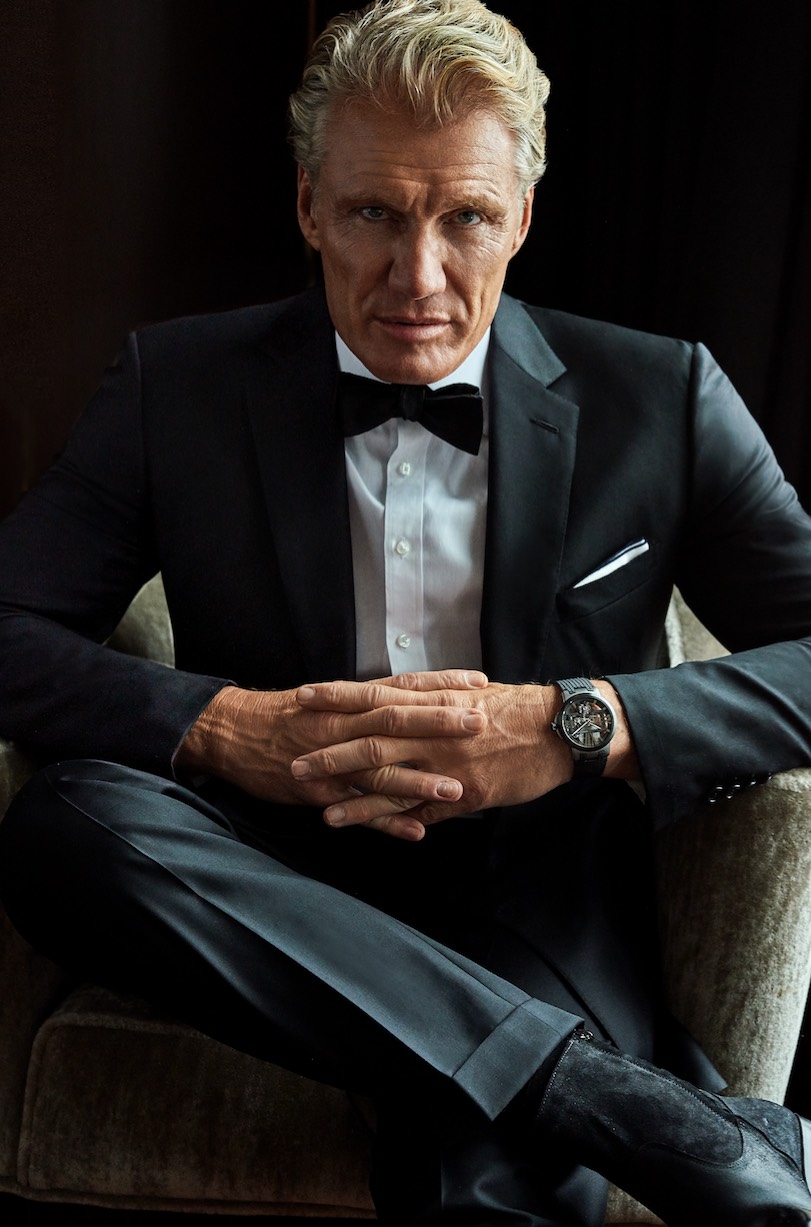 Photo Credit: Mark Squires
Even at the age of 60, the 6'5", 310-pound action star—whose name has been synonymous with bodybuilding since the 1980s—is still one of the fittest, biggest men in Hollywood. He takes care of himself diligently, and as such, seeing himself so physically wrecked was tough.
"It was a bit of a disappointment," he admits. "But I just have to live with it. There are not that many guys my size who are starring in these kinds of movies—just Jason Momoa and The Rock that are big guys—and I'm not used to looking like [I did in Creed II] or dressing like that. I take care of myself pretty well—training and so forth—and have a great dentist. I think these guys in the Ukraine didn't have that back in the '80s, and it shows [in how Ivan looks today]."
That would be, apparently, totally unrecognizable. "I had people visit me on set, including my agent and friends from Sweden," he recalls. "When guests would arrive, it was usually during the fights. We'd be up in the ring, and I could see them look for me, and when I'd turn, they wouldn't say anything. I could see them thinking, 'What the hell happened to him?' I had to almost tell them, 'Hey, it's makeup!'"
He wasn't the only Creed II actor to cringe at his physical metamorphosis, either. "At the end of filming, it was funny because Sly goes, 'Hey, tell everybody we're wearing makeup and don't really look like this!' The makeup people had a hard time with Stallone because he'd always wipe [all of his makeup off] in between takes."
Makeup aside, being able to reprise the role that made him a household name with the man who made it possible in the first place was an incredibly rare, endlessly cool experience. "Here I am, 35 years later, staring down Stallone again," he marvels. "It was kind of special."

Professionally and personally, Lundgren and Stallone have a great relationship—so much so that Creed II is their fifth film together, with a sixth in the works. "Even from the beginning there was friendship, a respect between two men," Lundgren says. "When we met, I was a kid and had never really been in a film before, and he was a big star. He was a guy I looked up to—my mentor in many ways. Slowly, through The Expendables and this, now, as well as that our daughters are friends, we've been more into each other. I would call him a good friend of mine and somebody I really like a lot and look up to for his achievements."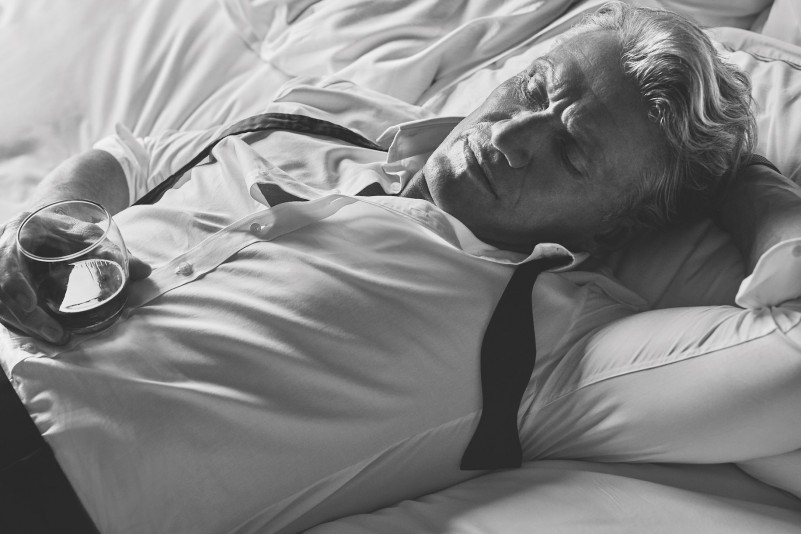 Photo Credit: Mark Squires
Lundgren has equally warm feelings for co-star Jason Momoa in his second blockbuster of the year, Aquaman. The December 21st release revolves around DC Comics superhero Arthur Curry, who learns that he's not only the heir to Atlantis, but he has to become its savior, as well, protecting the ocean from the evil Orm/Ocean Master (Patrick Wilson), who also happens to be his half brother. Lundgren plays King Nereus, who rules one of seven underwater kingdoms; he is also the father of Aquaman's love interest, Mera (Amber Heard).
As King Nereus, Lundgren—who happens to be a father of two girls—did not approve of Mera's taste in men. "I'm very disappointed, but obviously she is my daughter, and I decide later in the story that I'm going to help her anyway," he says with a laugh, explaining that Aquaman is the lesser of two evils: Though he's an unwilling superhero, he's definitely preferable to Mera's other suitor, the dangerous and unpredictable Orm.
Lundgren became particularly close to Heard on set, and unprompted, raves about her, boosting up Johnny Depp's ex-wife (who, admittedly, has taken some hard knocks in the media), as a father would. "Amber, I love her," he shares. "She's very sweet and very easy to work with. People like to talk about actresses—but she was very sweet, and everyone loved her. It was fun to work with her, and I really enjoyed our scenes together."
Though he got along well with the cast—which also includes Nicole Kidman, Willem Dafoe and Djimon Hounsou—the shoot wasn't exactly an easy one. The special-effects superhero extravaganza took him to Australia for three months, where he'd hang in a harness on a large stage, 30 feet up and surrounded by blue screens. "You're swimming around while you're talking to people, who are also hanging in harnesses. It was very tedious, but I think it's going to be a cool film," he notes.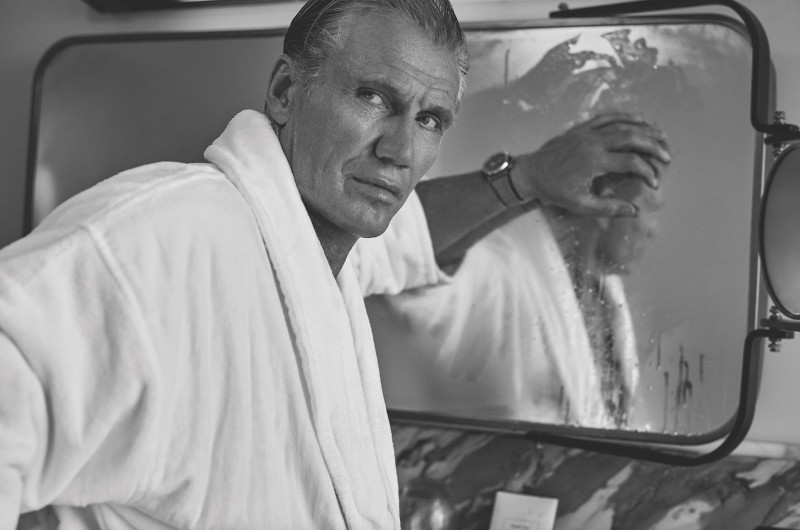 Photo Credit: Mark Squires
"Tedious" is a very low-key word for what Lundgren actually experienced during the shoot. If fans want proof that he's as tough as he looks, well, here it is: Due to a hip injury sustained from almost 45 years of martial-arts practice, he had to have hip replacements last April ("I thought, 'Screw it, I don't want to go through this again,' so I did both at once!") and was in recovery while he was hanging in those harnesses. And yet he opted to do the stunts himself. "I didn't want to be taken out of the cool scenes or have my pages cut down," he explains, "so I didn't say anything until after the picture was finished shooting. It was rough."
We have even more respect for him, given that he was training for Creed II at the same time… while still in recovery. "I did some pretty good and serious weight training for [that] picture," he reveals, before walking us through his training schedule. "Basically, I was on a five-days-a-week regime of weights, three days upper body, two days legs, and most of the time when I could I'd try to do cardio in the morning for 30-60 minutes, have breakfast and then do weights for about an hour or so later in the day. Then, I had to practice being a trainer and holding the mitts and pads, which is a bit of an arc."
Like we've said, Lundgren is an avid bodybuilding buff, but he had to be particularly diligent while shooting Creed II. Inevitably, he found himself in the gym working out with Momoa, so the two trained together when they could.
"Jason is a terrific guy; he's so much fun," Lundgren enthuses, adding, "I really get along with him well. He is really respectful and cool."
It definitely sounds like Momoa brought the party to the Aquaman   set, at any rate. "He had a party at his house he was renting [in Australia], and of course everyone had a few tequila shots," Lundgren recalls. "He's got this posse of all these guys from New Zealand and the islands, and at this party he and about seven or eight other 200-pound-plus guys got up and did the Haka for us, this rugby war dance. They stick their tongues out, chant, and do all these kinds of very aggressive moves, like slapping their chests. It was very cool to see in person."
However, Lundgren didn't take part in Momoa's dance-a-thon. "I didn't feel like I had the chops! I could have done a karate cut or something, but I think I was too mesmerized," he says. "My girlfriend [Swedish designer, painter and karate champion Jenny Sandersson] absolutely loved it, though. It's a very macho thing."
Somehow we think he'd have fit right in.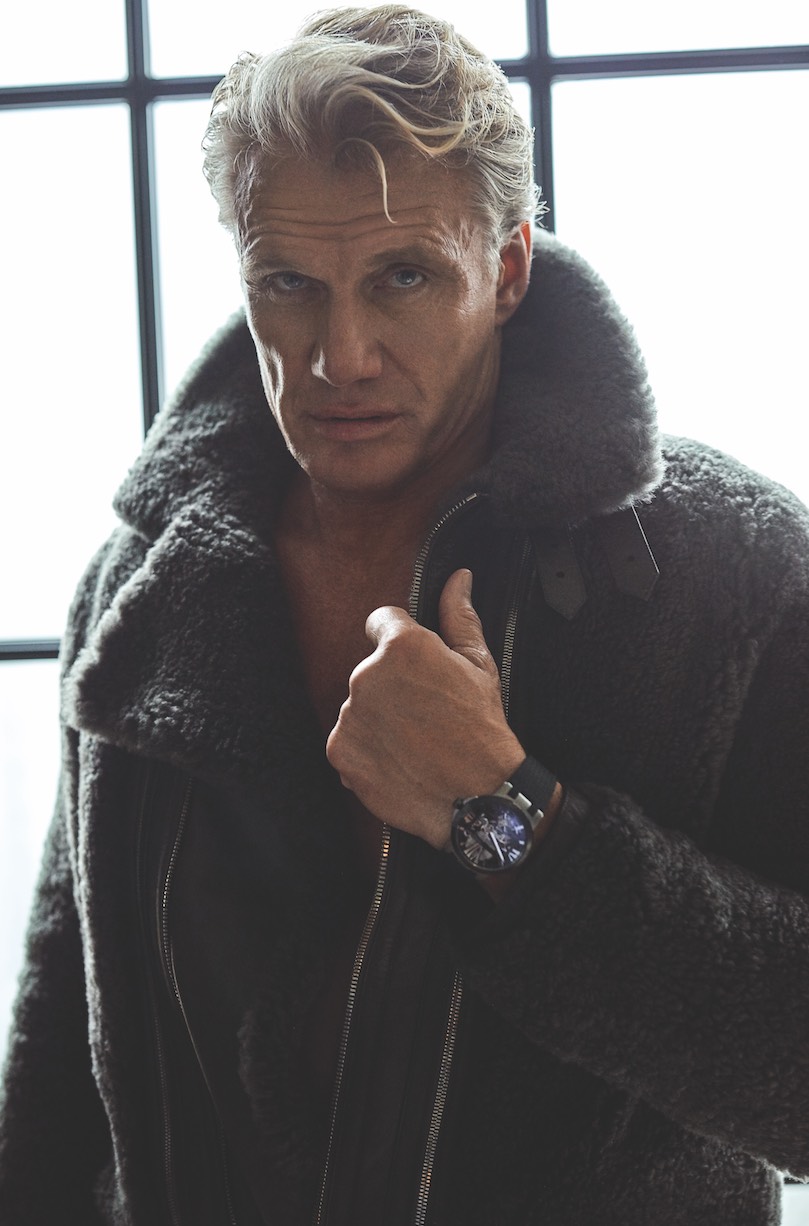 Photo Credit: Mark Squires
Given that he's famous for his action movie-worthy physique (as well as the action movies themselves), some might find it surprising—possibly even shocking—that Dolph Lundgren is actually a genius, or so his 160 IQ would indicate. Despite some early class-clown tendencies, Lundgren, who was born and raised in an academic family in Stockholm, Sweden, decided to follow in his father's footsteps and pursue a degree in engineering. After a stint in the Swedish Marine Corps, he enrolled in Stockholm's Royal Institute of Technology with chemical engineering as his concentration of choice. He attended Washington State University and South Carolina's Clemson University on scholarships and went on to complete his master's degree with the University of Sydney in Australia. He was then awarded a Fulbright scholarship to the prestigious Massachusetts Institute of Technology in Cambridge, where he was meant to earn his Ph.D.
With just months to go until classes began at MIT, he decided to spend the summer in New York City, where he modeled to make some extra money and simultaneously fell in love with supermodel and singer Grace Jones. When a friend suggested that he could be in the movies, he internally shrugged and externally made it happen, scoring his big-screen debut in the 1985 James Bond flick, A View To A Kill, and has gone on to appear in over 70 feature films.
Naturally, he has the occasional "What if?" thought, but it quickly fades: Eschewing academia for Hollywood was, without a doubt, the right decision. "I haven't regretted it, but I have thought about it," he maintains. "I sometimes wonder what would have happened had I stayed in engineering. I was going to do my MBA at Harvard. I had all these great ideas; I was going to MIT. My dad was super-proud: He was an engineer, and he thought MIT was the best school in the world. I gave all of that up because I felt like I had something to say in the creative world."
His choice has been especially validated in recent years. "Lately, as I get older and I go out to these Comic Cons and see fans, 99 out of 100 people come up with a huge smile and have great things to say. 'You're my inspiration,' 'I went to the gym because of you,' 'I love your movies,'" he notes. "[When I made this choice] I was a 27-year-old kid, and I didn't know what was going to happen, but I guess that's what my mission has been—to make people feel good and entertain them. I didn't think of it that way initially, but now I realize that's why I think that choice was the right choice."
He's taken a few detours from Hollywood—he and ex-wife Anette Qviberg raised daughters Ida, 22, and Greta, 16, in Marbella, Spain; he moved back to Los Angeles after their divorce in 2011—but has always found his way back, especially when it's Sly Stallone calling with a "Yo, Dolph, check out this script" as he did in 2009, adding Lundgren to the monster cast of Bruce Willis, Jet Li, Jason Statham and Arnold Schwarzenegger for 2010's The Expendables; the core cast was joined by Mel Gibson, Wesley Snipes, Antonio Banderas and Harrison Ford in two sequels. He's also on board for the fourth installment of the action franchise, which Stallone confirmed earlier this year. There are few details about the project that have been solidified, even to the cast. "It's not going to be clear until the beginning of next year," Lundgren says. "I think what's going to happen is that it's going to go back to the original formula of fewer guys, a hard R [rating] and violence—very basic and very kind of hardcore '80s action that made the first one a sleeper hit."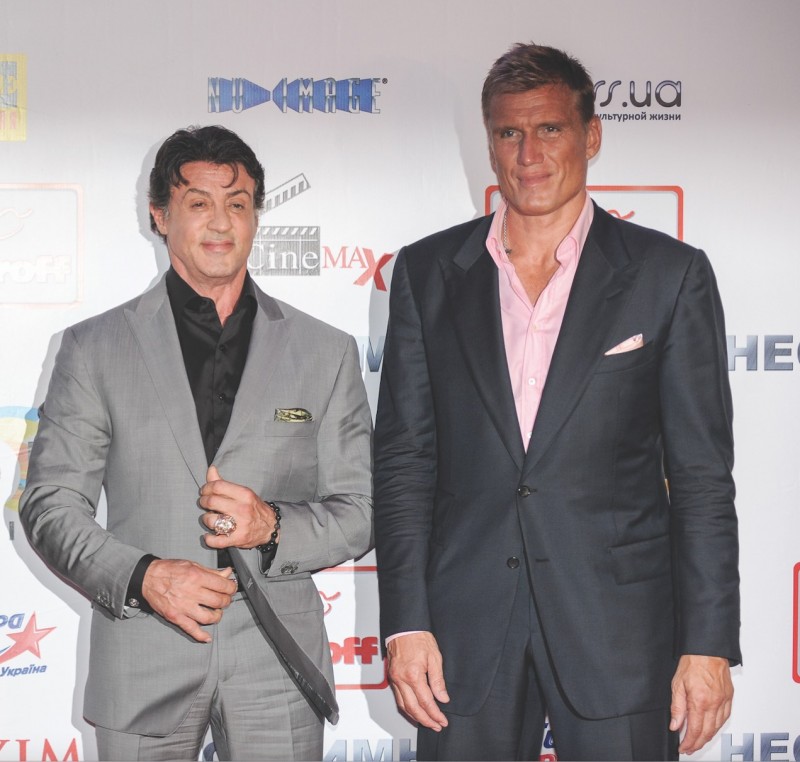 Photo Credit: Shutterstock
He has also spent time focusing on other aspects of his craft, including writing and directing five feature films as well as producing several projects through his Thor Pictures and Red Orm Productions, including the psychological drama thriller Malevolence and the "sexy" Swedish thriller Nordic Light.
"I directed five pictures 10 years ago, and I was thinking of getting more into directing, and then Expendables showed up. I got involved in some other things; personal things happened—I got divorced and moved back to Los Angeles—and now I'm back into directing," he explains. "I'm interested in people, like most directors I guess, and the human condition. I've done so much action that it's not really what interests me."
What does interest this academic-cum-action-star-cum-athlete (like Ivan Drago, Lundgren is also a former Olympian: He was the official Team Leader of America's Olympic Modern Pentathlete team for the 1996 Olympic games in Atlanta) are things that combine the physical and metaphysical. His lifelong love of marital arts―he has a third-degree black belt courtesy of the World Karate Organization in Japan and is the captain of the Swedish National Karate Team―recently segued into an appreciation for meditation and mindfulness, which very few might realize.
"I've meditated for six years, every day," he explains. "I do a Buddhist type of meditation, Vipassana. It's a great part of my life, which is really about forgiveness and compassion, trying to put positive energy into the universe.
Depending on my film engagements, I do between 40 minutes to an hour every day in the morning. It's a good way to be in the domain of being. For most people, it can be a tremendous experience to get to feel who you really are. I started with two minutes, and I thought that was a lot. I was antsy. At around 30 or 40 minutes, though, you start to break through. It's like a glass of muddy water: The way to clear it is to put it down and leave it. The mud settles. Once you sit for 30 minutes, your monkey mind stops working, and you can come from a fresh place, which is the way to really enjoy each day."
He pauses and adds, "Pampering yourself and being good to yourself is also important. If you're good to yourself and buy yourself a nice watch or a car and can afford it, that's nothing to feel guilty about. I like to enjoy luxuries, too. I like sports cars. I like to stay in nice hotels. That's part of the experience, too, in life. Life is not as long as we think it is when we're young. It goes fast, and it's important to enjoy it."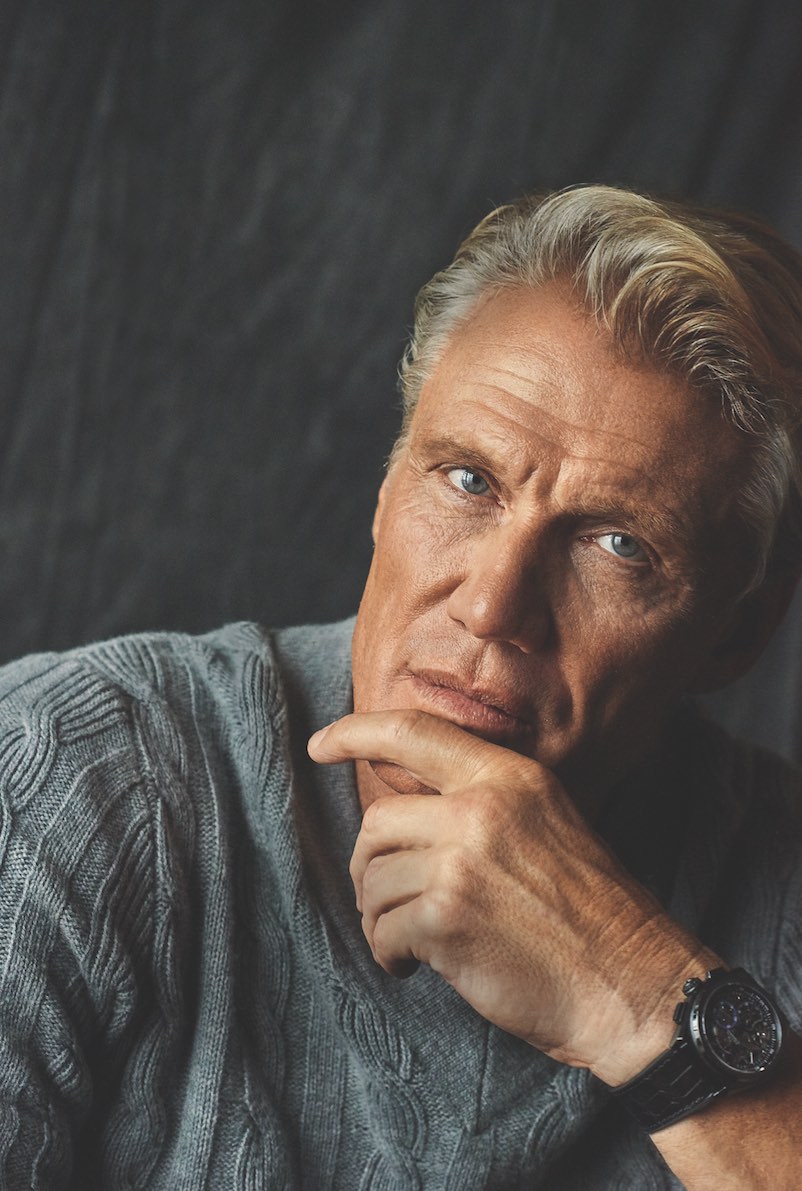 Photo Credit: Mark Squires
Subscribe to discover the best kept secrets in your city