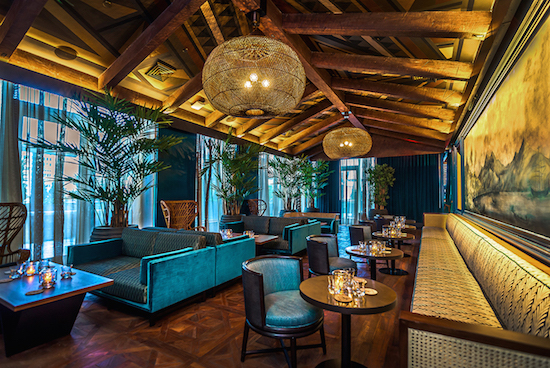 Photo Credit: Noah Fecks
Innovative and creative hospitality company Major Food Group has just opened a tiki tropical oasis in Midtown Manhattan. Led by global Tiki apostle Brian Miller, a veteran craft bartender of more than two decades, The Polynesian is unprecedented in ambition and scope, honoring Tiki's past and reinvigorating it for generations to come.
Photo Credit: Noah Fecks
Located in Midtown West's new Pod Times Square Hotel, The Polynesian can accommodate 200 guests split equally between its indoor space and outdoor terrace, each featuring its own full-sized bar with the terrace offering a spectacular panoramic view of New York City.
"We are committed to making The Polynesian the best Tiki bar in the world," says Jeff Zalaznick, Partner, Major Food Group. "Brian is synonymous with Tiki and we are proud to make his dream bar a reality. He's a true pirate with unsurpassed passion and a unique approach to cocktails. We couldn't be happier to offer Brian his own ship to captain."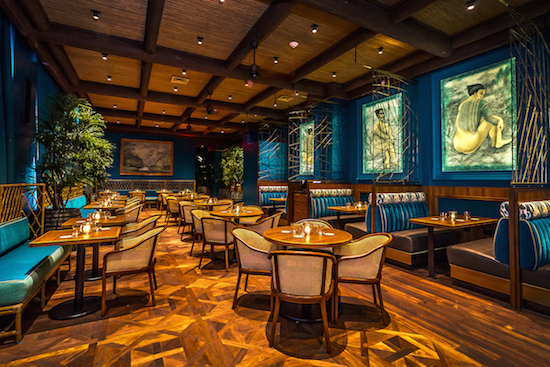 Photo Credit: Noah Fecks
The Polynesian, which fulfills Miller's life-long dream of opening a 21st century Tiki bar, features 19 original cocktails and 4 large format drinks. Miller, an ardent Rum aficionado, is curating the city's largest Rum collection spanning numerous countries. He also incorporates a wide array of spirits beyond Rum in his Tiki drinks, from Gin to Bourbon, Mezcal to Scotch and Cognac to Sherry. One of the most visible and beloved Tiki proponents worldwide, Miller is known for his "Tiki Mondays with Miller" pop-ups at top bars across the U.S., Europe and Asia.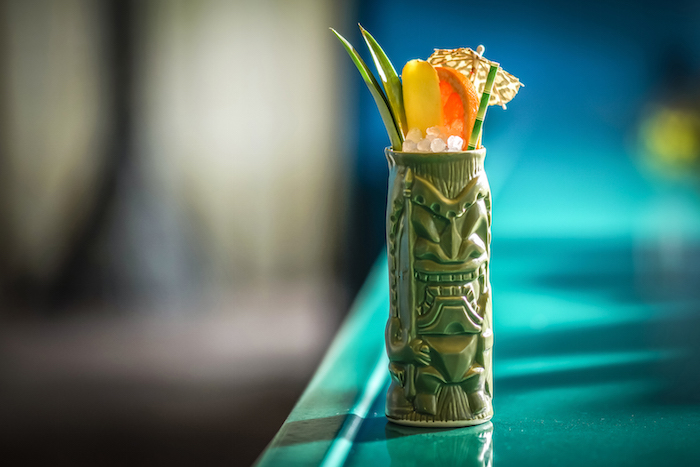 Photo Credit: Noah Fecks
"I want to give New York City the world-class Tiki bar it deserves," says Miller. "The Polynesian is the culmination of all my passion for Tiki poured into every drink and every inch of this space. My mission is to continue to preach the gospel of Tiki, shining a light on its glorious history and perhaps making the world of Tiki just a little bit bigger. I'm grateful to Major Food Group for believing in me and helping make my dream come true. Together, we're bringing the islands of Polynesia to the island of Manhattan."
Photo Credit: Noah Fecks
Miller created all of The Polynesian's cocktails, some of which are served in custom-designed ceramic vessels. Cocktail highlights include:
The Derelict – Miller's signature concoction of four Rums plus Bourbon, Absinthe, lime and grapefruit juices, lilikoi purée, house blend banana liqueur and bitters.
Damned to the Depths – A salute to Don the Beachcomber's Pearl Diver that blends two Rums, Absinthe, lime and orange juices, guava purée, Derelict Gardenia Mix and bitters.
Teach's Torment – An Old Fashioned variation with three Rums, Don's Spices #4 and bitters.
Reggae Bus – A Tiki take on a Queen's Park Swizzle with Rum, Yellow Chartreuse, lime juice, mint, saffron syrup and bitters.
Merrie Monarch – An amped up Whiskey Sour with Bourbon, cold brew coffee, orgeat, Hawaij syrup, Don's Spices #4, kalamansi purée and lemon juice.
Jungle Booby – A Jungle Bird variation with Mezcal, Tequila, Campari, Absinthe, lime, grapefruit and pineapple juices and orgeat.