The 118th U.S. Open Golf Championship returns to its roots at famed course Shinnecock Hills Golf Club in Southampton, New York for the fifth time since 1892. The U.S. Open calls upon the best of the best in the golfing world to play four rounds from June 14th to 17th, 2018 on the recently lengthened 7,445-yard Shinnecock Hills fairways.
Already the hottest destination out east, Southampton will be filled with professional golf players and their accompanying entourages plus fans all week long. To enjoy a premium fan experience in the Hamptons, eat, play, and drink at these Southampton hotspots.
Photo Credit: 75 Main
After a day of supporting your favorite golf professionals, join Restaurateur Zach Erdem at the premier Hampton's locale for contemporary American cuisine, 75 Main. The Southampton eatery is an attractive location for pros and their families, providing comfort and relaxation after a long day.
Sultry musical stylings combine the true essence of the Hamptons with the enticing elements of New York City nightlife that will make any evening here a great one. The celebrity guests seen dining in recent seasons have included Leonardo di Caprio, Kim Kardashian, Kourtney Kardashian, Khloé Kardashian, Scott Disick, 50 Cent, French Montana and Sarah Jessica Parker.
Party At Southampton Social Club
Photo Credit: Southampton Social Club Facebook
If you're looking to shake things up after a day of golf-clapping, visit Southampton Social Club for an unparalleled experience. A recent makeover of the hottest spot Hampton socialites frequent has raised the bar for the summer season of dining, drinks, and dancing. New furniture, outdoor cabanas, masterfully designed lawn décor and a booming sound system will really boost spirits at the end of a competitive day. For locals and frequent visitors of the Southampton Social Club the fine dining establishment is unmatched. Newcomers will experience the essence of Hamptons social scene as live music artists and DJ's will headline evening festivities.
Transport Yourself to Italy at 

Sotto Sopra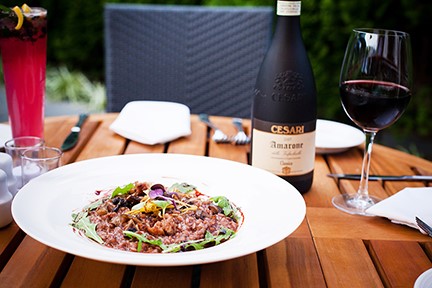 Photo Credit: Sotto Sopra
From the mown terrains of the Shinnecock Hills, to the rugged valleys of Northern Italy, Sotto Sopra will transform your Hamptons journey to one filled with culture and tradition. Enjoy classic Italian fare which includes Spaghettini a la Greco with shrimp, spinach in a spicy arrabbiata sauce, steaks and chops, plus crispy Italian style pizza and freshly baked breads from the restaurant's wood-burning oven. Sotto Sopra has quickly become one of the most coveted restaurants favored for its Northern Italian influence. Dine with champions as the popular restaurant will not be foreign to top pro athletes all week long.
Photo Credit: Hampton Hills Golf & Country Club
If you missed your ticket to the U.S. Open at Shinnecock Hills, enjoy all the fun of golf and play at the Hampton Hills Golf & Country Club. Members do not miss the bustle and scurry of the championship when the best kept secret sits down the road on an exquisite 2,000-acre pine and oak tree preserve in Westhampton Beach. The Hampton Hills are for those who desire exclusivity, peace and an escape from the rush the U.S. Open and the Hampton weekends bring. Expect a challenge on the expansive wooded course with a 'slope rating' higher than Shinnecock Hills.
Photo Credit: Union Cantina
If you're looking for good food, good drinks, and a good time than Union Cantina is the spot for you. Union Cantina is the only authentic Mexican restaurant in Long Island's most vibrant social destination. Do not miss the week-long U.S. Open PAR-TEE with daily golf putting competitions from June 11th – 16th. An expanded outdoor patio is complete with an adult playground for fun for both small and large groups. The large lawn area makes way for Ping Pong, Giant Jenga, Cornhole and Bocce surrounded by picnic tables overseen by outdoor cocktail servers.
This popular eatery, designed by Southampton Social Club owners Ian Duke and David Hilty, sits in the iconic Bowden Square. Alongside award-winning Executive Chef Scott Kampf, who has been featured on Food Network's Iron Chefs of America, the trio continues to bring innovative Mexican cuisine to Southampton all year round. Bartenders mix fun favorites from the 400 Rabbits Tequila Bar which carries over 100 types of tequila making a unique and extensive cocktail and tequila menu.